You put yourself in stupid places, Yes I think you know it's true, Situations where it's easy to look down on you -"Everything To Everyone"
People either love or hate "Greatest Hits" records, there is no in-between. I love them because, even though I may own all of the artist's previous albums, it allows the listener to give a complete overview of that artist's career, up to that point in time. Just last year when the Counting Crows released their "Best of" package, it helped people sit back and realize how first-rate the quality of their work had been in the previous decade. One of the best "Hits" albums to be released recently is by Everclear. Everclear never made it to soaring commercial heights like their 90's counterparts, Green Day, Pearl Jam, Nirvana or the Smashing Pumpkins, but what they did do was consistently mature with every release and in many instances upstaged and surpassed their contemporaries. "Songs From An American Movie Volume 1", from 2000, is arguably one of the ten best records to be released this decade. On each Everclear release, even their less successful ones, there are always a handful of songs that make you stand back and take notice of the immense talent that hails from the upper northwest of America.
Everclear's leader and front man, Art Alexakis, is one of the most gifted musicians I have ever laid my eyes on. He is edgy, but has deep rooted pop sensibilities, something very few people can pull off. When one looks upon essential 90's musicians who changed the landscape of music forever-Kurt Cobain, Eddie Veddar, Chris Cornell, Billy Corgan, Billie Joe Armstrong, Jerry Cantrell- one name consistently overlooked is Art Alexakis of Everclear. Art, for better or worse, is a control freak. However, his drive and determination is largely responsible for the platinum success of Everclear.
In the late 90's a dear friend of mine, Brian Betti, kept on throwing this cd in my face. "Tony, this is a great rock album, you must listen to it and then buy it". The album was "So Much For The Afterglow", Everclear's top-ten 1997 album. I listened to it, but did not get into it. I'm not sure why, but I put it to the side and moved onward. A few years later, I found myself loving all of the songs I heard on the radio. Little by little, I bought each of Everclear's albums and found their work to be among the most consistent work of any artist from the 1990's, which is why their new Greatest Hits disc, "Ten Years Gone-The Best of Everclear 1994-2004" should be flying off record store shelves the same way The Beatle's "1" did a few years back. Everclear's musical home, Capitol Records, is the same that houses rock's most valuable and sought after music catalog-The Beatles. Comparing any act to The Beatles is silly and pointless- but I do because Everclear's "Ten Years Gone..." is as easy on the ears as "1" and both discs showcase two diverse artists, who were consistently challenging themselves and their sound, which in turn makes both discs defining documents of their time.
Besides housing all of Everclear's big hits, soundtrack offerings and much wanted rarities, "Ten Years Gone..." is the perfect hits disc not missing any essential Everclear tunes. When I saw the track list for this set, I had a big dumb grin on my face because it covered the bands entire career from their indie beginnings on "Fire Maple Song", from their 1994 debut, to soundtrack songs "Local God" and even a pair of new tunes "The New Disease" and "Sex With A Movie Star". Then there are the life-size hits-"Am Radio", "I Will Buy You A New Life", "Father of Mine", "Brown Eyed Girl", "Santa Monica", "Volvo Driving Soccer Mom", "Heroin Girl", "Rock Star" and the best piece of art to deal with the tragedies of 9/11, "The New York Times". Each of the discs twenty-one tracks has Everclear's undeniable stamp of melody and grit. Art Alexakis is one of the few artists I have ever seen to meld such perfect pop tunes along with great anthems of wrath.
Upon my first listen to this new "Hits" disc, I was overcome with nostalgic feelings, not from another time and place but in the here and now. This is a testament to the gift of songwriting Art has, where he can literally transport you to another time and place, which feels pertinent and comforting. "Ten Years Gone..." is a crowning achievement and should be a landmark release for Capitol Records, much like The Beatles "1" disc, which boasted all of their number-one songs and in the process reminded us that music is potent, evocative and enduring, all of which can be said for Everclear's past decade. "Ten Years Gone..." is filled to the brim with one classic after another and it should be flying off record shelves, however, it's not. Blame it on lack of promotion, lack of a hit single, lack of a provocative video...blame whoever you want, but Capitol Record should strongly reconsider their marketing plan for this record. As far as I'm concerned this album should easily go gold every year for the next decade. I would see if I could sell these songs to films for soundtrack use, television programs or anything that could expose people to these songs. I don't feel that by doing this it would whore the bands integrity, but it would merely awaken the world to this compelling music, all housed beautifully on one CD.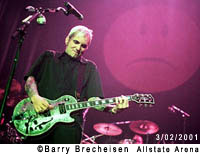 One bit of promotion that has occurred is a tour. The band made a stop in Chicago, at my favorite venue, The House of Blues, this past November. I went to this show with great anticipation. All too often bands put out "Hits" albums as in-between projects to keep their name in the press or after they have broken up. In some ways, the latter has become a reality for Everclear. Bass player Craig Montoya and drummer Greg Eklund left the band at the end of 2003. I did not feel that their presence would be missed as Art was the one who wrote the songs and played on the majority of the record, ala Billy Corgan of the Smashing Pumpkins. In addition to a fresh new band and a career retrospective, I was expecting to see a band push the crowd to the point of exhaustion in the tiny Chicago club with a healthy does of catalog hits. In the past while Everclear has been a decent live act, I never walked away being blown away. I've always blamed it on the sound of wherever they were playing. Upon entering the House of Blues, I immediately reconnect with Brian, the man responsible for opening my eyes to Everclear. We immediately begin to discuss how good the opening band sounded, from a sonic standpoint, and have high hopes for the Everclear show. Brian and I have logged close to fifty shows at the House of Blues and have never seen one with bad sound. However, as we were about to learn there's a first time for everything.
A little after 11pm the curtains opened and the riff of "Everything To Everyone" is blasting into the crowd. I felt the welcoming was temperate for a platinum selling band with six albums of material behind them. But I was optimistic the crowd would get better. However, half way through this opening number, one thing became apparently clear; Everclear has yet to fire the sound engineer who has done all of their previous tours. Brian walked over to the soundboard and came back, leaned over and said "It's the same guy who has been behind the board in the past". The sound was horrid. I have been in bars where I have heard cover bands, with two or three amps, with better sound. If someone at Capitol Records reads this, do me a favor and see to it Art fires the man behind the mixing board as he is hindering Art's career.
In the past I always blamed the sound for shows that were not otherworldly by this incredibly talented band. On that frosty fall evening in Chicago, Everclear embarrassed themselves by giving a performance that was lacking in almost every way imaginable. It was staggering to see how hard it was for the Art's new band to keep up with him and these classic songs. Greg and Craig were missed more than they can possibly know. Where the sound lacked on previous tours, these two rhythm misfits held the band together and brought energy to the stage these new young players could not, no matter how genuine and heartfelt they may have felt. Then there was Art, who had a dark aura surrounding him and everything he touched throughout the entire show. The songs were played a key slower than they are on the records, this would not be an issue if Art actually sung them instead of speaking them in a drowned out monotone voice that was almost as pleasant as fingernails on a chalk board.
The evening's song selection was decent enough mixing the hits with some lesser performed songs ("Fire Maple Song", "Annabella's Song", "Heartspark Dollar $", "Summerland"). The encores were a treat with "Local God" from the "Romeo & Juliet" soundtrack and a finale of the old 80's hit "(Jenny) 867-5309". However, the show was about as long as the actual "Ten Years Gone..." CD. I have a theory that any band that has five studio albums should never play less than 120 minutes because if they are truly a great act, they should have at least two-hours of material to perform. The sad truth is that Everclear has at least three or four hours of material they could play nightly, but they chose to sell the Chicago crowd short with one of the shortest performances I have ever witnessed.
Art did not seem to be in a good spot, it was almost like he had a shield of ice surrounding the isolation booth he has made for himself. Is it because of a divorce? A bad break up? The dissolution of his band? Lack of interest in his life's work? I can't say for sure, but all I can say is that I hope Andy Slater (head of Capitol Records) gets Art the help he needs. I don't know what he may need...maybe a shrink, a lover, a counselor? At this point I would settle for anything, because what Mr. Slater has on his hands at Capitol is one of the most talented musicians to walk this earth. Even if Art's not making Everclear records, they should get him in the studio with some of the young bands Capitol has signed and let Art guide them and produce them. All I know is while I watched Art implode on the House of Blues stage, I had reflections of watching Ryan Adams self-destruct right in front of my own eyes in a 2002 performance that still ranks as the worse show I have ever witnessed. What makes performances like these so disheartening is that they are from artists who were given a gift from the maker above and they are slaying it. Don't get me wrong, I love Art Alexakis and Everclear more than any words than can be put down on this paper, but his performance at the House of Blues was single handedly the worse one I witnessed in 2004 (out of about 50 shows). His heart did not appear to be into it and the short and brief set ended far too soon as the band was just warming up.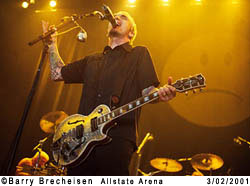 On the way out, I was handed a free live CD, which I thought was a brilliant move and one I hoped would save the evening for me. I went back to my car hoping that the House of Blues performance was a one-off bad night. The live disc I listened to on the way home was just as disjointed and uneven as anything I had heard that night. Not only was the mix bad, but the new musicians sounded no better than a cover band. I do not in any way mean to diss them, but say this as a wake up call to Art. Sure, he's the talent and brains behind Everclear but there was chemistry between him, Craig and Greg- something that is completely void in this latest incarnation of Everclear. Everything that could go wrong went wrong for Everclear that night in Chicago- bad sound, a new band not quite familiar with the songs, a less than stellar crowd and a set shorter than the actual length of "Ten Years Gone..."
I was so disillusioned with the performance because Art should be spoken of in the same breath as Veddar, Corgan and Cobain as one of the definitive voice of his generation, but if he continues to give performances like the one I witnessed, he will simply become nothing more than a has-been, which he is not. Andy Slater: please do what you can to get this multitalented man back on track. You need him, the music world needs him, heck, and I need him to continue to construct perfect pop tunes with the angry anthem for me to look inward and change. "Ten Years Gone- The Best of Everclear 1994-2004" is an incredible first chapter, however, I want future volumes to be as challenging and magical. I don't want my memories of this man and this band to be of the show I witnessed this past November. In short, I want Art to make me believe I can somehow make things right.
I really want to believe I can make things right, I want to believe I can learn to feel alright inside, I want to believe I can learn to make things right -"The New York Times"
"Ten Years Gone- The Best of Everclear 1994-2004" album grade: "A"
HOB Chicago performance grade: "D-""
Chicago Set List: Everything to Everyone, Heroin Girl, Volvo, Fire Maple Song, Annabella's Song, Heartspark Dollar $, Strawberry,Learning How to Smile,Glorious, Summerland, Wonderful, Father of Mine, I Will Buy You a New Life, Local God, encore:Santa Monica, Jenny (867-5309)
Join UnRated Discussion where you can post your review or thoughts.
---
RELATED LINKS:
Everclear Online
Everclear: Believing In This Life