The birth of MTV's "Unplugged" series had a funny genesis. The irony lies in where the executives birthed the idea for the series and how they slowly came to realization it could be more than a TV show, but also a way to sell albums. It began in September 1989 when Jon Bon Jovi and Richie Sambora took the stage at the MTV Video Music Awards and performed "Wanted Dead or Alive" and "Livin' On A Prayer" acoustically. For a show that has always been known for its bombast, two men stole the show with two acoustic guitars. Shortly thereafter, in early 1990, MTV launched the series, "Unplugged"; however, it was not until 1991 that they felt confident enough to start releasing select appearances as feature length albums. This commercial potential came to realization when a band from Sacramento, California broke the top ten album and singles chart in the fall of 1990. The band was Tesla and the album was "Five Man Acoustical Jam", a off the cuff release put out merely as a stop-gap to give the band some extra time to record their third album. "Five Man Acoustical Jam" gave the band their best selling album and highest charting single, "Signs". I find it to be ironic that an entire musical movement and Grammy's, for album of the year no less, for Eric Clapton and Tony Bennett would never have happened if not for Bon Jovi and Tesla, two bands most identified with bombast and not subtlety.
Tesla reformed a few years back and since then have been a constant force on the club circuit touring their heart and souls out. Last year the band released a glorious, yet underrated, album, "Into The Now". In fact, of all the rock bands reigning the charts in the late 80's; REM, Black Crowes, Bon Jovi, Def Leppard, Poison and numerous others, "Into The Now" is the best album put out by any of them since the beginning of the new millennium. Tesla made an album that stands up to their best work without trying to be somebody they were not. The album cracked the top-forty, an astonishing feat since there was virtually no promotion aside from touring.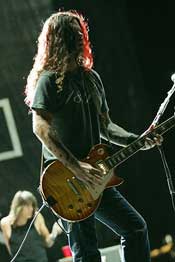 Here we are a year later, Tesla is back selling out many of the same clubs they did last year, but with a twist, it's an acoustic evening with the band. Their most successful album is "Five Man Acoustical Jam" so a tour like this only makes sense. What surprised me most were the imaginative set list and the band's willingness to extend out to their major fan base. The band ran polls on their website about what songs the fans would like to see, acoustically, and they also gave away tickets to fans who would watch the show from the stage.
I arrived to the Vic Theater a little before 8pm and took a spot in the balcony where I would be able to view the show from a perfect vantage view. As I looked down on the stage, it was a minimal set up by the band. There were two sofas and a lounge chair giving the evening a sense of deeper intimacy, like we were peaking into a living room jam. When the band arrived on stage, they were dressed plainly in jeans and shirts just ready to rock. The first two songs of the evening set the tone; "Into The Now" and "Edison's Medicine". Both of these songs were released after their breakthrough of "Five Man Acoustic Jam" in 1990, this was a good sign. I immediately knew this evening would be more than the band attempting to recapture glory from fifteen years ago…but something more significant.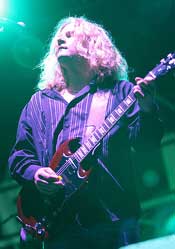 Over the next two hours and twenty-minutes, Tesla rocked with the best of them as they performed new and old favorites in familiar and unfamiliar arrangements. "Getting Better", "Yesterdaze Gone", "Paradise", the bluesy "No Way Out" and "Cumin' Atcha Live" (with the Grateful Dead's "Truckin" tagged onto the end of it) gave us a glimpse of what it would have been like to see one of only a handful of the acoustic shows Tesla performed back in 1990. Demonstrating their willingness to not live off past glories, numerous tracks from last year's "Into The Now" album were performed as well- "Come To Me", "Miles Away" and "What A Shame" sounded first-rate and were arguably better with a stripped down sound. Especially on the "Into The Now" material, the response from the crowd was fervent throughout the entire show demonstrating that there is still a yearning for rock music, hard rock no less.
Along with the classic tunes and contemporary takes on recent material Tesla consistently shows another side of themselves by digging deep into their catalog. "Hang Tough" was performed acoustically for the first time along with "Time" and the best hit single the band never had, "Stir It Up". I was even surprised to be moved by two songs I was unfamiliar with - "Changes", from their 1995 Best-Of package and "Shine Away" from 1994's Gold album, "Bust A Nut". I did not know about either of these songs before the show, but will now dust off my copy of "Bust A Nut" and not skip over "Changes" on their excellent "Replugged Live" album from 2001. Along with new arrangements and deep album cuts Tesla still delivered the big hits; "Signs", "Love Song" (with an extended acoustic solo at the beginning), "Modern Day Cowboy" (done without a rhythm section), "What You Give" (which received more cheers than "Love Song") and the finale "Little Suzi" which brought the house down.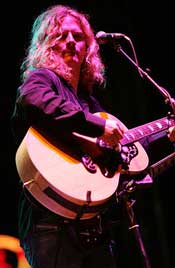 The question arises- Why should bands like Tesla provoke their fans instead of giving them what they expect? I'll tell you why, the lifeline of every band is new music. Unless they continue to create, they become stagnant. I don't see the point to bands consistently touring when they reply solely on their back catalog. At some point even the die-hard fans will skip the shows, because they've seen it all before. It's important for a musician to never lay down and to continually further themselves as musicians every chance they get. Why is it bands like Def Leppard, Bon Jovi, Aeromsith and Tesla play to sell out crowds while bands like Faster Pussycat, Cinderella, Poison and dozens of others struggle to maintain an audience? It's because of innovative music. Tesla has exceeded my expectations in this department by evolving better than almost all of their counterparts in the rock world.
Tesla is a better band for holding themselves and their fans up to a higher standard. By challenging themselves and their fans alike, they are giving us more than a trip down nostalgia lane. They are taking us…forgive the pun…into the now-something most rock bands who are past their commercial peak are for too terrified to even consider. Instead of choosing a path which would lead to ease and comfort, where the band could go out and play the some ninety minutes of hits on a nightly basis, Tesla is heading down a more difficult road of reinvention. Let's just hope they stay on path and keep…"Getting' Better".
Setlist:

Into the Now
Edison's Medicine
Gettin' Better
Come to Me
Yesterdaze Gone
Caught in a Dream
Paradise
Heaven's Trail (No Way Out)
Cumin' Atcha Live
Truckin'
Miles Away
What a Shame
Hang Tough
Love Song
What You Give
Modern Day Cowboy
Changes
Shine Away
Stir it Up
Time
Signs
Little Suzi
Join UnRated Discussion and Newsletter
---
RELATED LINKS: