A little over thirty years ago no one could have imagined that a young and rough around the edges singer named Johnny Cougar would become one of the defining voices of his generation. Unlike most artists who peak early and spend the rest of their careers on a constant decline creatively, John Mellencamp has continually pushed the envelope, never settling into success and losing his creative edge. In the last fifteen years alone, his output has been passionately remarkable, arguably the strongest track record of any recording artist during this time. "Big Daddy" (1989), "Whenever We Wanted" (1991), "Human Wheels" (1993), "Dance Naked" (1994), "Mr. Happy Go Lucky" (1996), "John Mellencamp" (1998), "Cuttin' Heads" (2001) and "Trouble No More" (2003) have all been steadfast albums thrusting sonic and creative boundaries, confirming that Mellencamp is a man who is still a relevant and a vital musical figure. John Mellencamp's music attempts to have people dream big, think outside of their world. However, one would never know this by seeing him live as he usually plays no more than two or three new songs off any new album. In the last decade, amazing numbers such as "To Live," "Brothers," "Gerry," "Miss Missy," "Crazy Island," "The Family" and "To The River" have all gone unaired in concert or played less than a handful of times. It's a shame to see such insightful poetry disregarded. When I hear a classic album cut from one of my favorite artists, it makes me reevaluate their entire catalog. I have a John Mellencamp bootleg from the early 80's and on it is a song I had overlooked, "Thundering Hearts". The muscle, drive and energy given in this performance were like a kick to the gut. It made me dig out my "American Fool" album and I realized I probably never listened to side two of the album (back in the days of cassettes). If not for scorching performance on this bootleg, "Thundering Hearts" would still be lost to me.
Grace, mercy and forgiveness
Will help a man walk tall
-Walk Tall, 2004
While his recorded output continues to evolve and soar, his concerts during the same time frame have lacked the energy and drive his 80's and early 90's shows had, which lasted from 120 minutes to 150 minutes. Then in '94 the shows were reduced to 100 minutes. Since then, I've never seen a performance go over 105 minutes and some have been as short as 80 minutes. In turn, I almost always walk away dismayed knowing I did not see John Mellencamp at his best. When you are paying four-times the ticket price (in 2001-02) than you did in 1992 and he's playing half as long, you are going to walk away disillusioned…plain and simple. Mellencamp fans have been known for being overly critical of his set list choices and lengths of his sets; this is not because we're being difficult or snobs, but because we know one of our favorite artists is capable of being so much more. When I see him play a shortened show skipping many classic songs (hits and deep album cuts) I am aggravated, because I know that these words and music have been a source of comfort to me in my life and I hope that they would heal and comfort others on the same journey. Is it bad to want your child to reach for the stars and reach the highest heights? I say "no." For a man who has taught me about racial tolerance, love, peace, hope and being open minded, I would hope that he would be unbiased to criticism of his shows. While he's still a viable performer people should walk away from his shows, feeling he is one of the greatest entertainers to ever live, much the same way they did in 1992 after seeing the "Whenever We Wanted" tour, which showcased the man pushing 150-minute sets nightly. Is it bad to want so much from those who can make such a difference in our world and culture?
Last fall, I was fortunate to witness one of the Vote For Change concerts. The performances of the Dylan covers "Seven Days" and "In My Time Of Dying" were commanding, but it was "We Are The People" a track I had forgotten about off of 1987's "The Lonesome Jubilee" album that took the performance into another stratosphere. I saw a man sing the chorus of "We are the people...and we will forever" and mean it. There is nothing greater than seeing an artist go into their back pocket and pull out a ace in the hole that may even surprise a die-hard fan and even shed a new light upon the song. Why won't John Mellencamp do this more often? I'm not sure, only he can answer that question, it's sad to see him overlook some of his best work. It's the equivalent of having a student who has high test scores but consistently comes home with B's and C's. Some may say "C's mean degrees", but it's disheartening when you know your child is capable of so much more. John Mellencamp still rocks with the best of them but I wish he would push his audience and himself a little further in the hopes of expanding our minds and horizons.
The 2005 tour has brought about a hope and promise not felt in a decade. Launched in support of his greatest hits disc, "Words and Music", this tour is arguably his best since 1992. This is his longest tour and his cheapest since then as well (with tickets priced between $20 and $45, a steal for an artist of Mellencamp's stature). The stage set up was minimal, but from the opening notes of "Small Town" to the "Check It Out" and "Cherry Bomb" finale, the crowd stood, sang their hearts out and had open arms for their local hero as his just shy of two-hours show was a reminder that when at his best, John Mellencamp can be a enthralling performer rarely outmatched.
Opening the show was "Small Town", Mellencamp slowly emerged from the side of the stage playing a black Stratocaster and was decked out in a tightly knit blue suit, slicked back hair and white opened collared shirt. The first four songs were all about keeping pace, as "Human Wheels", "Key West Intermezzo", "Minutes to Memories" and "Lonely Ol' Night" all followed. Only for the latter did he discard the guitar, but he looked like a kid up there on the stage as he appears to be at least a solid decade-plus younger than he really is.
After a speedy opening, a chair was placed in front of the stage, the band gathered near the front for what would be an acoustic set. While some people may frown on this, all I can tell you is that it kept our attention and showcased a side of the man I see far too little. "Rain on the Scarecrow" (a song played far too often in the past but invigorated here) and "Paper in Fire" were great revelations showcasing Mellencamp can still reinvent his songs with new arrangements but make them immediately recognizable and give them new life. "Big Daddy of Them All" was the evening's lone surprise with a sped up arrangement that eclipsed the album version from 1989. This is a crucial illustration of why he should not hesitate to dig deeper into his catalog. A song I always loved was elevated to new creative heights. One can only wonder what other tricks he could potentially pull off if he would only dare to attempt them. "Authority Song" was drastically different from its studio counterpart but it still rocked with Mellencamp even getting off the chair to engage the crowd.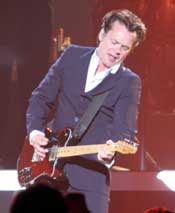 The song with the most genuine and heartfelt message was "Walk Tall", one of two new songs on his new Greatest Hits collection, "Words and Music". Every Mellencamp album has a career defining song on it and for the hits package; "Walk Tall" is it. The accompanying video is one of the best I've ever seen demonstrating with simple images how ridiculous ignorance can be. This is yet another example of how John Mellencamp is not just writing pure pop tunes, but songs with a message and a meaning. John Mellencamp has grown in ways most never thought imaginable. He's more than just a rock star but a preacher teaching not the word of God, but merely effortless life lessons we all neglect from time to time.
Instead of a proper show opener, Mellencamp has opted to bring out one of his influences, Donovan, to play a few numbers with his band as he takes a breather in the middle of the set. Mellencamp joined in on "Sunshine Superman" which was followed by a swift twenty-five minute set that showcased both old and new Donovan hits, climaxing with "Mellow Yellow", which to my surprise, most of the 10,000 in attendance knew. As Donovan exited, the driving beat of the drums hit full force as "I Need A Lover" was resurrected for the first time since 1994. John Cougar's first major hit, has largely been absent from most of his shows over the last two decades. However, it was a welcome return which led right into arguably his biggest hit- "Jack & Diane". Over the years Mellencamp has worked the song up in a wide variety of new arrangements, however, the current tour incarnation is arguably the closest it sounds the to studio version. Mellencamp barely had to sing the song as the crowd, in unison, sang it back to him.
Oh yeah life goes on
Long after the thrill of livin is gone
Oh yeah say life goes on
Long after the thrill of livin is gone, they walk on

"Jack & Diane" is merely one of a few dozen songs Mellencamp has etched into the hearts minds and souls of the American public over the last thirty years. Even when his shows are shorter, you usually see a show where you know 90% pf the songs by heart. A song, not as well know as "Jack & Diane" raised the bar as Mellencamp's spirited edge put "What If I Came Knocking", from his underrated masterpiece "Human Wheels", into another realm as it was delivered full of fervor and rage. Because of his deliverance and ability to connect, this song is also etched into our psyche's if for no other reason than he has been performing it at every show since 1993 with passion and vigor. As I watched him from the second row I was immediately taken with the concentration he was giving the performance of the song. When he hit the line "What if I cam crying after just a few weeks" from the third verse, I thought a vein was going to burst from his neck as he executed the song with the same dynamism you would anticipate from a twenty-year old. This is another case in point of a song that was not a hit but because Mellencamp has stuck with the song it is now a staple of his live performance and one that shines as brightly as any of his top-ten hits. The remainder of the set; "Crumblin' Down", "ROCK In The USA", "Wild Night", "Hurts So Good" and "Pink Houses" were delivered with intensity I have not seen in Mellencamp since Kenny Arnoff was behind the drum kit. None of the newer band mates outshined one another but as a force they drove the Rockford hopeful into a tizzy with one driving beat after another. Individually they may be gifted musicians but as a whole unit that are the driving force behind one of the preeminent songwriters of the last thirty years.
For the encores, "Ain't Even Done with the Night" was dusted off for its first airing in over twenty years, whose sound was driven by the violin and mandolin. "Night" is merely another song in the line of great pop tunes often overlooked by Mellencamp on each tour. I believe in the force and passion of the man's words and music and I yearn for the day when he will look outside of the fans with short attention spans and deliver to those die-hard fans and convert the others in the process with songs like "The Big Catastrophe," "The Family," "Crazy Island," "Now More Than Ever," "To Live," "Between A Laugh and a Tear" and dozens others Mellencamp has turned his back on. "Check It Out" and "Cherry Bomb" were not classic tunes upon initial listens, but because of the lyric and proficiency of the performances, these songs both became modern day sing-a-long classics.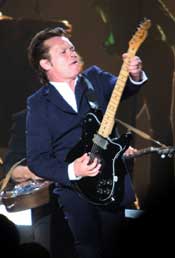 There are no words that can convey my love and veneration for John Mellencamp. He's a hero of mine and not just for his music. He consistently puts himself in the line of fire when it comes to politics and doing what is right. He's one of the founders of Farm Aid and in 1993 when storms ravaged Midwest towns; he rose close to a million dollars by performing charity shows. His music has always taught peace, love and understanding. Look at his multi-cultural band, his progressive thinking videos where a black boy and white girl slow dance together raised a lot of eyebrows and Mellencamp even received a few death threats, but he stuck to his guns because he knew it was the right thing to do. John Mellencamp took a cue from the Crosby, Still and Nash song "Teach Your Children" and did just that, except his children expand to everyone who buys one of his records. With each lyric and musical note he is striving to make the world a better place for his children, all of them. He may hail from a small town, but he thinks big. Like Dylan and Springsteen before him, John Mellencamp is continuing the great American songwriting tradition with stylishness all his own.
This may be a greatest hits tour, but anyone that will be privileged to behold the spectacle will see and hear more than words and music, but a legend and arguably one of the greatest American rockers...ever. The tour is his best in well over a decade showcasing a vast selection of hits, new arrangements, very reasonably priced tickets, a nearly two hour show, an acoustic set and even treasures like "Biggest Daddy of Them All" and for that one song alone, I'd like to say "thank you."
Let me say thank-you to those who love many
Let me say thank-you for those who still play fair
Hallelujah, the meek shall inherit
Let me say thank-you to all you folks out there
-"Thank You" 2004
RELATED LINKS: