6/15---House of Blues Chicago Greenwheel opened the event, and this St. Louis band made quite an impression on those present at the House of Blues in Chicago. Many not familiar with Greenwheel got much more than anticipated. The band is definitely one to see as soon as possible. The group really reached out to the crowd, especially front man Ryan Jordan. The crowd was in awe, enamored with Ryan's charismatic presence, yet honest lyrics. Not only were the vocals passionate and a constant throughout, the group with guitarists, Andrew Dwiggins and Marc Wanninger, bassist, Brandon Armstrong, and drums, Douglas Randall, also produced a steady rhythm with intricate melodies.
Not only is this a must see band, but also one to get the CD (check out our CD review). The band's album Soma Holiday (Island Records) is one to appreciate with its subtle intricacies that the band truly brings out when live on stage. Although much of the bands sound is reminiscent of different groups before them, the honest lyrics, smooth vocals, and excellent guitar work evoke emotion along different paths each song. The band is a U2 meets Candlebox meets Live, but to pay them a better compliment they are also none of them. The material is radio friendly, but has it's own very unique and subtle sensation. The music can be very complex yet simple, and that is where their appeal will come from. Definitely a band with big potential, catch them while there is still time to see them interact with the audience in a more "intimate" venue. They produce a definite connection with the audience and bring them into their music.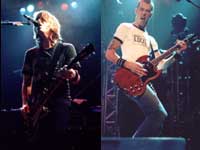 Injected shot a harder edge into the evening. They carried on where Greenwheel left off and kept the crowd in a rocking mood. The band projected a powerful mix of pounding metal guitar, moving rhythm, and dynamic vocals. It wouldn't be fair to compare this band to the opener, as the styles sharply contrast. It's safe to say that the two bands complimented each other to provide a jamming experience; Greenwheel with power in the vocals, and Injected with a thunderous back. The Atlanta band with Danny Grady's vocals, Jade Lemon's guitar, Steve Slovisky's bass and Chris Wojtal's drumming really gets the blood pumping. Definitely another must see, and keep your eye on band.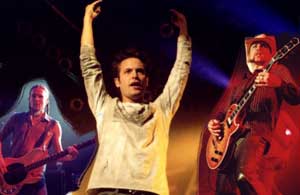 Default headlined the evening and capped off the event, however, the other bands really paved the way. The acoustic feel and crisp vocals of Greenwheel, and the thundering sound of Injected provided the vehicle to drive this band's songs of the evening home. The Canadian rockers, guitarist Jeremy Hora, drummer Danny Craig, vocals Dallas Smith, and bassist Dave Benedict, did project there own power too. With smash hits under their belt, the band jammed to a receptive audience. An excellent finish to a great evening, see some combination of this event at venue local to you throughout July.

Photos by Grace Cheung