In the music world of today, an act like U2 would have been given the ax after their second album. Today's record companies put too much value on the bottom dollar and very little on artistic development. When I think back to many of my favorite artists, it took them a number of albums to develop into the illustrious artists they became; U2, Kiss, Aerosmith, Def Leppard, Metallica, Bruce Springsteen all took their time finding their voice, and it was not usually until their third album they found their stride. John Mellencamp's ride to the top was a little longer. His big break through was 1982's "American Fool", his sixth album. Even back in the late 70's and early 80's, even though artists may have been afforded two or three chances, six is almost unheard of. It's also a testament to how an artist can truly blossom four or five albums into their career.
Johnny Cougar (as he was originally dubbed by his first manager) appeared from out of nowhere in the mid seventies with a lot of hype and two failed albums, "The Kid Inside" and Chestnut Street Incident". Shortly after, he was signed to Riva Records which eventually became part of Mercury/ PolyGram, and they released his next three albums "A Biography", "John Cougar" and "Nothing Matters and What If It Did" "A Biography" was graced with only an overseas release while "John Cougar" had a single, "I Need A Lover" that barely cracked the Top-40. However, it was enough to lead to "Nothing Matters…" and two more top 40 hits; "Ain't Even Done With The Night" and "This Time". It was at this point where Mellencamp found himself at a crossroads. He looked inward, knew this would probably be his last chance to make it and recorded "American Fool". I guess you could say the rest if history.
Redefining his songwriting style and sense of purpose to actually write about people and places that mattered to him (taking a nod from the greats...Dylan and Springsteen), Mellencamp found his stride around with "American Fool" and "Uh-Huh" and since then has gone on a streak of releasing one of the most eclectic and inspiring sets of albums in the history of music. Here is a look back at those initial early steps close to thirty years ago.
After years of watching almost every other major artist getting revamped mastering on their back catalog, it is finally John Mellencamp's time. In 2005, Universal Music will re-release Mellencamp's entire catalog with beefed up sound, all of the original album artwork and lyrics and a bonus track on every release. While I wish they had dug a little deeper into the vault for bonus material, I guess we should be thankful we have been given anything at all. Elvis Costello still holds the award for the best reissue catalog with an entire disc of bonus tracks and liner notes by the man himself on each release. My only complaint about these remasters is that Mellencamp can easily fill another three or four cd's worth of b-sides, covers and live tracks, while these new releases are granting us only one track each. Let's hope that a long rumored box set will appear sooner than later.
Now, the preeminent aspect of the discs is the sound. For the first time ever, these discs have a crisp clarity in which you can actually hear the instrumentation of the tracks. The acoustic guitars are crisper, the bass is fuller and the drums are pounding. Most people ask, "Is there really a different when they remaster an album?" That is a tough question to answer as some reissues are incredible and others are disappointing. The best test I ever gave someone was to play "Street Fighting Man" a few years back when the Stones finally remastered their Abcko albums. I played the original mastering and the upgraded one to a friend in my car. The sound difference was day and night; the dynamics, instruments and mixing are brighter and more fleshed out than one could ever imagine, this is the same way I feel about the new John Mellencamp reissue series. Look no further than "American Fool" where if you were to do an A-B comparison, you would find the difference to be astonishing as the breadth and richness of the sound will blow you away. With all that being said, let's take a look at the individual albums and how they hold up.
"A Biography" (1978)
This is probably the most sought after of these initial reissues as it has not been issued on cd before and only overseas. Mellencamp was going by the name of "Johnny Cougar" with this release. The album is a solid yet uneven effort, led by the monster track, "I Need A Lover". This album actually has a much rawer edge to it than either of the albums that followed. The guitars are cranked up loud for "Born Reckless" and "Night Slumming" where Cougar is demonstrating his best Rolling Stones impression ala "It's Only Rock N' Roll". "Alley of the Angels" is shooting for the stars like Springsteen did with "Jungleland" and even though Mellencamp comes nowhere near close to capturing the listener's imagination that profoundly, it's still a damn fine tune. The songs on "A Biography" are crude, under produced and raw, which adds to the albums allure. This is a better album than most would imagine. Sadly the album's lone bonus track is a radio edit of "I Need A Lover". There were alternate recordings of this song in the vaults and it's a shame it was not released here as it would add value and attention to an underrated and mostly unknown album.
Standout tracks: "Born Reckless", "Night Slumming", "I Need A Lover", "Alley of the Angels"
Bonus Track: "I Need A Lover" UK single edit
Album Grade: B-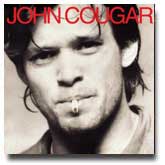 "John Cougar" (1979)
In 1979 Mellencamp had a minor breakthrough in the US with the single "I Need A Lover". Mellencamp's vocals sound great on the remastered disc, however, while there is nothing horrid on the album, "I Need A Lover" aside, there's not much that stands out even on multiple listens. Almost every track sounds equally dated, even with the beefed up dynamics. However, "John Cougar" is a consistent album that shows the further evolution of a man who in a few short years would be defined as the "Heart of the Heartland".
Standout tracks: "A Little Night Dancin'", "I Need A Lover"
Bonus Track: "Take Home Pay"
Album Grade: C+

"Nothin' Matters and What If it Did" (1980)
This is where John Cougar began to define his voice. Ironically this was the only album of his I never owned on compact disc. I always dismissed it as a two-hit album (Ain't Even Done with the Night" & "This Time"). However, while it's arguably one of his weakest efforts, there are some fine moments on it. "Hot Night In A Cold Town" gets things off to a sweltering start with a song that lyrically could be related to Springsteen's 70's work. However, other tracks such as "Don't Misunderstand Me", "Make Me Feel", "Tonight" and "Wherever She May Be" don't age as gracefully as one may hope. However, the disc has an incredibly rich sound with sounds I guarantee have never been heard before on disc. This is especially evident on "Cheap Shot" where the harmony vocals can be heard from different channels. The bonus track "Latest Game" is a leftover track from the "American Fool" sessions, which ironically is as good as most of the "American Fool" tracks and better than most of his first three albums. It's a welcome addition to this disc.
Standout tracks: "Ain't Even Done With The Night", "Hot Night In A Cold Town", "Cheap Shot"
Bonus Track: "Latest Game"
Album Grade: C+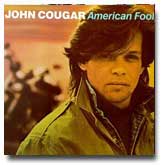 "American Fool" (1982)
Here is his big break through. After seven years of flirting with success, John Cougar finally hit the big time. At peak of "American Fool's" commercial success it was the number one album, "Jack & Diane" was at number one and "Hurts So Good" was in the top ten. The last artist to accomplish this feat was John Lennon. Cougar was driven and focused on this affair and producer Don Gehman gave the album a straight ahead rock focus with great pop sensibilities. The songs speak for themselves and still sound great today. The remastering on this disc is phenomenal. The previous cd issue was in dire need of an upgrade and now when I put on "Thundering Hearts" in my car, it is loud and clear with the driving beat of Kenny Arnoff's drums as they pound through the speakers and rattle your car more than the engine. The bonus track, "American Fool" is a very welcomed addition as it was left off the original release by the record company. It actually fleshes the album out and gives it a more fitting final track.
Standout tracks: "Hurts So Good", "Jack & Diane", "Hand To Hold On To", "Thundering Hearts", "China Girl"
Bonus Track: "American Fool"
Album Grade: B+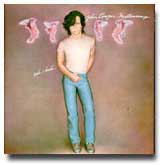 "Uh-Huh" (1983)
This is the album that brought Cougar his proper surname (Mellencamp) and credibility as an artist. He substantiated himself to be more than a pop star but one who had a pulse on the American consciousness with tracks like "Crumblin' Down" and "Pink Houses". "Authority Song" has one of the greatest opening riffs of the last twenty-five years and "Play Guitar" is arguably the catchiest song of the bunch, a mystery as to why it was never issued as s single. He proved to everyone that he is a no nonsense rocker with an album recorded in a brief 16 days. In fact I forgot how solid and rocking this album was until I received this remaster. It sounds glorious with fine tuned mastering and only "Jackie O" does not work. "Uh-Huh" showed that while some artists are late bloomers, they also flourish brighter and live longer than the industries many one-hit wonders. "Uh-Huh" showed more than a pop star wanting to make it big but an artist slowly defining his voice and the landscape of music he wanted to tackle. "Crumblin' Down" "Pink Houses" and "Authority Song" still tear down arenas to this day. The album even has arguably a career defining lyrics that can sum up who John Mellencamp wanted to be and still is today…"Forget about all that macho shit and learn how to play guitar".
Standout tracks: "Crumblin' Down", "Pink Houses", "Authority Song", "Play Guitar"
Bonus Track: "Pink Houses" (acoustic B-side)
Album Grade: A-

To be continued next month with the next four releases.