Chicago's own Fall Out Boy returned for a sold out show at the Rivera Theatre on Friday night to celebrate their major label debut
From Under the Cork Tree
.
With the help of not one, not two, but three supporting acts, it was well worth the ticket price. Spitalfield, October Fall and The Academy Is... warmed up the crowd before FOB took the stage. Actually, overheated the crowd may be a more accurate description. The mostly under-21 crowd seemed to have skipped Concert Going 101. Many were visibly flushed from the heat (on an unseasonably cool May evening) and were not drinking water, causing lots of work for the EMS staff on hand. A few were even lifted out of the crowd and taken somewhere to cool down, while bottles of water were tossed out by security. At more than one point during the show, the bands had to stop playing to ask everyone to take several steps back so as not to squish the crowd in front. Despite that, the crowd seemed to be enjoying every minute.
Once FOB took the stage, they seemed to feed off of the energy of the crowd and relished in the fact that they were playing for their home town. The kids were bouncing up and down and crowd surfing throughout the entire high energy set. When FOB played their first single from the new album, "Sugar We're Going Down", the crowd shouted the lyrics and nearly drowned out the band. FOB plowed through many songs off the new album, barely stopping between songs. With lots of punk attitude, surging guitars and pop lyrics, they showed the crowd how far they have come by remaining true to their own sound, unlike so many other emo/indie/punk bands whose names we can't remember. With elements of punk, pop and hardcore, FOB is creating a sound that is unique and may even be the next "Chicago sound".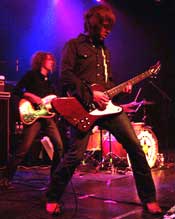 The band showcases a great sense of humor with song titles such as Our Lawyer Made Us Change The Name Of This Song So We Wouldn't Get Sued; Champagne For My Real Friends, Real Pain For My Sham Friends; and I Slept With Someone In Fall Out Boy And All I Got Was This Stupid Song Written About Me. These songs shouldn't be mistaken for parodies, as tongue-in-cheek lyrics are just part of their charm.
FOB's last cd Take This to Your Grave, released on indie label Fueled by Ramen, sold 200,000 copies. Encouraged by the success, they worked even harder on From Under the Cork Tree to appeal to old fans as well as new. What they are doing must be working - the band's latest release debuted in Billboard's top ten and they have snagged a spot on this summer's Warped tour. Congratulations, guys! Check out the band's official website at www.falloutboyrock.com.
---
RELATED LINKS: