It was Sunday, April 17th and "Heavy Metal Night" in the Windy City. The now famous "Joe's on Weed St." was the host for this memorable metallic onslaught that would feature some of Chicago's most talented local metal acts as well as New Jersey's unstoppable,
OVERKILL
! The venue was packed with Chicago's fiercely loyal "metal battalions" and they were primed and ready for a metal massacre!
First up was Cable. Although a newly formed Chicago based band, these Midwest metal veterans demonstrated with authority the metal they're made of and kicked out some molten heavy metal that really got things off to a great start. Next, were Chicago's power metal warriors, Ion Vein. These guys are incredibly talented and are building quite a following worldwide. If you're into bands like Dream Theatre, Symphony X and Stratovarius, I would highly recommend that you check out Ion Vein. After Ion Vein's powerful performance, the Chicago metal maniacs in attendance received a HUGE rush of energy from the "classic metal" attack delivered by the south side's heavy metal militia, Fatal Order. These guys put on an awesome performance and without question, deservedly gained a ton of new fans. And, as a last minute addition to the lineup, Florida's Trivium unleashed an extremely explosive and intense set that ultimately set the stage for the event's highly anticipated headliner.
Yes, Chicago's metal family had just been treated to some really outstanding heavy metal. However, it was the east coast's incredible OVERKILL...who all the metalheads where truthfully there to see. And that's totally understandable, because OVERKILL are considered by many to be ICONS in the world of heavy metal...real...metal that is. No nu metal or poser stuff with this band. Just "in your face", "kick ass", straight forward heavy metal! These "soldiers of metal" have been banging our heads for an insane number of years now and by their magnificent performance on this night, it's obvious OVERKILL has absolutely no plans to stop their unforgiving bombardment any time soon. From the moment they walked on to that dimly lit smoke filled stage, you immediately knew you were about to witness something very special.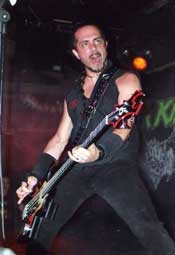 Touring this time around to promote their newest release entitled "RELIXIV", OVERKILL steamrolled through several new songs before ripping into their "classics." The band's highly energetic vokillist, Bobby "Blitz" Ellsworth, is a remarkable performer and his unique vocal approach is a "trademark" of the band. Nobody sounds like Bobby. And yes, D.D. Verni is still pounding massive thunder out of his bass guitar for OVERKILL. Bobby and D.D. have been through it all together. They've withstood countless personnel changes in the guitar and drum departments, but have somehow managed to keep it all together over all these years (over 20 now) to ultimately produce one of the longest lasting, hardest working heavy metal acts ever in the business. As the night rolled on, OVERKILL had every metalhead's fist in the air as the band sliced through "classics" such as "Rotten To The Core", "Elimination" and "Under One." And you can bet your life, that every head in the house was banging when OVERKILL mercilessly raged through "Thankx For Nothin", "Gasoline Dream" and the ever popular, "Hello From The Gutter."
OVERKILL then "blitzed" into their killer tune "Powersurge" which instantaneously bolted the Chicago metal maniacs into metal heaven! OVERKILL definitely had "Joe's" in the palm of its hand. It was a beautiful thing. Appropriately, OVERKILL ended their monumental set with a new opus called, "Old School"...which is exactly what they are. Their extremely loyal fans screamed and begged for more and were ultimately rewarded for their enthusiasm and support with a spectacular encore version of "Necroshine" before the band finally called it a night.
It was another memorable evening of glorious heavy metal in Chicago that may never be forgotten by those who survived the event. We had a BLAST! A Party! A Metal Party! An "Old School" Party! I just hope you were there. I'll see you at the next OVERKILL gig. Until then...Stay HEAVY!
---
RELATED LINKS:
Overkill's Official Site
Photo Gallery