It's almost 8:00pm and I am pressed up against a barricade in Chicago's Aragon Ballroom, surrounded by several thousand shrieking teenage girls. I'm not sure how I got wedged into this spot, as they all seemed to have appeared from out of nowhere and I'm wondering why I'm here. They girls are giddy with anticipation, readying their camera-equipped cell phones and glossing their lips for the video cameras that seem to be everywhere.
Did I get my venues mixed up? I saw Keane at Park West last summer and it was an audience of mostly 20 and 30-something hipsters. What the hell happened? Since last summer, Keane has had songs on soundtracks for both O.C and One Tree Hill (teen TV dramas), hence changing their audience demographic slightly. (The hipsters were at the Aragon as well, just harder to spot and probably hanging out by the bars, where the teen scene wasn't allowed.)
Tonight they are filming for a DVD and there are five cameras in front of the stage, blocking the view of so many that fought for that spot. As the band steps out onto the sparse stage, the pounding drum intro to "Can't Stop Now" sets the crowd in motion. The stage lighting is simply stunning, perfectly timed to the beats, changing colors to highlight the lyrics and mood each song.
Keane is a rarity in the realm of popular music these days - a three piece band without a guitar. Tom Chaplin (vocals), Tim Rice-Oxley (piano/keyboards), Richard Hughes (drums) came together in the UK in 1997. After the departure of their guitarist in 2002, they decided to keep playing gigs until a replacement could be auditioned. They were discovered while playing those acoustic shows and asked to put out a single as a three-piece. Soon after, they were signed to Interscope and never found the time or need to replace the guitarist.
From their outward appearances, the boys from Keane seem more like your brother's friends than 'the next big thing'. None is particularly more handsome than the others and they look like they are on their way home from Sunday school in their collared shirts, with innocently charming faces and slightly mussed hair. Once the music kicks in, they are transformed. Tom's soaring vocals and Tim's furious pounding on the keys turns them into emotionally vulnerable human beings, sharing themselves intimately with the audience. Honesty raw lyrics make Tom appear to be pouring his every heartache, clutching the microphone as if it were a lover being torn from his arms.
The show seemed a little short, lasting only about an hour, however the band played most of the songs from their 2004 album, Hopes and Fears, including "Somewhere Only We Know", "Bend and Break" and "This is the Last Time". The band seemed genuinely overwhelmed as the audience sang along with every note of "Everybody's Changing". They also played two new songs, one of which was supposedly 'unfinished', but sounded good to me. For a band that often draws Coldplay comparisons, I find that labeling unfair and unimaginative and think they have a sound that is refreshing. I have to admit, I didn't think that Tom's vocals could be easily reproduced live, but he blew me away with both power and beauty. Keane songs are emotional and have great hooks, so the audience couldn't help dancing and singing.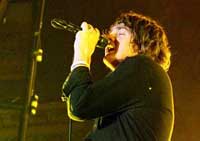 The stage was very high, which created some distance with the audience. Keane adeptly bridged the gap, stepping to the edge, gesturing grandly, doing a great job engaging the crowd. For their encore, they performed "Bedshaped", their latest single. Keane has achieved great success in both the UK and Australia, with the States close behind. After exhaustive touring, (at least three stops in Chicago in the last year), the band will finish out their summer tour opening for a few U2 shows.
---
RELATED LINKS:
Keane's Official Site
Live Shots Gallery