PARENTAL ADVISORY
Please be advised that some external links of this web site associated to the article may link to mature content.
She has a name in the adult industry as big as her original home state of Texas. This sultry sensation's looks and beautiful curves are rivaled only by her positively charged attitude. UnRated Magazine is proud to introduce our first vivacious vixen……Jesse Jane.
Drive, energy and intelligence, as well as an appetite for stardom, has brought Jesse a variety of rapid successes. These successes have moved her from top cheerleader to top hotty. After graduating high school with honors, she applied looks, as well as dedication, to various print and studio modeling work. Winning an area contest gained her local and national exposure in commercial spots for Hooters (UnRated's favorite restaurant for hotties). Jesse's winning streak continued when she entered a model search for Hawaiian Tropics, and won local and state divisions to become a top finalist in the regional contest. Jesse's competitions led her to Hawaii, where riding the wave of success got her a walk-on role in Baywatch: The Movie. In August of 2002, Jesse reached the apex of bikini beauty when she was awarded "Miss Photogenic" by the American Dreams Pageant. Bikini beauty wasn't enough to satisfy this babe's desire, and she is currently under exclusive contract with Digital Playground, where she has stepped up to become best in class in the Adult Video industry. Jesse's next release will be Pirates in September '05, which along with Jesse Jane will include Teagan Presley, Janine, Devon, Carmen Luvana, Austyn Moore and Jenaveve Jolie. Find out more about Jesse at her website http://www.jessejane.com/bio.php
---
On April 27, 2005, UnRated was able to catch up with Jesse and she graced us with a few moments in a phone interview. We greatly appreciate the thoughts that she shared with Adam Bielawski. She definitely confirmed for us that she is absolutely nothing less than a class act.
Adam: Let me ask you, do you ever feel like a rock star?
Jesse: Everyday. (Laughs). My commitments right now keep me on a very busy schedule from making movies, appearances, magazine shoots, generally promoting.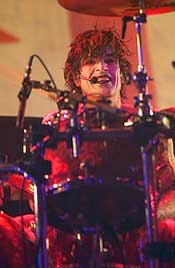 Adam for UR: I have read that you went out with rock stars such as Kid Rock and Tommy Lee, any truth in that?
Jesse: Yes there is, I went out with both.
Adam: Any good stories or gossip?
Jesse: You know that is something that is private. (Laughing). Both are great guys.
Adam: A friend of mine wanted me to ask you, if you could dine with any rock star, dead, alive, or fictitious, who would it be?
Jesse: Definitely Corey Taylor from Slipknot, I love that band, Jimmy Page from Zeppelin and Bret Michaels---he is so hot.
Adam: How about making time and appearing for all the rock stars as a hostess on MTV Headbangers Ball?
Jesse: I would love to be a hostess for MTV Headbangers Ball, I know I would fit the part, I love music! So how do you get me on MTV?
Adam: Maybe if all the metal fans unite, MTV will hear us loud.
Jesse: (Laughing)
Adam: How about going out on tour?
Jesse: Yeah, that would be cool.
Adam: Jesse, have you ever body surfed at a concert?
Jesse: Hell yeah! I loved to body surf at concerts, but I don't do it anymore. When I did, I felt the adrenaline rush and always all the hands. It was such a rush!
Adam: What do you do for nightlive enjoyment, do you club or just hang out?
Jesse: I love going out and dancing, you know that I trained in dance in High School. Made the cheerleading team.
Adam: You've appeared in numerous magazines, what are some of your memorable shoots?
Jesse: My favorite photo shoots were the spread for Hustler; the second would have to be Arena Magazine.
Adam: What other music magazines you have graced?
Jesse:: As an adult star, I know that the adult industry is making its way into mainstream. I have appeared in numerous magazines including just recently in March for Maxim Czech Republic Issue, Revolver, People, Arena, as well as a sleuth of adult magazines.
Adam: I am sure titles all listed at your site at JesseJane.com
Adam: What are some places you loved shooting on location?
Jesse: Bora Bora is one of my most favorite places in the world.
Adam: Better than Hawaii?
Jesse: Yeah, better than Hawaii. I was a Hawaiian Tropic Girl for several years and won the American Dream world-class model competition, which started my career as a model.
Adam: What are your ambitions? Do you plan to go mainstream: maybe movies, TV, or just disappear to have a normal life and home?
Jesse: For the future, I want to make a series of fitness videos as I am ASA Certified. That will be my career later in life.
Jesse: When working for Hooters, I managed the regional Hooters in the area in Texas, so being camera shy was never me; I love having my picture taken. From being in high school to running and making TV commercials for Hooters. Later becoming a Hawaiian Tropic model and becoming Miss Photogenic at the American Dream Pageant . Camera shy, I am not.
Adam: This is my personal question, have you been up at the Playboy Mansion?
Jesse: Yeah, lots of times. It's one huge party full of naked chics.
Adam: What female celebrity do you find attractive?
Jesse: Angelina Jolie, there is no one like her from her body to her lips. Definitely, Angelina Jolie.
Adam: So what is your favorite movie, Tomb Raider?
Jesse: Gia.
Adam: Lots of nakedness if I remember.
Jesse: Oh yeah, Angelina is great in that movie and you get to see all of her. Angelina Jolie is hot.
Adam: Cars, Sex and Rock and Roll, any truth in that statement?
Jesse: Hell yeah!!
Adam:…So what are you listening to these days?
Jesse: I'm all over the new Slipknot album. I love the band and have seen them several times. Slipknot puts on such a high-energy performance they are absolutely awesome! I am also into Linkin Park and have been for quite a while. I get into allot of music but love rock. I would also mention Godsmack, Metallica, Disturbed and so many others.
Jesse: Slipknot is such a big RUSH!!!!
Adam: You have done allot with the band Drowning Pool (DP), a video---even on the cover of their new album.
Jesse: I loved doing the Drowning Pool video "Step Up". I love all the guys from the band. They treated me the best. I was the one that instigated the hot bathtub scene with lead singer Jason.
"Jesse is the best, we had so much fun working with her. We are all friends. When working on the new album cover art work, the original concept was too much for the label, but as you see we still came up with something hot for Desensitized!." C.J. (Drowning Pool: May 2005)
Adam: That video with DP really opened you up as a heavy metal babe in the mainstream circuit.
Jesse: Definitely, I hope to do more with Drowning Pool and they are my best friends. I will definitely be seeing them in concert.
Adam: Any other video's coming out?
Jesse: Oh yes, I am in the new Wakefield video, C'mon Baby, and in the works for the new Robbie Williams video. (Jesse busts out of the stiff but sexy judges outfit, and shines in the blue polka dot bikini)
Adam: Let me throw the question out that has been ran across everyone sooner or later: If you were stranded, like on a desert island, what album would be a must?
Jesse:: It would definitely have to be the "Best of Led Zeppelin". Zeppelin is the all time music, and jamming to anything by Zeppelin makes my day.
Adam: Robert Plant or Jimmy Page?
Jesse: Jimmy Page baby!
Jesse: Stuff that I am listening to today is, as I mentioned, Led Zeppelin, Slipknot, Disturbed, Godsmack, and so much more. I like all kinds of music but tend to navigate toward heavy metal. Definitely Slipknot!
Adam: What do you think is the most misunderstood thing about you?
Jesse: People tend to think because I am a Porn Star that I will sleep with everyone. That is furthest from the truth. That is just not me! I have always been a tomboy my whole life and I do get along very well with men, as well as with women. I am a very open person. So if you give me respect, you will get it back from me as well.
Jesse:: You know I write a column for RockConfidential.com, Everyone should check it out.
Adam: Would you consider writing for us at UnRated? We would love to have you as a part of our staff, write a column or anything.
Jesse: Yeah, let me know. When can I start?
Adam: Right now! (Laughing)
Adam: While doing some research on you, I ran into a Yahoo Group, dedicated to you, that is run by a very creative woman. Called JesseJaneRocks, the group has over 5000 fans all dedicated to you.
Jesse: Wow, I did not know that. I have to check it out, can you send me the link. (Jesse Jane is now a member of the popular yahoo group.)
Adam: I will, definitely.
Jesse: My new movie is to be released soon. I will be doing a city tour and visiting Chicago from September 14 – 30, 2005, promoting the latest Digital Playground release called "Pirates".
Adam: Thank you for the interview Jesse, any final last words?
Jesse: Rock Your Cock Out!!!!
ASK JESSE JANE
Do you have something that you want to ask Jesse? Write her right here at UnRated and be one of the first to have our sexy columist Jesse Jane give you the right advise on "SEX, DATING, DANCING, ROCK N ROLL, or anything else.
From all of us at UnRated: Rock we will Jesse!!!! Well said.
---
RELATED LINKS:
Official Jesse Jane Biography
RockConfidential.com
Digital Playground
Internet Movie Database
Jesse Jane Rocks - Yahoo Group
Drowning Pool Web Site
Drowning Pool "Step Up" Video
Wakefield Web Site
Wakefield "C'Mon Baby Video" at Yahoo Launch

Robbie Williams at Yahoo Launch