From the hard school of Hollywood, Juliette Lewis has always made an impact. Her sense of unusual character has made a name for herself. Juliette's musical creation - Juliette and the Licks is following the big impact traditon.
After playing last summer with punk headliners on the Van's Warped Tour - J&TL are hitting the clubs to promote their ep "Like a Bolt of Lightning" and the soon to be released full length cd "You're Speaking my Language".
One might wonder why a famous, wealthy actress would want to form a band and hit the club circuit. It's not about the money. The show is a combination of acting and spontaneous art. Juliette brings her outstanding emotion to life in its rawest form and seems to be quite comfortable in rocking the crowd.
Although the band and the music are quite good, the focus seemed to be on the alter-ego of Juliette - a Rock Goddess of sexual angst. Juliette seemed in a rare state of pleasure while reaching into the stage stlye of old school punk pioneers like Iggy Pop and Patti Smith. Juliette piloted the show with extreme craftiness. The fans were captivated - holding on every move. And moving is a signature quality for Juliette. Her non-stop contact with the fans and getting in the audiences face to writhing and twisting all over the stage - Juliette rocked!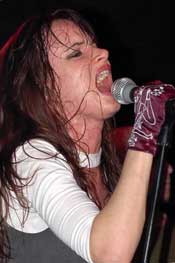 The band seems to gravitate towards the punk modern type of style which brought an unusual mix of fans and celebrity on-lookers to the Bottom Lounge that seemed only semi- interested in the intensity of Juliette and her unique edginess. Unlike other celebrities that have entered musical endeavors to escape boredom, I really like what Juliette and the Licks have to offer and I think there is a place for them. Hopefully J&TL will continue touring and find the type of audience they need.
---
RELATED LINKS:
Juliette and the Licks
Niva Bringas Photography