Drew Sidora anyone? You might have heard the name. If you haven't you will! Drew Sidora is an emerging Chicago R&B singer gaining fans alike with her vocal prowess and dancing abilities. Her hit single "For The Love," is blowing up the charts on every major radio station, coining her as Chi-town's Princess! A multi-talented singer, songwriter, and actress Drew can be seen in her recurring role as Chantel on the popular Disney sitcom, "That's So Raven." UnRated had the pleasure of spending the day with Drew as she opened for LL Cool J at the Taste of Chicago this past weekend. Although Drew encountered a few mishaps, that were out of her control and caused by the soundman, she had an amazing performance and showed nothing but professionalism as she made it through her performance sans sound during parts of her show. She and her dancers endured as the soundman repeatedly had snafus with the sound. Not one to let something like music get in the way, Drew graced us with her immense vocal talent by singing acapella.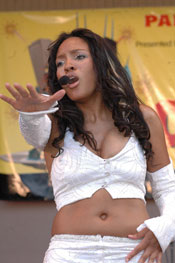 After her performance, she danced alongside LL Cool J when he made an impromptu request for some ladies to join him on stage while performing his hit single, "Head Sprung." If that weren't enough, we were able to sit down and get to know Drew a little better.
I am confident that we will hear nothing but positive things from Drew in the future albeit from her music or acting, she is without a doubt a rising star! You can visit Drew Sidora at www.drewsidora.com.
---
RELATED LINKS:
DrewSidora.com
Drew Sidora Interview with Stefanie Newell
Live Gallery
City of Chicago