A dark and stormy evening in Chicago - what could set the mood better for a Peter Murphy show? Wednesday night, the crowd at Metro was treated to intimate show by the "Father of Goth" and former front man of Bauhaus.
Sporting a new bleach blond hairdo and a long coat over the requisite black-on-black ensemble, he reminded me a little of Bowie in the cult classic film Labyrinth. He opened the show with the classic "Gliding Like a Whale", which was received with loud cheers from the crowd. From that first note, I knew that this smaller venue would be a treat for the fans of such a large persona with talent to match.
Madly spinning around the stage like a whirling dervish with his coattails flaring, Peter sang new tunes "Idle Flow", "Piece of You", and "Give What He's Got" from his eight solo album, Unshattered, released in October 2004. Rarely do you hear such an extraordinary voice at a live show - dark and lush, dare I say even hauntingly beautiful? As he settled into a set of his more classic songs, you could feel his voice slowly building until it reached its crescendo, filling every corner of the room. True fans will tell you that each of his albums is distinctively different, yet they all seemed meld together nicely as he took us thru the musical journey of a career spanning three decades. His voice has not only stood the test of time, but has actually gotten better.
Peter Murphy's touring band is comprised of music veterans, with former members of both the Mission (Mark Thwaite, guitar) and Skinny Puppy (Justin Bennett, drums). They were skillful in keeping up with the energetic Murphy and just as strong musically, throughout the 100 minute set. Mr. Murphy's onstage antics throughout the evening nearly overshadowed his vocals (no easy feat), from wild dancing to swishing his coat tails like a cape and stabbing at the stage with a bamboo walking stick. He slowed the pace a bit and took time to reintroduce his opening act Sarah Fimm to sing a beautiful duet "Huuvola."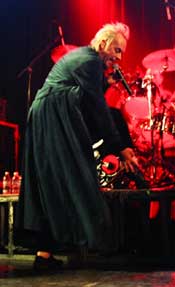 True to his earlier promises, there wasn't a Bauhaus tune to be heard. After Peter's successful solo career spanning three decades, why should there be? A reunion of the band was staged at Coachella earlier this month, leading fans to think there might be a chance. While Bauhaus tunes are still fairly popular in the club scene ("Bela Lugosi's Dead, "She's In Parties"), Peter doesn't need to rest on their laurels. He saved some of his better known hits until the end of the evening, closing the set with "Sweetest Drop", and "Cuts You Up" as part of the first encore. Parting with "Hit Song", Peter obliged the demanding crowd with three encores, but they would have stayed for four.
After a wonderfully strange evening, I came away with a greater appreciation for Peter Murphy - both the man and the music. It makes me sad that he has been branded as more of a cult figure than the true talent he is. On the other hand, if he was as popular as he deserved to be, I would be writing this review from nosebleed seats in a sports arena disguised as a concert hall.
The crowds see him
All complicated no shine.
If they saw with their inner
They'd see a man bigger than kind.
- from "Give What He's Got" by Peter Murphy
---
RELATED LINKS:
Peter Murphy
Photo Gallery
Amie Mayes