I had the pleasure of spending not one but two weekends with comedian Shawn Morgan, as well as talking with Shawn
about his life, his comedy, and about whom he thought was funny.
The first time I met Shawn was at the National Association of Black Female Executives in Music and Entertainment (" href="http://www.nabfeme.org" target="_blank">NABFEME") awards ceremony and subsequently that same evening
at Cedric The Entertainer's after party hosted by World World Entertainment at Pazzo's in the NBC Towers. Shawn
came out to show support to Cedric after Cedric's performance at the Chicago Theater on June 24th.
This past weekend, I as well as a who's who in comedy was in attendance to celebrate Shawn's birthday at Estate Night
Club. There were performances by French Kiss Entertainment recording artist Kee Kee, rappers Joe Grande and Sweur
Mouf, as well as comedians Reggie Reg (P. Diddy Presents the Bad Boys of Comedy), Smokey (BET's Comic View), Ill
Will (BET's Comic View), Dee Ray (Barber Shop), B. Coles (Def Comedy Jam) and Deon Coles (Showtime), who all
showcased their comedic talents to help ensure that Shawn's birthday bash was a success! Between these guys and
Shawn himself, a laugh riot is truly what it was!
Shawn Morgan was raised on the south side of Chicago and attended Morgan Park High School. During his time in high
school, he realized that he wanted to pursue comedy, although initially he didn't take his comedic talents seriously.
Peers and friends would advise him that in fact he needed to take his comedy seriously because he truly had talent, and
although he agreed that he would, he didn't sincerely mean it at that time. He later went to the military and during his
time there decided to parlay his funniness into a career.
Shawn uses different facets of his life to draw from for his comedy, although he admits that it's exaggerated at times. He
describes his comedy style as being laid back, real, and true to the situation. He uses his jokes not only to draw laughs
but also to turn real situations into learning experiences.
Shawn went to school with Bernie Mac's daughter and credits Bernie, another Chicago comedian, as being the person
who inspired his career. Bernie gave him career advice and inside information that he feels "put him at an advantage and
allowed him not to go into the comedy circuit with blinders."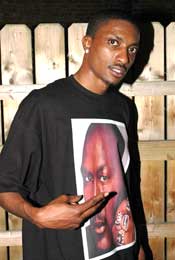 As for who he thinks is funny, "I would say that seventy-five percent of Chicago's comics are geniuses in their own right, I
really enjoy Chicago comics more than anybody else. But my all-time favorite would be JB Smooth from Pootie Tang,"
he shared.
Shawn has done well for himself, as is evidenced by his accomplishments to date, like performing at venues such as the
MGM Grand Hotel in Las Vegas, the Laff Factory in Los Angeles, the Civic Center in Atlanta and appearing twice on
BET's popular comedy show "Comic View." To see Shawn's comedy for yourself, you can check Shawn out this Friday,
July 8th, 10 p.m. (CST) as a featured comic on P. Diddy presents The Bad Boys of Comedy on HBO, the Big Black
Comedy Jam DVD that will be released in August, or every Thursday at The Wire, 283 S. Torrence, Calumet City, IL.
Doors open at 8:30 p.m. and the show starts at 10 p.m. See you there!