For those of you in need of rehab, the Anger Management Tour has stormed Chicago only to cure all you anger heads of your anger management issues. Eminem, 50 Cent, the G-Unit crew, D12, Obie Trice, Lil John and the East Side Boyz, and more bum-rushed the stage at the first stop of the tour at the Tweeter Center in Tinley Park, IL on July 11th for a four-hour concert packed full of hits. Fans ranging in age from seven to what look liked fifty-seven packed the Tweeter Center for an overwhelmingly hyped show as Em and 50 fired off hits like a loaded gun.
Lil John and the East Side Boyz took to the stage first to get Chi-town ready with their medley of Atlanta crunk. They had all the fans getting low, getting low.
Next up 50 Cent! Now with a name like 50 Cent don't think that you're going to get short changed, as a matter of fact, 50 worked overtime to make sure his set was a success. With numerous gun clicks and gunshots, 50 and G-Unit took to the stage (adorned with a Statue of Liberty prop) and set the show off to a tumultuous bang to let Chicago know, "G-Unit's in da house baby, what you gon do?"
50 got the crowd hype with his catalogue of hits, "What Up Gangsta," "I'm Supposed to Die Tonight," "Disco Inferno," "P.I.M.P.," "Get In My Car," and more as rims spun and money danced on the monitors on the stage. Noticeably absent from 50's set, was "In Da Club," but even with the absence of one of 50's most popular songs, 50 kept the crowd amped throughout his hour and fifteen minute set. His wardrobe changes were even memorable! He went from a white tank top and jeans that wowed the ladies with his muscular physique, to an all white suit accented with a white brim hat, to a camouflage bullet-proof vest emblazoned with G-Unit on the back. With 11 million albums sold, 1 million of which were sold in the first 4 days of release, 50 shows the naysaysers "how to stunt."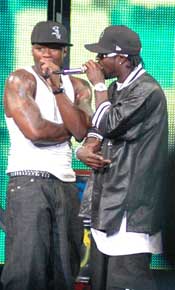 Lil' 50 (as I like to call 50's son) was another impressive figure on stage as he sang along word for word on all of his dad's, as well as G-Unit's hits. He acted as a hype man by running stage left to stage right to make sure all the fans kept their hands high in the air. I don't know about you guys but Lil' 50 makes me wonder when his time is coming to take control of the stage. Hmm…just a thought.
50's G-Unit entourage weren't slackers by any means as Lloyd Banks took to the stage with much enthusiasm for "On Fire." Young Buck got the audience buck with the head-nodder, "Shorty Wanna Ride," and Olivia, the female flavor of G-Unit, came out for the hip-gyrating "Candy Shop."
A personal highlight for me was Mobb Deep who appeared on stage to thunderous applause as they performed their hit "Quiet Storm." There was also a surprise appearance by Ludacris who made a brief appearance on stage while Snoop Dogg and Bob Marley played in the background and G-Unit's Young Buck fired up a cigar (well maybe not a cigar) and declared, "God made pot. Man made beer. Who do you trust?" Umm, okay!
Just when you thought you had seen and heard enough, Eminem delivered!
Eminem started off his set with gunplay alone in his dressing room and a Marshall Mather's collage of pictures, video footage, and magazine covers. As the magazine covers popped on the monitors at rapid speed, the audience went wild with cheers as Em entered the stage from behind a set of numerous doors that were three floors high, almost in resemblance of a jail or maybe not. He stepped from behind one of the doors donning his first outfit of the night: a black suit, white shirt and red tie, later followed by a tank top, red jogging pants, and a white towel that hung from his waist that had "Encore" written on it.
Eminem's set was just as high energy as 50's as he performed his most noticeable hits, "A** Like That," "Lose Yourself," "Without Me," "Like Toy Soldiers," "Just Lose It," "Mockingbird," "Stan," and "Kill You," to name but a few.
Eminem even found time in his show to make fun of one of his long time rivals Mariah Carey. He sang, "Mariah Carey is so annoying," to his "A** Like That" track, followed by a snippet of Mariah's song, "We Belong Together," that played in the background. Eminem pretended to vomit in a toilet after talking to Mariah in a make believe conversation on the phone.
Em tested the audience's knowledge of Hip Hop during one part of his show when he took us back to "La Di Da Di," by Doug E. Fresh, "Just A Friend," by Biz Markie, "Nuthin' But a "G" Thang," by his mentor Dr. Dre featuring Snoop Dogg and then he came current with his own song "The Real Slim Shady."
Eminem had the entire audience, if not for the evening, believing that they were rappers themselves, as fans bobbed their heads, mouthed his infectious lyrics, and waved their hands in rapper bravado.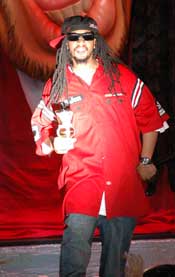 D12 members emerged one by one from behind several of the doors located on the stage and performed some of their hits like, "Just Like You," "40 oz.," and "My Band." Of course Bizarre, in all his fabulousness, came out in a shower cap and after a while took his shirt off to expose his, well let's just call them muscles…D12 and Eminem then poked fun at themselves by performing a choreographed dance to "Wild Thing," by Tone Loc.
Shady Records newest artist Stat Quo added to the lineup getting us prepared for his album, "Statlanta" which is dropping soon.
Eminem also had a very special apology for Michael Jackson. He shared, "I'm so sorry if I offended you by my video or anything I've ever done." He then tossed baby dolls from high above the stage, calling the babies names like: pillowcase, biscuit, saran wrap, and tablecloth.
Eminem ended his performance in the same manner that he began, with gunplay. The monitors displayed him placing bullets into a gun chamber and then the gun to his head as he pulled the trigger. The sound of the gun echoed the stage, as (oddly enough) the crowd went wild with roars. Then from behind darkness you hear Eminem yell, "Do you all want me to come back out on stage?" The lights come up and the monitors show Eminem standing there with the gun pointed to his head and a flag that says, "Bang." D12 joined him on stage yet again as they performed, "Lose Yourself" to an eager and awaiting audience. Fireworks exploded, confetti trickled from the ceiling and that my friend was an "Encore!"
In a time where concerts are so expensive, this show is well worth the money. The show was high energy and it felt as though the artists performed their entire catalogue.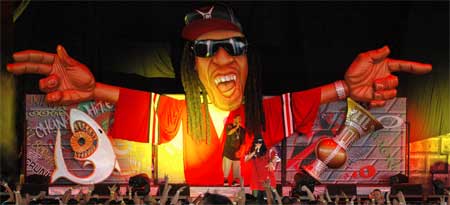 Email me at Stefanie@unratedmagazine.com.
---
RELATED LINKS:
Eminem
50 Cent
50 Cent Live Concert Gallery
Lil Jon & The East Side Boyz