After the show I witnessed on Thursday, the US could use a lesson in rock from Canada. (Believe me, I never thought I would be writing THAT sentence either!) Sloan, hailing from Halifax, Nova Scotia, performed Thursday night at the recently rescued Double Door for a sold-out crowd.
Opening band Canasta warmed up with their funky pop in a more than apt fashion, but the audience was anxious for Sloan. After Canasta finished, they started chanting Sluh-oan, Sluh-oan, Sluh-oan.
Sloan finally took to the stage, opening to thunderous applause with "Losing California", tearing thru "Underwhelmed", "Coax Me" and several other tracks from their latest release A Sides Win: Singles 1992-2005. (If you haven't been introduced to Sloan, this album is a great place to start. See the discography below for more suggestions.)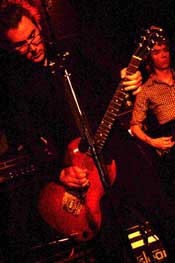 Lead singer & guitarist Patrick Pentland kept everyone entertained with his many rockgod-like posturing and even evoked the shades of a young Jim Morrison once he removed the retro glasses. Guitarists Chris Murphy and Jay Ferguson kept the energy going as the band played "Says What She Means", "Good In Everyone" and "Rest of My Life."
The running joke of the evening started when Patrick told a story that happened when they opened for a long-forgotten band called Jale. "We're still here, but does anyone remember Jale?" he asked. To his surprise, many in Chicago do remember that other Canadian band from the early 90s. The jokes continued thru the show and, at one point, the audience was chanting Jaay- ale instead of Sluh-oan.
This is one group of talented guys - they even switched instruments several times and didn't miss a beat. When was the last time you saw a band do that? I had high expectations for the show and they were definitely surpassed. Sloan has described their album Smeared as an "undeniably infectious sugar-fix of screeching guitar pop." I couldn't think of a better way to describe Thursday's show.
Sloan Discography:
A Sides Win (2005) Sony BMG, KOCH Records
Action Pact (2003/2004) Vik Recordings, KOCH Records
Pretty Together (2002) RCA
Four Nights at the Palais Royale (1999) murderecords
Between the Bridges (1999) murderecords
Navy Blues (1998) murderecords
One Chord to Another (1996) murderecords
Twice Removed (1994) Geffen
Smeared (1992) murderecords
Peppermint EP (1992) murderecords
---
RELATED LINKS:
SloanMusic.com