Lollapalooza defines itself as "a musical, cultural, community experience and is the first of its kind in this beautiful space." Despite the heat the gripped the entire city of Chicago, it was largely a success. Sure there were a few glitches, but for its first run as the new destination festival in Chicago, it went rather well for Perry Farrell & company. I have hit what I think were, in my opinion, some the highlights and lowlights of the festival.
LOLLA HIGHLIGHTS
The Redwalls were thrilled to be kicking off the festival in their hometown; opening the fest on Saturday to a sizable crowd– those boys are stylish, sometimes even Beatle-esque and are being labeled as the next big thing.
Members of Brian Jonestown Massacre joined the Dandy Warhols onstage Sunday. DiG! be damned!
How cool was it to see the 'alternative' families at the Kidz Stage sharing a weekend of music and doing their part to create the next generation of concert fans? Just because you procreate doesn't mean you have to stop having fun!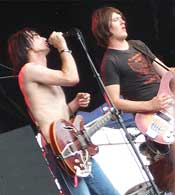 The food selection – from the traditional pizza, dogs & burgers, to the more unusual… toasted ravioli, shrimp, fried rice & egg rolls, jambalaya, gazpacho - there was something for everyone. The prices could have been a little lower, but it seemed cheaper than the Taste.
The Black Keys were one of the biggest surprises for me. Their bluesy rock drew a huge crowd and a load of new fans (including me), even though they were in the same time slot as Primus.
Billy Idol may be old, but you could hear that Rebel Yell over Blonde Redhead playing at an adjacent stage. He had one of the best stage shows, something conspicuously lacking from many others. Even the brief rain shower couldn't make the crowd move.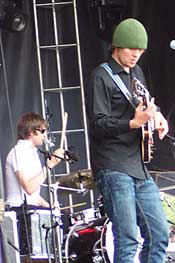 Ambulance LTD. and The Warlocks on Saturday afternoon provided great guitar-driven sets. Indie rock ruled!
Grant Park was a great location for the festival. It was a large space that was easy to navigate and earned the city's park services some cool cash.
The warm and fuzzy festival feeling - I saw bands watching other bands, Perry watching bands with his kid, and various band members strolling the festival grounds. I saw Sam Endicott (the Bravery) so many times – waiting to cross the street, watching a band, hanging by the First Aid tent...
Despite Sunday's heat, The Drive-by Truckers hit the spot with their Southern-fried jams.
Death Cab for Cutie and Spoon were palatable alternatives to two too many sets from Widespread Panic.
The placement of the media tent by one of the backstage areas allowed a little insight. I saw Weezer choosing the evening's attire from a truck, "high-end" caterers preparing gourmet delights in the back of a not-so-glamorous semi trailer, and bands zipping around on carts to catch their favorite band's set.
The bands actually started on time, sometimes even a few minutes early! Not very rock n' roll, but cool in my book.
The people were great, well as great as that many people in one place can be. Crowds were peaceful, no one was arrested, zero deaths from heatstroke (or any other ailment). I would say that's a successful festival!
LOLLA LOWLIGHTS
Widespread Panic as headliners AND they got to play two sets? Certainly there were other bands that could have taken one of those coveted set times! A jam band seemed like an underwhelming way to end the fest.
When did Liz Phair morph into Sheryl Crow? If it looks like a Crow, if it sings like a Crow...
I heard the Planet Stage was cool, but it was so far away! Since it was the only stage across the street, it was easily ignored and attendance suffered.
Some bands are better in a dark club than in a field in the blazing sun. The clubby electron beats of Kasabian and the I'm-too-sexy glam rock of Louis XIV seemed a little out of place in the daylight.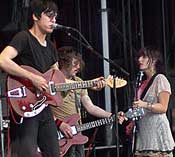 I missed the Arcade Fire. Yes, it's my fault that it's on the lowlight list, but I was really disappointed in myself!
Sound bleed from adjacent stages was distracting to the performers. Everyone else has already complained enough about it, so I'll just stop there.
The weather – but you already knew that!
SOMEWHERE IN THE MIDDLE
$3 for a bottle of water, but we found fountains where you could fill up for free. Rumor has it that water was carted out to the field and distributed for free on Sunday.
The Kaiser Chiefs singer left his voice in Washington and they had some tech difficulties, neither of which were really their fault. However, their showmanship helped saved the set. They kept the crowd's attention with antics like climbing the scaffolding and bringing audience members onstage to sing.
Many question The Killers headlining abilities for a large festival. They gave the audience what they came for, but not much more.
Video monitors were great for those stuck towards the ack, but if you were closer to the stage, those camera guys were always in the way!
Perry's new band Satellite Party debuted with Nuno Bettencourt of Extreme (remember them?), and Tony Kanal from No Doubt. They seemed more like Porno for Pyros than Jane's Addiction, and how about those Lolla girl dancers!?
Glad to see that Dinosaur Jr. is back, but J's long silver hair made ME feel old!
Brain Jonestown Massacre drew many curious onlookers, thanks to the film DiG! Anton Newcomb was as um, 'quirky' onstage as he was in the film. While it was entertaining to listen to him hurl insults loaded with f-bombs at Dashboard Confessional while they played across the field, the set was very disjointed (did they even have a set list?) and the music was not the focus. I liked the tunes I heard, I just wish I would have heard more playing and less talking.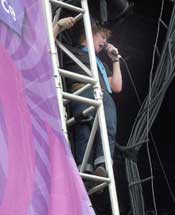 AFTERSHOW WITH THE WALKMEN & AMBULANCE LTD.
I was lucky enough to attend one of the hottest afterparties in town. Schuba's played host to
Ambulance LTD.
& the
Walkmen
on Saturday night, after Lollapalooza closed. Schuba's is a small bar with a music room in the back that has music on a regular basis, making it was a great location for an intimate afterparty.
Ambulance LTD. took the stage around 11:00 and treated us to almost an hour of music that spanned several genres. "Yoga Means Union" was a My Bloody Valentine type song with meandering guitars, while "Stay Where You Are" is guitar-driven pop that had the audience singing the chorus before it was over. Ambulance can also be bluesy with the addition of some slide guitar, or just plain old rockin'. Despite having played Lollapalooza earlier in the day, the band still gave us an almost hour long set of tunes from their latest album and were sweating like they were still out in the blazing heat of Grant Park.
I had really come to Schuba's to see Ambulance LTD, but the Walkmen were hardly what one would call a disappointment. Dressed mostly in white, they came on around 12:15 and played until I couldn't stand upright any longer. All five Walkmen barely fit on the tiny stage, and lead singer Hamilton Leithauser nearly knocked over a monitor, while feeding off the crowd's excitement to "The Rat". As they took us through a rocking set that lasted well over an hour, the only tunes I can remember hearing are "Little House of Savages" and "Fly Into the Mystery". The Walkmen played several encores and didn't want to leave, but they had to be at the airport at 6:00am.
After a long day of festival going, capped off with a long night with two of New York's coolest bands, I can say that I was in a very happy, yet exhausted place. Thanks to two great bands who played like it was only their first show of the day!
---
RELATED LINKS:
lollapalooza.com