Eleven years ago, rock 'n roll reached a milestone and it's not one that anyone should be proud of. When The Eagles announced their reunion tour, fans discovered that top ticket prices would be well over the $100 mark. Since then, tickets have had a steady rise in price while the consumer has constantly been shafted. The prices have quadrupled, along with added Ticketmaster fees, $10 beers and parking that can cost upwards of $30. The irony is that none of these acts are playing four times as long and in most cases are playing shorter sets than they were a decade back. One of the few performers who have stood up to promoters to keep ticket prices fair and giving their fans the biggest band for their buck is Tom Petty & the Heartbreakers.
While other acts that have sold more records than Petty or could be considered trendier, they do not have the consistent drawing power of Petty. Whether he has had a new album to plug or not, he tours. He does not wait for the big money to come in from delivering a new album; he just goes out and plays because he loves it. Most acts would say this does not make good business sense as it would be better for Petty to charge more for tickets and only tour every three or four years. Instead he keeps his prices cheap (between $25 and $65) and tours whenever he wants. Because he does not burn his fans, they don't mind forking over the money to see him multiple times in a short time period. This was never more evident than when I stepped into the Tweeter Center just outside of Chicago on a hot and sticky night. There were signs everywhere saying, "sold out", a rarity in the amphitheater business unless your name is Dave Matthews or Jimmy Buffet. As I walked into the show I immediately noticed how many young fans there were. Petty's audience has grown larger in the last decade due to his ability to keep ticket prices much lower than those of his contemporaries. I looked around the crowd and at least a third of the attendees were less than thirty-years old. The younger crowd was Petty's reward for consistently keeping prices low and always delivering a solid rock set aimed to please.
When the time gets rights
I'm gonna pick you up
And take you far away from trouble my love
-"Kings Highway" 1991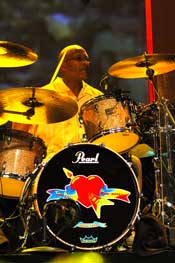 The ticket prices for Petty himself are below what other acts of his caliber charge. Yet somehow, he even upstaged his colleagues once again by securing The Black Crowes as an opener. At their best, The Black Crowes are arguably one of the supreme live units in all of rock. I remember forking over money to go and see ZZ Top in early 1991, specifically because the Black Crowes were opening. Then and now, they are the heirs to the rock legacy started by The Faces, The Rolling Stones and The Allman Brothers. While they will probably never match the genius of their first two albums, "Shake Your Moneymaker" and "The Southern Harmony & Musical Companion", they are always unwavering during their live performances. They have spent the last few years apart on hiatus, however, after a few solo projects, the brothers Chris and Rich Robinson have buried the hatchet and are back to doing what they do best...playing down and dirty rock 'n roll.
I was not sure what to expect as the Crowes would be playing the role as an opener and this would not be their crowd. Any worries I had went away right from the moment the Crowes hit the stage with a cover of The Band's "Don't Do It" (written by Marvin Gaye). The two Robinson brothers along with the return of Marc Ford all take turns sharing verses showing the comradery of the Black Crowes is back full force. This led right into "Sting Me" and any worries I had about the Crowes losing their chops were gone. On stage two female singers backed the Crowes and just this past spring original drummer Steve Gorman returned to the fold. An even bigger surprise was the return of guitar god Marc Ford, looking a lot like Billy Crudup from "Almost Famous". Most attribute Ford's return as the equivalent of having Mick Taylor returning to the Rolling Stones. As the band worked through their catalog of hits, something happened that I never thought would occur again, The Black Crowes were reborn to me. I absolutely loved their first two albums and after "Amorica", I kind of lost interest in them. I picked up their albums when I felt necessary but I never again wanted to see them live. Tonight, that all changed.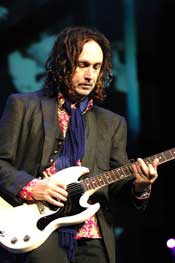 The drive and musicianship of the band was extraordinary. The band continually jammed through numbers which lasted seven to eight minutes; "Thick N' Thin", "Go Faster", Girl From A Pawnshop", "My Morning Song", "Good Friday", "She Gave Good Sunflower", "Space Captain", "Share The Ride" and "Wiser Time" all showcased the Black Crowes and their ability to surpass themselves in the flesh. Whereas many jam bands continually jam without a purpose, the Crowes do it all with an objective. They do solo's, but each number slowly builds until it climaxes with a rousing finale worthy of an encore. Witnessing the extended organ/keyboard solo's, dueling slide guitar's and killer drum fills made me realize that they could take almost any of their numbers and turn them into a barroom brawl 8-minute jam that would make the members of Phish green with envy. Can you imagine going to see The Rolling Stones and witnessing them do a full set of their catalog from '68-'81 with songs like "Can't You Hear Me Knocking" or "Slave" as extended jams? What a show that would be. Now I'll be the first to admit, I did not even recognize all of the Black Crowes songs but as their set ended I was in complete awe of their stage presence as musicians and their magnetic ability to rework their own (and a few select others) songs into rock n' soul jam session.
Even though the Crowes are openers, they do realize that many die-hard fans are making their way to the shows. The early parts of their sets are focusing on their lesser known material and the second half of their set centers on their better known material. What was most staggering about their set was the limp performance was "Hard To Handle". It sounded fine, however, after an evening of rousing reinterpretations, hearing a straightforward three-minute pop tune left me disenchanted. However, the crowd treasured it and then the Crowes delivered the best of both worlds with "Remedy". The absolute jam on brought the 30,000 fans there to see Tom Petty & The Heartbreakers to their feet with an electrifying response. I would prefer to catch the Crowes in a theater setting where they could play longer and delve even deeper into their catalog, but saying they shined as openers for Petty is an understatement. They were given a mission to set the stage for the headliner and they executed their job flawlessly with a longer than normal 90-minute set. I for one cannot wait to see the Crowes make a return trip to Chicago and play a theater. I know that I'll be there because they won me over and I plan to follow them on their continued passage down the rock 'n roll road.
Forty-five minutes after The Black Crowes left the stage, Tom Petty & The Heartbreakers made a triumphant return to the Windy City. The last time they performed in Chicago was during a week long run at the Vic Theater in the spring of 2003. The show I caught was arguably one of the best live performances I have ever been fortunate to lay witness to. So forgive me if the thought of seeing them in an amphitheater that was twenty-five times the size of the Vic was less than exhilarating to me. Now anytime you get to see Tom Petty & The Heartbreakers is an indulgence, but short of a three-hour set, I knew that experience of the Vic Theater run could never be touched. I was right in my declaration when the band had played their final notes at The Tweeter Center, but what floored me was how reactive the crowd was to the set list.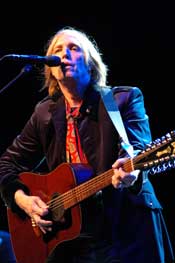 As the lights dimmed and the band made their way to the stage, they geared up and cranked into "Listen To Your Heart". Over the next thirty-minutes I was startled to see how laid back Petty and the band were are they made their way through "You Don't Know How It Feels", "Don't Do Me Like That", "Free Fallin'", "I Won't Back Down", "Breakdown" and a new number, "Turn This Car Around". None of these were rockers that would raise a roof but somehow Petty's laid back attitude and the overall potency of the material shined through as the crowd stood there completely absorbed by the songs. It was not until Petty ripped through the extensive jam of "Last Dance With Mary Jane" where The band exerted themselves physically. However, don't tell that to any of the 30,000 in attendance as they sang along to every word of every song throughout the entire evening.
The new song, "Turn This Car Around" from his upcoming disc (produced by Jeff Lynne) will be out later this year or early next year. Even though it did not leave a lasting impression on me, I'll reserve final judgment until I hear the song fully mixed and sequenced on the final album. However, the other semi-new song turned out to be the evening's tour de force performance. "Melinda" was written for their Soundstage performance in 2003. The song is only available on DVD yet somehow, this obscure song proved to pull the audience together, seize their attention and lead into one of the supreme extended jams I have ever been an eyewitness to. Led by the incredible Benmont Tench on piano, the band took the crowd to another level that usually can only be obtained by performing well known material. "Melinda" is one of those numbers that is just a great rock tune to the heart. There's no fat around the edges and in the middle of the song, where most bands jam endlessly without any purpose or passion, an underrated maestro showed the sold-out crowd what rocking is all about. By the end of Tench's solo the crowd was on their knee's pleading for more. Like The Black Crowes best numbers, "Melinda" progressed gradually until the band converged together bringing the song full circle.
The mid set, much like the opening, was reserved but full of hits; "Handle With Care" received the largest applause. The Traveling Wilbury's tune has gone on to have a second life since Petty started playing it live in late 2002. It has gone from cult classic to full-blown stadium anthem. The Animals cover, "I'm Crying" fit in so well that if Petty had not introduced it as belonging to The Animals, most of the 30,000 in attendance would have mistaken it for a Petty original. The crowd even ingested two album cuts with open arms, "Wildflowers" and "Crawling Back To You". This all led into a leisurely acoustic "Learning To Fly" which led it's way up to the big grand finale; "Don't Come Around Here No More", "Refugee", "Runnin' Down a Dream", "You Wreck Me" and "American Girl". This last sequence of songs was the topper the audience paid their hard earned dollars to see and hear. Somehow Petty managed to poise his set beautifully shifting between hits, album cuts, new songs and covers. This finale onslaught of hits pushed the sold out crowd to a level of delirium I have not witnessed in a crowd this vast in years. In fact the last time I witnessed a crowd this significant was for Jimmy Buffet at the same venue two years earlier.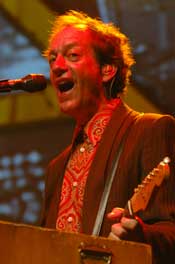 Tom Petty & The Heartbreakers substantiate to me and the 30,000 in attendance it takes very little to satisfy a rock 'n roll fan. Petty has never had a number one album or song, yet somehow, over the years he has helped cultivate one of the preeminent catalogs in all of rock 'n roll. How many acts who have debuted in the last five years will still be around twenty-years from now continually churning out great songs and concerts? That remains to be seen, but until that day comes, Petty stands at the head of the heap, which includes Springsteen and Mellencamp as rock's strongest survivors and most relevant figures whose catalogs speak for themselves. Tom Petty may be beyond a point in life where he will ever be on the cover of Rolling Stone magazine or even have a video on MTV ever again, but none of that matters when droves of people fork over money to see you in concert. They are not paying to see one or two songs, but they are paying to see a full-fledged Tom Petty & The Heartbreakers show. His respect for his fans is unparalleled and is the number one reason why he is having what may be his highest grossing and highest attended concert tour ever.
Like a refugee riding into the dark night after each show riding down the king's highway, taking their show from town to town...Tom Petty & The Heartbreakers is showing three generations of fans what is possible with a few chords and the truth. In a marketplace that thrives on glitz and glamour good fortune has come their way by simply delivering solid sets of authentic rock 'n roll. A few summers back I swore to never attend another amphitheater show ever again, but Tom Petty once again proved me wrong showing that even in an uncomfortable venue, it's not the arena that matters, but the band and their songs that are performed within. I look forward to seeing them again; however, the waiting will be the hardest part.

I await the day
Good fortune comes our way
And we ride down the King's Highway
-"Kings Highway" 1991
Related Articles: