F.o.N. as a band has been very active for almost 5 years. Still a very young band, however their right to the realm of Rock N Roll has been vast. Appearing in 1999's Woodstock Festival brought F.o.N. to an International Audience to millions of Woodstock goers and viewers. Performing to such a large audience base where ticket goers came from around the world. Many musical bands thrive their whole existence to have the opportunity to show their musical creativity to the world to so many eyeballs and these guys had the chance to do it all by the time the members were legal drinking ages in much of the USA.
F.o.N consisting of seven members is made up of Aaron Rubin, Danny Rubin, Yigal Adato, Ilan Rubin, Josh Dodson, Alvin Exevea and Chris McGraw. Talented young guys that put out an upbeat punk rock sound with two vocal talents, guitars, and a mix of hip hop. Working on their 3rd studio release for January 2003 called "Adventures In Bordom" is the follow up to "Cease and Desist: The EP Formerly Known as FoNopoly" which brought some scrutiny from the game makers, Hasbro, of Monopoly because the original title was FoNopoly.
Supporting their second Vans Warped Tour for 2002, UnRated had the opportunity to catch up with some of the band members of F.o.N. for a quick interview of their valuable time.
UR: What is F.o.N.?
AARON: Freak of Nature.
UR:You guys are?
AARON: Aaron, I play guitar
ILAN: I'm Ilan; I play the drums for F.o.N.
YIGAL: Yigal, One of the two singers.
UR: So what is the average age of the band?
YIGAL: I'm 22 and Ilan is 14
AARON: Basically everyone is 22 except our bassist who's 19 and Ilan our drummer is 14.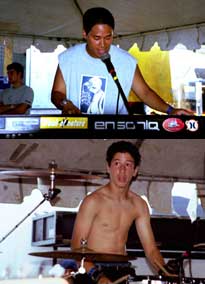 U4: Ilan, you are 14, how do your parents feel about you being such a young age and on a major tour, do you have to go back to school?
ILAN: Yes, I do have to go back to school, and I am not looking forward to that, plus my parents are on the tour with me in support.
UR: How did F.o.N. get started in San Diego?
YIGAL: Some of us used to jam together in Aaron's garage, such as Aaron and myself. There was a battle of the bands in our school, we signed up, got some guys together that we know and play it. For the battle of the bands, we practiced and wrote songs for one week and afterwards kept on going on. We went up there, played it and people like it.
UR: What do you think of the Vans Warped Tour 2002.
AARON: It's a really, really fun tour. Basically everyone hangs out with each other all day since you only get a 30-minute set. Everyone wakes up in the morning and the day starts by setting up booths, we all eat breakfast, eat lunch, dinner, and hold barbeques at the end of the night. In the evenings everyone talks with each other, exchange CD's and shirts, it's a very big punk rock summer time, as called in 1999. You are in one place today and another tomorrow all with a big group of people going everywhere.
UR: What is the average time between cities?
AARON: We usually leave with everyone around 11 or 12 PM and arrive at around 7 AM in the morning. We are up by that time and begin setting up the booths. After today here in Chicago we are heading to Minneapolis.
UR: What is the best of Vans Warped Tour?
YIGAL: Playing! The best is the half hour shows you do for the people that come out to see us. The rest of the day is really hard work; we do our own booth, set up and that type of stuff, so the best part of the day is to play live.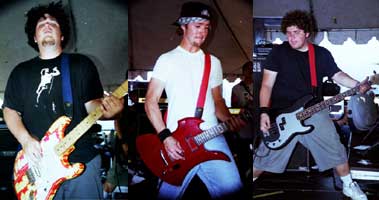 UR: What are some of your influences, and are there acts here that are part of that influence?

AARON: Allot of the bands on the tour such as NOFX, Bad Religion, they are headlining the tour and its so amazing to be on the same tour with them. Some other influences for me are the Police and lighter rock; everyone has their own influences. Our keyboardist is very big into hip-hop and uses electronica, which gives a great sound. There is a big metal influence in the band as well, from Pantera to Ozzy to everything. So there is a big cluster fuck of influences among us.
ILAN: Me, well I'm mainly into rock bands, my favorite band is Led Zeppelin, basically bands that have good drummers. So bands that I like are Ozzy, The Police, AC/DC, and so on.
UR: Going to OzzFest, Ilan?
ILAN: I want to go to OzzFest, but my parents are not sure right now about me going. However my brother is going.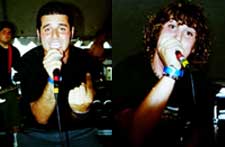 UR: Yigal, how about your influences.
YIGAL: It can go from anywhere to classic rock and as weird as it sounds, Lionel Ritchie, anything that sounds good is an influence to me.
UR: Where are you guys on the Vans Warped Tour, do get to see the sights.
AARON: We are right now on the second week of the tour. When we are on the tour we are not in Chicago, we are on the Warped Tour. We have been to a bunch of different venues and that is basically how it goes. What changes from place to place if we are set up on concrete, asphalt, grass or dirt. (Laughing).
Milwaukee was real cool, because we were set up right at the middle of the town.

ILAN: I liked Vancouver very much because it was very green without the dirt and rocks.
YIGAL: What we see when we wake up every morning is the busses and the new venue, that is what basically we see of city scopes. Such as here in Chicago, we look quickly, we turn around and say "Hey this is Chicago". We don't get a chance to leave the venue and go look around what is out there.
AARON: Except in Montana, where our bus broke down.
ILAN: 3 times.
UR: What's its like to be on a bus.
AARON: We learned how each of us are and something we have gotten used to, plus a respect for each other. Everyone is very courteous of each other.
YIGAL: We don't take things too personally; if your bag is on the floor pick it up, like Aaron said you just have to be courteous.
AARON: We were friends before a band and have not killed each other as of yet. Everyone has respect of each other for each other personal privacy; we are not together every single day or every single hour, everyone hangs out after we practice, we'll go drinking or do something. We all have personal lives, at times when you are in a band there is no personal life and friendship is key.
UR: After Vans Warped, Does F.o.N. have plans to tour?
AARON: We are working and planning on it. What is cool with the Vans Warped tour is that you get to meet a lot of bands. Hopefully that one of the bands that are headlining will say, `You guys are pretty good and we like to take you on tour with us`.
We are planning to tour during the fall. We have an album coming out in September, which will be called `Adventures in Boredom`. So I think the set date is September 17th and it should be nationally distributed.
UR: What was the time to produce a new release.
AARON: Basically about 3 months, we were all going to school, since you know everyone is in college or middle school. It took us about 3 months to write and we were doing about 4 songs a month. We started in May and finished it in June; it took about a 2-month long process plus the recording, which was about 6 weeks.
UR: Do you all collaborate on the music together?
AARON: Usually the music will come from some idea, such as the other guitarist Chris or myself. Then we will work on it with the rest of the band as a musical whole, when we are done with the song musically, we recorded and give it to Yigal and Josh our singers and they will write the words. They'll have an idea like `hey why don't we take this part or add on`.
I would not say it's a complete democracy, but everyone has a say and everyone does contribute in the writing process.
UR: Would you consider one person as the leader or a team?
YIGAL: I would say Aaron; he's been the closest to being a manager and has been doing much of the work.
UR: You seem to be the spokesman as well Aaron.
AARON: I love this band and when you have 7 people in the band, you cannot have a complete democracy. It's hard enough to decide when we are going to practice on Saturday since we have so many different schedules among us. The only real time when we are a complete democracy is for big decisions such things as this tour because everyone had to be able to make it. For example if someone cannot inform the band when one of us cannot make a show, then we are going to book the show and you have to make it.
UR: After Vans Warped, are there any major tours?
YIGAL: We have been doing this for about 5 years already, and we are all ready to drop everything for this band. This is what everyone wants and its all our dream, so I doubt that anyone will say that I have to go to work. Everyone has said in the past that we are ready to finish school so lets do this.
UR: During time off what goes on in San Diego, do you play frequently as favorites of mine Social Distortion does in your area.
AARON: SD has been around forever and has a knarly fan base and when you are young band you can not play too much because you don't become a big issue, draws decrease because you just played here last week, so what do you expect.
We'll try to do 4 to 6 shows per month and spread it out from San Diego, Orange County, LA, Bakersfield, Las Vegas and Arizona.
UR: What kind of fan base do you attract?
YIGAL: Everyone! We have people that like hip-hop, rock, punk, and a mix of everyone.
UR: What is your best moment on stage?
YIGAL: Probably when we played Woodstock in 1999. We opened the show and we had thousands of people, it was one of the biggest moments for me.
AARON: Anytime where I play in front of large amount of people and everything goes right. When you pop a string and only for the moment, for the whole show I sometimes feel all-weirded out and hope I don't pop another string. We don't have guitar techs on stage and I cannot quickly change during a set. When everything goes perfect and the band is tight and everything just sounds right that is when the band is happiest.
ILAN: I just like playing without making mistakes, like Aaron stated, if I make a mistake at the beginning of the show, it doesn't necessarily go downhill, I will try not to make another. At that point I seem to concentrate a bit more than I should to play well, that is when I have the most fun.
My parents like going on tour, they have already done this, but this has been the longest we all went out.
UR: What cities or areas you really interested in playing:
AARON: The East Coast. Thanks to such things as the Internet, we have gotten our music out to east coast such as New York and other cities, we have been getting emails for about 2 years. So we really like to hit the East Coast.
YIGAL: Of course we will hit the East Coast with the release of the new album, but we are happy as long as we are out their playing. No matter where and for the people who come to see?

AARON: Everyone can get on our mailing list and join are street teams at http://www.fonland.com or http://www.mp3.com/fonland/
---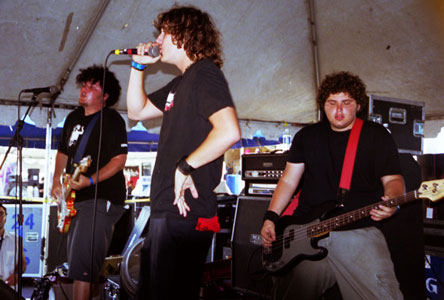 We at UnRated Magazine wish to thank Yigal Adoto, Ilan Rubin and Aaron Rubin for giving their valuable time during their visit to Tweeter Center Chicago on July 27, 2002. Their new release is set to be in stores nation wide in January 2003 under the name of "Adventures In Boredom". F.o.N.'s mix of different influences of energetic sounds is an act not to miss. We hope to see the guys back soon on their own national tour.