The Tate Bros. Foundation, NFP is having their annual charity event to raise awareness of Sickle Cell this Labor Day (Sept. 3rd) here in Chicago. The foundation, which has been in existence since 2000, was created to assist and provide funds for children of color living with the debilitating disease of Sickle Cell.
Sickle Cell Disease is an inherited blood disorder that affects red blood cells. People with Sickle Cell Disease have red blood cells that contain mostly hemoglobin* S, an abnormal type of hemoglobin. Sometimes these red blood cells become sickle-shaped (crescent shaped) and have difficulty passing through small blood vessels. When sickle-shaped cells block small blood vessels, less blood can reach that part of the body. Tissue that does not receive a normal blood flow eventually becomes damaged. This is what causes the complications of the disease that there is currently no universal cure for.
In an effort to bring more attention to a disease that mainly affects African Americans, the Tate brothers (Larenz, Larron, and Lahmard) have used their celebrity for a positive cause by hosting 'A Celebrity Weekend of Fun,' September 3, 2005 at the Dr. Martin Luther King Park & Entertainment Center where they are hosting a skate jam. "We always wanted to give back to the community. We would attend a lot of our friend's charity events and we never had anybody, other than R. Kelly, to say 'Why don't you guys come to Chicago?' So we realized then that we should do this too," Larron shared. "There were several reasons why we chose Sickle Cell. One being that Sickle Cell was a disease that primarily affected African Americans, in our mind. We learned through research though, that it also affected people in the Mediterranean, Asians, and Latinos. So that was one of the main reasons, but the key reason was because one of my mother's friends, well several of them, had Sickle Cell and one passed from Sickle Cell. It was a no-brainer that we had to do something for the kids because it's the children that have to endure the pain the most."
Larron describes the pain that children afflicted with the disease have to endure as being excruciating. "Imagine catching a charlie horse and then magnify that ten times and this is what a child feels. For adults, it's increasing the awareness that if you have the trait you should be aware that if you have a child with someone that has the trait, you will likely have a child that has Sickle Cell."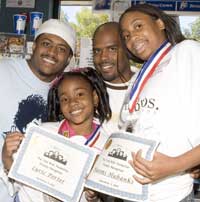 Tiffany Benton, a Sickle Cell patient from La Rabida Children's Hospital diagnosed with Sickle Cell at just 18 months old, is now 18 years old and just graduated from high school and will be attending Harold Washington this fall and had this to share about the disease, "It's been a little rough, but I'm still alive and able to do certain things. I just had two surgeries but I know that things could be worse because I know people who can't walk and can't stand on their own. So I'm really grateful that things are not as bad as they could be. I wear glasses, but I'm not blind. I also wear a hearing aid but I'm not deaf. So I thank God for the things that could have been worse, but they are not. But some good has come out of it. I've been to Disney World and I've met the Tate Brothers and that's like a dream come true."
The emphasis for the Celebrity Weekend of Fun is put on the kids. The children come from La Rabida Children's Hospital, Stroger's Hospital, and the University of Chicago Hospital and are invited out to bowl and skate with the celebrities. Shari Woodle (Co-Executive Director of the Tate Bros. Foundation) is in charge of booking the celebrities and venues for the foundation among other responsibilities and says that Ki Toy Johnson, Melissa Ford, Alex Hayes, Faison Love, Laz Alonso and Vivica Fox are among those invited to this year's event.
Congressman Danny K. Davis has also assisted in the cause along with Senator Jim Talent by raising awareness and providing additional resources by being the lead sponsors of the Sickle Cell Prevention Act. Their legislation assists in improving the quality of life for those living with Sickle Cell and attempts to eventually find a cure. The bill establishes a Sickle Cell Disease Research Headquarters operated by the Department of Health and Human Services, which oversees Sickle Cell Disease funding, and the research conducted at hospitals, universities and community based organizations. "It will provide 17 treatment centers spread throughout the country. It will provide for individuals to continue to do research. It will provide money for individuals to have programs such as genetic counseling; in essence it will provide grant money for people to do work around the treatment of sickle cell, " Congressman Danny K. Davis stated. "Just as importantly, it will allow Medicaid that pays for non-medical expenses for individuals with sickle cell anemia. It is virtually impossible for any person who has sickle cell to pay out of pocket without having an enormous financial hardship," he continued.
Larenz, Larron, and Lahmard are truly committed to raising the awareness of this debilitating disease Sickle Cell, which is evidenced by their genuine concern and dedication. If you are interested in doing your part by either donating to their organization or attending the event this year, more information can be found at www.tatebrosfoundation.org. The Tate Bros. Foundation NFP is a registered charitable organization.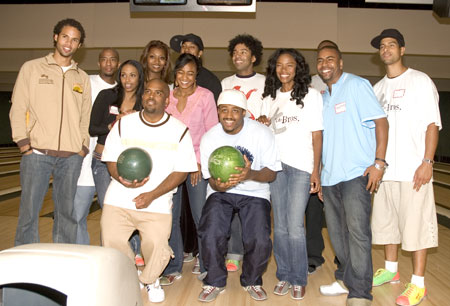 More information on Sickle Cell can be found at www.sicklecelldisease.org.
---
RELATED LINKS:
The Tate Bros. Foundation NFP