After a long, dry June for music fans in Chicago, leave it to the Wallflowers to quench our thirst. They were in town Tuesday for a show at Chicago's House of Blues to entertain a sold-out crowd. The first hint that they were hitting the stage in their usual understated fashion was the outburst of shrieks from the female fans in the front row. After all, this band is pretty easy on the eyes as well as the ears - with Dylan's infamous baby blues, Rami Jaffe's rock star attitude, and Fred & Greg's endearing boy-next-door look, there was something for everyone. They started their set with "Here He Comes (Confessions of a Drunken Marionette)" and "Everything I Need", and the audience - male and female - were dancing and singing along.
Rebel, Sweetheart, the fifth studio album from the Wallflowers, was recorded with Jakob Dylan (guitar & vocals), Rami Jaffe (keyboards), Fred Eltringham (drums), and Greg Richling (bass). For the current tour, they have added an additional guitar player, Stuart Mathis. (Producer Brendan O'Brien was a guest guitarist for several shows last year.)
While the line-up of the Wallflowers has fluctuated through the years, Dylan & Jaffe have remained the two constants. Dylan remains the songwriting force, but Rami Jaffe is the showman of the two. He was full of antics and had his own cluster of fans that had staked out a spot at stage right as the band introduced several new songs including "Nearly Beloved", "Back to California", and "I Am a Building". He had his territory marked off with a piano to left and an organ in front of him, enveloped in an ever-present haze as he chain smoked his way through the set. Fans tossed cans of beer to him and cheered as he attempted handstands and kicked his keyboards.
Jaffe was a stark contrast to Dylan, who spent much of the evening singing into the mic with his head down and eyes closed as if he was feeling what he was singing. While rarely addressing the fans, he did make light of the fact that he rarely has anything to say between songs, but nevertheless an anticipated hush falls over the audience. A few evening's highlights included a cover of Van Morrison's 'Into the Mystic' and the audience's reaction to the hit 'One Headlight'.
While much has been made of Jakob Dylan's heritage, he has proven that he has talent of his own. He is the sole songwriter for the band and even did the artwork for the cover of Rebel, Sweetheart. Most of his songs are written to lend themselves to different arrangements, some of which were showcased towards the end of the evening. The band launched into a seven-song encore (yes, I said SEVEN!) with acoustic versions of "When You're On Top", "How Good It Can Get", and "Josephine". Dylan did take the time to thank the audience and mention that Chicago has always been good to the band. After Tuesday's show with a marathon encore, it's fair to say the Wallflowers have been just as good to Chicago.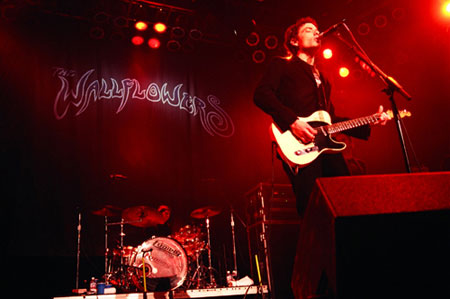 "Maybe I could be the one they adored
That could be my reputation
It's where I'm from that let's them think I'm a whore
I'm an educated virgin"
-excerpt from 'Sleepwalker'
---
RELATED LINKS:
The Wallflowers
Photo Gallery