Stepping out from the wings to the dimly lit stage, Anton Newcombe took the mic and announced to the audience that tonight was about rainbows and unicorns. He further promised to play 'until they kick us out of here'.
Brian Jonestown Massacre is a band that was formed in the late 90s in San Francisco. Over the years, there have been over 60 members in BJM. Many of those former band members and friends have gone on to form other notable bands such as The Dandy Warhols, the Warlocks, and Black Rebel Motorcycle Club. According to their website, the summer 2005 lineup is: Anton Newcombe - guitar/vocals, Collin Hegna – bass, Daniel Allaire – drums, Frankie Teardrop – guitar, Ricky Rene Maymi – guitar, Rob Campanella - keyboard.
If you caught BJM's set at Lollapalooza or have seen the movie DIG! (not endorsed by the band), you know that a BJM show is 50% experiencing Anton's personality and 50% (and I'm being generous) music. I thought they were off to a good start with rainbow and unicorns, but the evening quickly turned after the first song.
Anton launched into tirades about many different topics throughout the evening, including (but not limited to): the effects of Hurricane Katrina, impeaching Bush, sticking things up his a**, Tom Green and Jessica Simpson. Sometimes he made valid points – i.e. that they tried to impeach Clinton for a blowjob, but Bush is not being held responsible for the war or the hurricane aftermath. Unfortunately the rambling often times was unintelligible and even pornographic or expletive-laced, thus weakening any of his arguments, valid or not.
When the band did play, they played well. Sometimes rock, but mostly shoegazing jams, they seemed more cohesive than I expected. Unfortunately they did not have a set list and wasted lots of time between songs deciding what to play and constantly tuning their instruments. The music was good, but the overall impression suffered.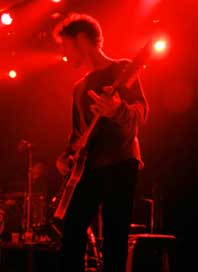 Anton seems to be highly combustible and most of the audience was aware of this and seemed fairly respectable, save one or two idiots. You know the ones I mean – they are usually the ones screaming "Free Bird" and pounding draft beers like they are at a frat party. One managed to get Anton's attention and won threats and expletives hurled in his direction, which only delayed the music even further. Well, that and an onstage cell phone call to Anton's mom.
True to their word, BJM played until they kicked us out at 1:45am, with a set clocking in at almost 2 ½ hours. When they were told they had five minutes left, they launched into a 20 minute jam with members of the opening bands. While it was entertaining evening for all the wrong reasons, I have gotten more music in half the time with almost every other band that I have seen.
UPDATE: It has been reported that BJM's van and gear were stolen in Brooklyn and the band will not be able to continue touring. Donations are being accepted and a list of stolen items has been posted on the band's website.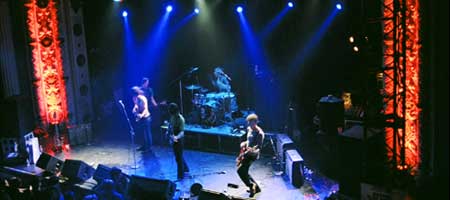 ---
RELATED LINKS:
Brian Jonestown Massacre
The Metro Chicago