Today's new bands could learn a thing or two from Brooklyn's
stellastarr*
. This band delivers not only on their musical performance, but also on the visual presentation, something sorely lacking in today's performers. After all, how can you differentiate one indie band from another in their vintage tees, dirty jeans and mussed hair?
stellastarr*
has it all figured out.
The stage at Metro featured a backdrop of stellastarr*'s new album cover turned upside down, highlighting a lady in a hat with a white veil obscuring most of her face, revealing only her crimson lips. The veil theme was carried out onstage with white fabric draped over monitors and other equipment. Various band members have backgrounds in graphic design, painting, acting, art, music and film and the resulting artistic experimentation makes for a great live experience.
When the band filed out onto the dimly lit stage, piano notes trickled out and built up into the surge of music that is also the first song on the Harmonies for the Haunted album, "Lost in Time". Shawn Christensen's lush deep vocals were a good contrast to Amanda Tannen's background vocals.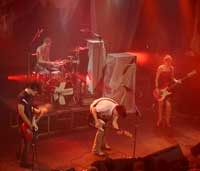 The lighting sequences were also visually pleasing and were much more dramatic than I have seen at Metro in a long time. (As a photographer, I can greatly appreciate this! See accompanying photos) Warm colors such as red and yellow were used to accentuate more up tempo songs like "Sweet Troubled Soul", while sweeping white spotlights for others made you feel like you were watching an old black and white movie full of drama and romance.
My one and only complaint is that stellastarr* only played for an hour. Lead singer Shawn Christensen was fighting a cold and it was taking a toll on his voice. The hour long set featured many songs from the new album including "Sweet Troubled Soul", "Damn This Foolish Heart", and "Stay Entertained". Despite the cold, he delivered the songs well and the rest of the band played together seamlessly.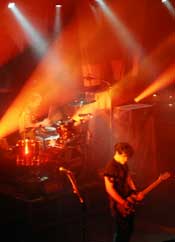 The music was well received by the audience, especially since most haven't even heard the new album (released that day). Though a little more mellow than their first album, for fans of the darker 80s music, there is something oddly comforting about the new music of stellastarr*. I can't remember the last time I was treated to a show at a smaller venue that was both visually and aurally pleasing. I fought the parking and traffic nightmare of a Cubs night game to see this show and I would do it again!
stellastarr* is:
Shawn Christensen – guitars, vocals
Michael Jurin – guitar
Amanda Tannen – bass, vocals
Arthur Kremer – drums

---
RELATED LINKS:
stellastarr*
Photo Gallery Chicago September 13, 2005