Her baby blue eyes glistened like the stars in the sky. The shine radiating from the round beauties were not from the spotlights above the stage, but from a profound bond Shelby Lynne was sharing with nine-hundred admirers. There are artists who seek out glamour and celebrity while others perform because it's the only thing they know how to do. Every time Shelby Lynne sings and strums her guitar, she's letting the world in on her life and unleashing a tiny part of her soul; this is why she is an artist in the truest sense of the word. It is almost as every lyric was cut from within as the Chicago crowd could see it and feel it from the first person storytelling.
You never looked so beautiful to me
Maybe it's the love in your eyes
Together we fit perfect darling
Don't let another moment go by
-"Go With It"
I've lived in Chicago my entire life, yet somehow, had never seen a show at the Park West, the first club U2 played upon their initial visit to Chicago a quarter of a century ago. The room is filled with small tables to sit at and offers a relatively relaxing environment for both the artist and fan. The intimate seated setting gave her music a clear focus. I'm used to seeing shows where an artist comes out and leaves a pint of blood on stage where the show ends with the performers being carted off in a stretcher. However, Shelby Lynne's gentle 90-minute set at the Park West brought me into her world deeper and closer than I had anticipated. I felt like I was watching an old friend perform and tell me about their life through songs. I have spent an immeasurable amount of time with her most recent release, "Suit Yourself", so I already feel like I'm under her skin, but the Park West performance was something else. She did not tear the roof off the place, but through subtlety and a fine tuned band, she truly bonded with the crowd and shined in ways of restraint I never imagined possible.
After a brief intro piece of music by her band, Shelby strode out on stage in her black leather pants and the band immediately kicked "Go With It". Shelby and her extraordinarily tight 3-piece band worked their way through an enduring and subtle set that showcased every song performed to perfection. Shelby was fully in control of the crowd the entire night as she worked through most of "Suit Yourself" and a smattering of greatest hits from her last three albums. She introduced "Killing Kind" from a movie she "hated" ("Bridget Jones Diary") and while the reworked track was short on flair, it made up for that flair with heart. "Telephone" was restrained and majestic as she sang the tune backed by her bass player on vocals, which was a highlight of the evening in the relaxed atmosphere of the club.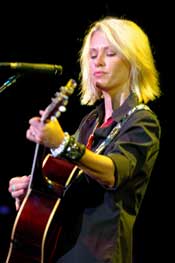 As the evening progressed, I was in awe at her control over her new material. This was only the third gig of the tour but she knew what she wanted to play and how she wanted to play it. "Iced Tea", "I Won't Die Alone", "Old Time Sake" and "Where Am I Now" showcased an artist in her own skin as she appeared to be at ease with these new songs, more so than anyone should be three gigs into a tour. Her backing band suited the songs perfectly, adding color to the black and white photo's she implanted in our heads with her lyrics. It's not an easy thing to keep a crowd engaged when seats are given to them and the majority of the new material you can not dance to. However, Shelby Lynne was fearless as she ventured forward, putting her heart and soul on the line. It would be too easy for her to pop up the songs and sex herself out. She's been down the roads of pleasing others and at this moment in her life, she is staying true to her self, and in the process is creating the finest music of her career.
The funniest moment of the evening was after a stellar rendition of "I Cry Everyday", a man in the front row screamed up on stage, "I'll break the man's legs who broke your heart". With the million dollar smile beaming down on him, she brought him up on stage with her. Imagine this, a fully built, tan, blue-eyed, blonde hair man, in overalls with no undershirt holding two-dozen roses for Shelby. She was clearly speechless as he proclaimed his fandom to her. This was one of those precious moments that could only be experienced at a live concert. No bootleg or 12 inch vinyl experience would ever create this moment or the aura felt in the club right at that moment.
As the main set wound down, she had her Fender guitar in hand when she strode up to the microphone and began to sing "I was on the way to somewhere..." when the same gentleman who had given her flowers earlier jumped out of his seat like a kid in a candy store and shouted out "Oh my God", while I did not vocalize my thoughts, I had the same feeling within."Jesus On A Greyhound" is one of those songs that even a songwriter's songwriter would be admirable of. Before this show I would have ranked "Jesus On A Greyhound" as one of my ten favorite songs on this decade, after the rocking performance, I'd put it in the top-five. It was altered from the album version with a sped up-tempo that brought the audience to their feet. The crowd may have been sitting for the majority of the evening, but they were anything but bored, as all of us were enraptured with the music. The quieter we were, the closer we felt to her.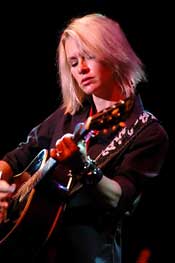 For the encore, she treated the crowd to "Leavin" and "Why Can't You Be" from the album that brought her a Grammy, 2000's "I Am Shelby Lynne". By this time, she had the audience in the palm of her hand. When the house lights finally went on, there were people rushing for the merchandise stand to buy and discover one of the year's best albums, "Suit Yourself". Somewhere in the course of those 90-minutes, when I saw those glistening eyes shine through, she related with more than just this humble writer but the entire audience-not because of an elaborate stage show or a big pop hit or even for her body but because of the songs and the feelings she emitted during the performance. Whether she sells five albums or five-hundred-thousand albums, Shelby Lynne will still be producing music for years to come and I for one look forward to the future challenges and parts of her soul she will share.
I've spent the better part of two months rewriting this piece, time and time again feeling it was not worth of the performance Shelby gave to the Chicago crowd. I want to give her props for the energized and profound performance but I felt like I was consistently selling her short as the piece was not larger-than-life; however, I've come to the conclusion, that less is more. I should have taken the cue from Shelby's recent production style ("Identity Crisis" and "Suit Yourself") of less is more right from the get go. So I apologize for the delay in getting this published- I should learn to sit down, write what I'm feeling and "go with it".
Cause here I stand like an open book
Is there something here you might have overlooked
-Old Times Sake (written by Tony Joe White)