The 5th Annual Truth Awards '05 was held Sunday, October 2nd at the Harold Washington Cultural Center at 4701 S. Martin Luther King Dr. The event is held to honor and give recognition to the Chicago Hip Hop community as well as the best in radio, television, music, sports, comedy, film, business and community service. As the first awards show of its kind in Chicago, it has been branded as the number one celebratory gathering of Chicago artists, as well as others inside the music and entertainment fields. The show was hosted by the very talented comedian Vanessa Fraction who kept the crowd laughing with her off the cuff humor and comedian Reggie Reg who impressed everyone with his dead on impersonations.
The awards show started off with a rousing spoken word performance by Red Storm who calls himself the "runaway wordsmith", and continued on with performances by the #1 Stunnas, the Flawless Dancers, rapper Qualo (Movement/Universal), rapper Pheava, Public Announcement, Jennifer Hudson (American Idol), and singer Johnny P., to name a few. Also seen in attendance were Big Figga (Promoter), Chrewd Marketing, Art Norman (NBC), Rev. Dr. Al Sampson, comedian Shawn Morgan, Sam Sylk (WGCI), Lisa E. (Power 92), Bionce Foxx (WGCI), and Deri Tyton (Independent Filmmaker), as well as many others.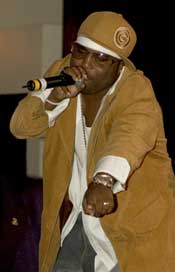 Carl West, who is both the CEO of Midwest Gap Enterprise and the founder of the Truth Awards, came up with the idea of the Truth Awards after having visited several awards shows as a result of a magazine he started called the Midwest Gap Entertainment Guide. "By having the magazine, I traveled to The Soul Train Awards, MTV Awards and Essence Awards and it was upsetting, because there was very little representation from my hometown. I think R. Kelly was the only person recognized at these shows and he only won a few times. He should have won more, but he was considered an outsider because he chose to remain in Chi-town. See, when you become hot, they want your talent for themselves, so they want you next door to them. R made them fly to Chi to get a hit. Anyway, I started dreaming of a red carpet, cameras, lights and news people on the red carpet interviewing Chicago's hottest new and fresh artist," he says.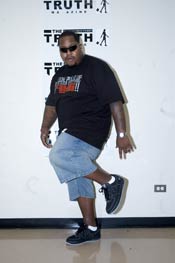 Asked whether or not he thinks he's accomplished his dream, he says, "Absolutely! The Truth Awards is in its fifth year and everyone in the entertainment community raves about it. I have acts coming up to me every time I'm hanging out and telling me they heard about the show and how can they get nominated, perform or just come. It's such a great feeling, but I stay focus on the fact that I've only scratched the surface with the show, because my ultimate vision is to see it hit television. And thankfully, I have several interests from local programmers to give them footage."
Carl along with another Chicago notable Kevin Shine, who many know as the mastermind behind the Chicago Writing Sessions, preceded this year's awards ceremony with The Truth Business of Hip Hop Conference held on Saturday October 1st. The session was held at Cisco's Music World in Hazel Crest and was a full day of business mentoring on Hip Hop. Together they assembled some of the industries best and brightest to sit on panels and share their knowledge.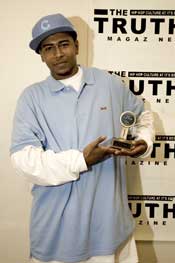 Both Carl West and Kevin Shine are on the forefront of making Chicago stand out for the immense amount of untapped talent that is emerging. Both should be commended for dedicating their time and business sense to make change happen not only for Chicago but for the Hip Hop community in general.
For more information on the Truth Awards '05 please visit CityAlert Hip Hop Awards and also Chicago WritingSessions.com for more information on Kevin Shine's - Chicago Writing Sessions.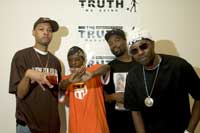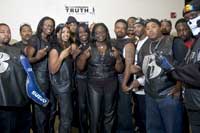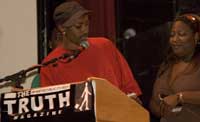 ---
RELATED LINKS: