"My, My, Hey, Hey…Rock and Roll is really gay." With a theme and a following reminiscent of a mid-90's Rage show, System of a Down ripped through the Allstate Arena with an electric twenty-seven song set on Friday night. Following a whining, melancholy arrangement by The Mars Volta, Daron guitarist/singer Daron Malakian] gave the sellout crowd exactly what they wanted when he screamed, "Why do they always send the poor?!" And, with that, the show was off and running.
A heavy part of the System's set focused on 2001's insanely successful Toxicity album and May 17th's Mezmerize release. Selling over 6 million copies of Toxicity had the crowd foaming at the mouth for creative vibes like album title "Toxicity," "Deer Dance," "Psycho" (my personal favorite), "Chop Suey," "Needles" and "Aerials." Not only did they flawlessly deliver these staple hits, but they dug in a bit deeper to share "Mr. Jack" from the Steal This Album! disc. Touching just on the mellow tune "Hypnotize" from their fifth studio effort, they confirmed Tuesday, November 22nd as the upcoming release date for Hypnotize. System of a Down ended this remarkable concert with "Suite-Pee" and "Sugar" from their 1998 self-titled release. No encore, No bullshit. All System of a Down.
Stopping for only a moment after "Science" to mention the Tuesday (9/27) visit to House Speaker Dennis Hastart's office, they kept the political angle to a minimum. Serj Tankian is fighting for the official U.S. recognition of Turkey's destruction of 1.5 million Armenians between 1915 and 1923. As the band's official web site reads, "The next step is for the full House of Representatives to take a final vote on this legislation. But this is only possible if Hastert lets it happen. The choice is in his hands."
For anyone who hasn't jumped head first into a System of a Down live experience, it's hard to appreciate the magnitude of what this band means to modern rock and roll today (and time to buy a ticket). This is not a repeat instance of Use Your Illusion I and II being drowned out by Nirvana's sudden decade defying sound. Rather, by building the groundwork with Toxicity to a radio-driven industry, System of a Down is raising the expectations fans have for Mezmerize and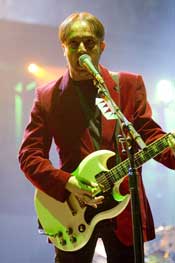 Hypnotize. For a band with such a modest stage presence, you would never expect to hear the ear-piercing thunder that System of a Down blasts out when they play "Cigaro." Serj holds the boat like the captain of a musical revolution while Shavo Odadijan works the stage with yellow socks, Scott Ian's "chinny" and a bass player's charm. Drummer John Dolmavan delivers with such intensity that fans were hoping that he might play every System song ever written Friday night. His pure power and raw enthusiasm sends the impression that he very well could. This unusual, dramatic, never assuming sound has truly captured the attention of Chicago and would make even Neil Young think that System of a Down is here to stay.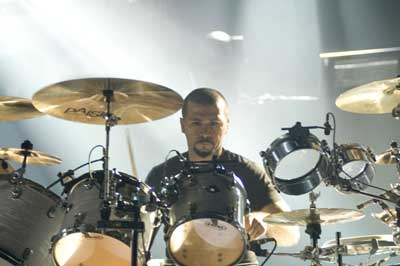 ---
RELATED LINKS:
System of a Down