I can't think of a better place to experience
Sigur Rós
than the Chicago Theatre. The beautiful historic building with its plush seating, glowing crown molding and extraordinary acoustics made a dramatic setting for an evening of dramatic music.
The band started the evening playing behind an opaque screen. With their silhouettes visible, the anticipation was palpable as the song rose to its crescendo and the screen finally lifted. The band was shrouded in darkness, except for the guitar player, who was in a spotlight with a ten-foot shadow looming behind him.
Sigur Rós is a band of many eerie, mysterious sounds caused by a guitar played with a bow, a bass played with a drum stick, and the supernatural sounds of Jón Bor (Jónsi) Birgisson's falsetto. On this tour, they are also accompanied by string quartet Amina, which helps to recreate the fullness of the sound on their albums.
Originally from Iceland, this quartet is critically acclaimed for their experimental ambient music. The band is currently touring behind their fourth album Taak..., sung entirely in Icelandic. Their last album was sung in a fictional language dubbed Hopelandic, not that the casual American listener would be able to tell the difference. Both are equally beautiful and mysterious and Sigur Rós isn't exactly a sing-along band.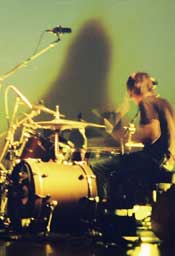 The darkened theatre (with ticketed seats) allowed the listener to feel immersed in the music. During the more quiet moments of the songs, it was so still it felt as though your breathing was too loud and could break the spell. The sold out crowd was treated to almost two hours of songs as the screen behind the band projected many images from porcelain dolls to birds on a wire.
The song names are a little difficult to remember as they are either in Icelandic or very generic. I remember being taken on a trip thru the new album with Taak, Glosdi, Hoppipolla, Andvari, Saeglopur. I also heard Track 1, Track 2, and Track 4 from ( ). I know I am missing a few, but I am guilty of being taken in by the show just as much as anyone else.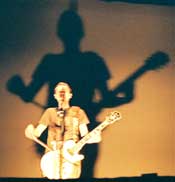 The show ended as it began - from behind a screen. After the last song was played, Sigur Rós and Amina took a bow and gracefully exited. Maybe it was the setting, plus the music, minus the usual smoky & sticky Chicago concert experience, but I walked away from Sigur Rós feeling more cultured and relaxed than I have in a long time.
---
RELATED LINKS:
Sigur Rós