With a hoarse voice that demonstrated seven shows in the past eight days, Story of the Year front man Dan Marsala used lyrical support from the House of Blues crowd Thursday night to come through with a surprisingly electric performance. Going with a set that lasted just over an hour, Story of the Year started off with 'And the Hero Will Drown,' 'Falling Down' and 'Dive Right In' from their first effort,
Page Avenue
. With only a slight push of their new album,
In the Wake of Determination
, the guys managed to work through their Chicago set with a mix of both old and new tracks. Delivering 'Our Time Is Now,' 'Take Me Back,' 'Stereo' and their first radio single 'We Don't Care Anymore,' Story of the Year gave the young crowd a taste of what to expect on the new disc. Even still, the St. Louis fivesome came through with interactive crowd favorites 'Anthem of Our Dying Day,' 'Page Avenue,' 'In the Shadows' and 'Until the Day I Die' as an encore.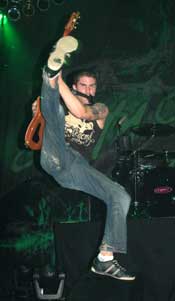 With Tuesday's (10/11) sophomore Maverick release of In the Wake of Determination, Story of the Year is a band that is out to make a serious mark in the music industry. After opening for Linkin Park (2004) and playing with My Chemical Romance (2004 Nintendo Fusion Tour), that upper tier of success is certainly right at the tip of their tongue. Even still, I am always impressed with their bold stage presence and interactive show delivery. Dan Marsala, Phil Sneed (guitar/vocals), Josh Wills (drums), Adam Russell (bass) and Ryan Phillips (lead guitar) will make sure you never leave a Story of the Year show feeling cheated out of the ticket price (which was a very modest $18). With that being said, I'd like to also note that Ryan Phillips is one of the best young guitar players that no one seems to acknowledge. Next time the St. Louis boys roll through your local venue, check both him and the rest of the gang out. It's money well spent.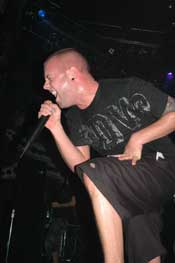 Between the synchronized jumps, stage dives and catchy metal riffs, Story of the Year pushes right back at you during every live performance. Even during Thursday night's set, they managed to get some of the less familiar fans engaged when they came through with a humorous medley of Guns and Roses' 'Sweet Child of Mine,' 'We're Not Gonna Take It,' Kid Rock's 'Devil Without a Cause,' 50 Cent's 'Candy Shop,' 'Crazy Train,' 'Hit Me With Your Best Shot,' 'Born On A Feeling' and 'Living on a Prayer.' This couldn't be more typical Story of the Year.
For anyone who missed the show or was at the House of Blues and is craving another live taste of Page Avenue, I would strongly encourage you to pick up the Live in the Lou/ Bassassins CD/DVD combination release from May of this year. This disc shows the band operating on full strength at a hometown show. Plus, you will be able to see and hear them acoustically play crowd favorite 'Sidewalks.' Which, I truly believe was cut from the set list due to Dan Marsala's aching voice.