I'm guessing that playing in a band is sort of like being in the postal service, except without the weapons. No matter what, even with the torrential downpours that DC was treated to that evening, the show must go on. With a smaller crowd than expected due to the rain, the ones who did show up were able to experience the show in a much more intimate setting. This being the second time that I'd been invited to see Stella Mira, I already had an idea of what to expect, but I was greatly impressed by how much the band had grown in the few short months that since the previous show. With an energetic stage presence that was obviously from a band that's truly enjoying themselves those of us that did show up were treated to a gem of a show.
Stella Mira grew out of a 3 friends Joe Ciani-Dausch, Brian Rauer and Steve Citarella in March of 2003 who decided to form a band. Adding guitarists Sean Cranford and Mark Cookson and then finally deciding on a name, the band was born. They were soon joined by professional drummer Mark Lucas, and quickly built up a broad spectrum of original material drawn from an eclectic mix of melodic modern rock sounds.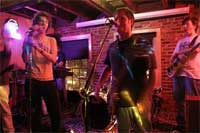 Set in an old movie theater moonlighting as a music venue for the night added the type of ambiance found in a classic theater, not the usual bar scene. By not having to worry about large amounts of cigarette smoke or someone always bumping into you as they moved by made the show much more enjoyable. Showing the breadth of what they are capable of the vast majority of the nights' set was alt-rock original music from their upcoming album, but we were also treated to the funk sound of Superstition and the iPod inspiring Vertigo. Hopefully these guys will start to tour out-side of the DC area, so if they do, give them a shot.
Stella Mira is currently waiting on the release of their 2005 CD "Between Now And Never" produced and engineered by Mark Sarisky.
Joe Ciani-Dausch: Lead vocal
Sean Cranford: Guitarist, Backup vocal
Mark Cookson: Guitarist
Steve Citarella: Bassist
Brian Rauer: Piano, Keyboard, and Synth
Mark Lucas: Drums
---
RELATED LINKS:
http://www.stellamira.com