Writers Note: I had a number of requests for a full and detailed report of the second night of the Bon Jovi tour. So, to best manage those requests, I've written from the gut while the show is still vital and alive in my mind. Please accept my unedited and un-proofed take and feelings on the show.
What we need right now is…soul
-"I Believe"
On March 5th, 1993, I had an epiphany. I saw Bon Jovi live for the first time. I knew they had been opening most shows with the anthem, "I Believe", but when Richie Sambora emerged from the shadows and tore through those opening notes on his Fender, I went into another world. Jon Bon Jovi came on stage and began singing…"what we need right now is…SOUL!" He didn't whisper it like he does on the record, or how he had been doing live for the first two weeks of the tour, but he screamed it on this night. I knew right at that moment, this was not going to be a run of the mill show. For the next 150 minutes, I saw Jon Bon Jovi, Tico Torres, David Bryan, Alec John Such and Richie Sambora put on the show of their career. They added six songs not on the original set list, performed each song with vitality and fought for every second they were on stage. When I left, I had no voice and was drained. I had seen Bon Jovi perform the longest show of their career to that date.
Later in 1993, Jon talked about that very show in depth to Kerrang and RIP magazine as the turning point of the whole tour. I am telling this story for a reason. Since that night a dozen years ago, I've seen close to 250 concerts. I've seen some with as many as 80,000 people and some with as few as 8 people in the audience. Whenever I walk into the show, I want to love the artist and the music. I'm open to anyone and anything. They hold the keys to my heart, mind and soul. If they give their all, I'll give them their props. Just recently, someone asked me to name the best concert of the 250 and I refused to answer it because, for me, it's like asking which child I love more. I love so many for different reasons. Seeing U2 a month after 9/11 can't be compared to anything else I've ever seen as I shed tears from the ambiance and inspiration in their songs. I saw Bruce Springsteen in near tears as he held hands with the members of the E Street Band on the final night of their word tour in Madison Square Garden in 2000, the first concert I actually ever shed a tear at. I've seen McCartney, Bowie, Prince and the Rolling Stones completely rip the roof off the buildings with commanding performances. Just last week, I saw two unknown and struggling acts, Marah and Will Hoge, give their all in small clubs in Chicago. I walked out of each of those shows feeling their hunger and appetite to win the audience over. However, I'm not sure if any of the above shows hit me the way the 3/5/93 show did. To this very day, friends give me crap about listening to Bon Jovi. Nothing mean spirited, but they often wonder if my music tastes has expanded beyond the world of melodic rock. In the last few years I have fallen in love with Johnny Cash, The Clash, Southside Johnny, David Bowie, Ryan Adams, Shelby Lynne, Jesse Malin and dozens others. Many of them ask why I still love Bon Jovi since my tastes have drifted away from the style of music they play and the truth is it's all because of that March '93 show. On that particular night, I saw a band fight harder on the concert stage than Jake LaMotta ever did in the boxing ring. You would have thought their families lives depended on that gig. I have never seen any artist, at any time in their careers, be as hungry as Bon Jovi was on that night at the Rosemont Horizon. To this day, it may stand as the single greatest live performance I'll ever witness. I saw something in Jon Bon Jovi's eyes that night, I saw a fighter, a poet, a lover, a believer, an artist and most importantly…I saw soul.
This brings us to the opening of the Bon Jovi world tour with its second stop in Chicago. Let me admit, I had doubts seeing the second show of the tour. I hate seeing bands early in a tour. I like seeing them a few weeks in after the kinks in the set have been worked out. Let me give you some simple facts on the tour. There is no set opener; each market will have a local act open the show in a chance for exposure. The stage is incredibly impressive. It has a back wall that holds an enormous high definition screen, the best of its kind I have ever seen. Those of you in nosebleeds will be happy as this screen is bright and busting with color and dynamics I rarely see on home theater systems let alone at a rock concert. The two keyboard stations and drum kit are on risers with lights below them. The lighting is excellent overall with them shining brightly when appropriate. From my vantage point the sound appeared to be muffled and a bit too loud, however, it may have been better the further back in the arena you go. There are fan pits on either side of the stage for radio contest winners and planks on the far ends for Jon Bon Jovi to get close with those next to the stage. Now, onto the show…
The lights dimmed at 8:30 sharp and a big screen hid the stage. From my perspective I could see the band members arrive on stage before they kicked into "Last Man Standing", the best track on their new album, "Have A Nice Day". It's an homage to Bob Dylan and on record the song about the war torn road warrior smokes. However, the tempo appeared to be slower live which I was disillusioned to see. They should be coming out of the gates blazing with their musical declaration; instead it felt like they limped through the song, which never quite caught the crowd's attention. While Richie Sambora gave his first killer solo of the evening, the giant screen that covered the stage slowly lifted to show the smirk that graces the new album cover. As the song came to a close, "You Give Love A Bad Name" unsurprisingly appeared. I understand the need to play this song every night; however, it has been in this slot for 19 years, it's time to move it to another spot in the set list. The performance of the song was solid, but I felt a further disconnect from the audience and the band. It almost appears as if the band was running through the motions and playing the song merely out of need instead of wanting to play it.
When "Everyday" was kicked in next, it almost seemed like something lit up in each of the band members. Here's a song that was not a hit, but I admire them for not giving up on it. This performance was first-rate highlighted by a smoking solo by Sambora. As Jon walked on either side of the stage, the crowd immediately went nuts for him. I sat there and watched his interaction with the fans and realized just how damn talented this man is. Winning over an audience is never easy no matter how good your ass looks in leather pants or jeans. He has an undeniable gift, the same one that Bono, Jagger and Tyler have when making eye contact with audience members and hypnotizing them. When Jon began to engage the crowd during these moments tonight we all began to feel connected to the music. "Born To Be My Baby" is where I had my first smile of the evening. Right after the guitar solo and right before they kick back into the chorus again…the band held out kicking into it and teased the audience. "There's something I know deep inside" kept being repeated in a machine gun fashion as the band showed the Windy City just why they are one of the world's truly illustrious live bands. This simple act took the crowd and song to another level which continued as the band segued right into "The Story of My Life", which kept the pace as it came out of a definitive performance of "Baby".
The box set treasure "Radio Saved My Life" rocked the Chicago crowd and the band nailed the performance. "Runaway", "Have A Nice Day", "Last Cigarette" and "It's My Life" were all presented to near perfection, led by Richie Sambora. As I am looking over my notes from this evening, I have at least one comment about Richie on every song. He was clearly the MVP of the evening as his scorching guitar work showed me a man who is still growing as a musician and the way he shred through those opening chords of "Have A Nice Day" almost knocked me over. He literally was pounding on his guitar like a kid fighting for his life in an after school fight. Watching Richie during this sequence of songs took me back to that first show 12 years ago, that is how extraordinary his playing was tonight. With each string hit and fret board touched, Sambora upped his worth as a guitar God. His playing was all about soul.
There will be an acoustic set performed nightly, which I have been wanting the band to do ever since the "New Jersey" tour. Kicking the acoustic set off was Jon, alone and center with nothing other than an acoustic guitar. "Someday I'll Be Saturday Night", reworked as a slow driving acoustic number, went over marvelously. Even in this unrecognizable version, you could hear the arena sing it back to him. It wasn't about the music, but the lyrics…showing the non-believers that this is a band who does more than write pop songs but ones with passion and emotion as well.
Hey, Man, I'm Alive
I'm taking each day and night at a time
I'm feelin' like a Monday but
Someday I'll be Saturday night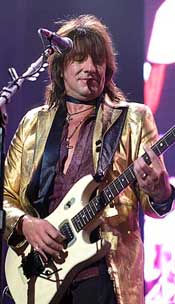 This was such a great moment as there was correlation from the audience to the performer. Not just singing lyrics back, but you could feel something in the air. As the band returned, they all strapped on acoustic instruments. Richie walked over to Jon's microphone where they ran through "I'll Be There For You" acoustically, sharing the microphone. The song was done in the vein of the version from "This Left Feels Right" and while I've never appreciated that album in any form, the material works better live, which is a testament to the band's live capabilities. Many fans were complaining they wanted to hear the song as they know it, but here is where I saw the band taking a chance and I thought it worked. "This Left Feels Right" had one song that stood out to me and that was "Lay Your Hands On Me" which had a Peter Gabriel feel to it. Tonight, I was able to see it and feel Gabe's spirit in the room. While it was not the arena anthem we all know, the band ran through the number with passion and once again, I was taken aback and jovial with the end results.
Next thing I know, the band is slowly working through a mini acoustic jam that I can feel to slowly build. During this time, Jon Bon Jovi disappeared from the stage, however, I hear the crowd start to really go insane and I see Jon appear on top of a seat in the 100 level of the arena with his black acoustic guitar in hand. Just as the band climaxes their jam, Jon begins to sing "Blaze of Glory". This was the biggest and most welcomed surprise of the evening. The opening jam had a middle eastern flavor to it and the performance by the band was nothing short of exceptional. I also give Jon props as I think he's insane for actually going out into the crowd to perform a song. When it was over all I could think about is this is why I love this band. I want my artists to challenge me and surprise me when I see them live. Why couldn't they have put this song on "This Left Feels Right"? It would have raised the album grade in my book to an automatic C+ just for this song.
The remainder of the main set would be a blast of five fan favorites; "I'll Sleep When I'm Dead", "Bad Medicine", "Raise Your Hands", "Who Say's You Can't Go Home" and "Livin' On A Prayer". I'm surprised to still see "Sleep" in the set as its tired and needs to be put into semi-retirement. If anything, this song should be paired up with "Bad Medicine" in the beginning of the set, if for no other reason than to make a change. Due to the fact it's a number one single, "Bad Medicine" must be played every night. This song and "Bad Name" should be switched in the set to freshen things up. Also, they should turn "Bad Medicine" into an extended jam with a cover version thrown in for good measure. "Good Lovin'", "Gimme Some Loving'" and even a jam post guitar solo would be welcomed as it would give the song a new life. "Raise Your Hands" is a grand arena anthem and it makes you wonder how the band only performed this song once between the final "Slippery" show in '87 and 2001, when it was resurrected. Surprisingly, after "Hands", Jon talked to the crowd before the band launched into their newest single, "Who Say's You Can't Go Home". Here is where I looked at Jon and saw him alive and not running through the motions. There was a sparkle in his eye as he sang the chorus and saw the fans singing this new number back to him. After the song finished, there was a rousing and spirited reprise. When he looked out into the audience and saw us singing it back to him, that million dollar smile shined brighter than any of the lights or effects on stage. This was a real moment where I felt his soul rattle from the concert stage. "Livin' On A Prayer" is an anthem for the ages and it had the 17,000 in attendance bouncing off the ceilings the same way "Hey Jude" did a few weeks back when Paul McCartney performed at the United Center. It's good to see "Prayer" back near the end of the set, as I believe its impact is stronger at the end of the set versus the beginning of the show. At this moment, the band was clearly in control of the audience. Surprisingly, this was an unyielding audience, but not fervent or frantic as the way Chicago audiences usually are for Bon Jovi. The band had to work for it and tonight, at the end of "Prayer" they had them.
When the band came back from their break, "Bells of Freedom" was performed to dead silence from the crowd. It may be my least favorite track on "Have A Nice Day" and even though it was performed well, it was a buzz kill. Can you imagine getting it on, hot and heavy, with a new boyfriend/girlfriend and all of a sudden calling out your ex's name? That was how the United Center felt during the performance of this song, as its placement should have come early in the set, not in the encore. However, all was not lost as "Wanted" quickly won the crowd back. I've seen "Wanted" over two dozen times live, and tonight, something just took it to the top. As Richie performed his trademark solo, the sound of the crowd was deafening. So deafening, in fact, that the only other time in recent memory that I can remember a crowd being this fanatical was six weeks ago when U2 launched into "Where The Streets Have No Name" in the same building. There was a zealous rage in Richie's fret work and the crowd acknowledged with roars of approval. Upon its conclusion, the band took their bows and headed off stage only to be called back by the now fanatical crowd. Tonight's bonus song was, ironically, the old soul classic "Treat Her Right". The song lasted 8 minutes, highlighted by a killer guitar solo by extra guitar player Bobby Bandiera. It left the Chicago crowd wanting more.
As I walked out we all shared our thoughts on the show. I'll admit that I witnessed a far better show than I expected. For a band that has just began a tour, the sounded incredibly tight. I've only seen The Rolling Stones this tight at the beginning of a tour. However, there were a few negatives which hovered over the show. The first is show length. When one is forking over $100 or more for a concert ticket, the show better be close to 2.5 hours, if not longer. The ticket price raised $20 between the last tour and this one and tonight's show ran around approximately 130-minutes. For a band that has a catalog as big as Bon Jovi, there is no reason to not play 150-minutes at every show.
However, my main complaint has to do with the sequencing of songs in the set list, as they had no rhyme or reason to be performed in the order they were performed. When a band like Bon Jovi has twenty years of music under their belts, more time should be put into what songs are played and where. One of the advantages of being a musician is that you can build story arcs and tell stories on a larger scale in concert by matching thematic tunes together to tell a bigger story. U2 has done this on numerous tours and Bon Jovi is one of the few bands who have the catalog to do this. The end of the main set should be based around faith, hope and redemption to build the audiences reaction and paint a larger painting of the band's catalog on a vast canvas for 20,000 to see nightly. The main set, every night should climax with "Keep The Faith". No Bon Jovi show should ever be performed without "Keep The Faith" as it's their paramount and most vital live song... To help them with this, I will post a "suggestion" set list below at the end of this review.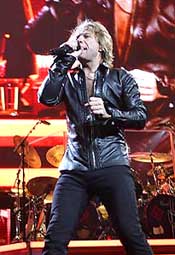 When I saw the March '93 show, I left knowing that music was the band's passion and their life. I don't get that feeling as much while watching the band tonight. It seems like it's a job than fun. There are moments where I see that magic in their eyes, but all too often, I feel they are playing too close to the cuff. Bon Jovi is a magnificent live band and deserves to treat their catalog and their fans better. We deserve to be challenged with set list changes nightly, not ignore albums like "These Days", "7800 Farenheight" and the box set. Most importantly, if you are going to charge upwards of $100 for tickets, make sure you do not leave the concert stage until the fans are exhausted. Artists who say "leave them wanting more" are nothing but lazy. In March of '93, I saw a man who came on stage trying to prove something and he did not leave the stage until he had to for a fear of physical collapse. Tonight, the band had the audience in the palm of their hand and left them hanging. Someone asked Bruce Springsteen in the early 80's how long his shows would be and Bruce answered "Whatever comes first- three hours or 28 songs". Bon Jovi should implement a similar process. There is no reason the band should not perform upwards of 100 different songs on the tour as they have the hits, album cuts and a box set to make those selections from.
There are going to be those who jump on me and tell me that I'm being picky and harsh as the purpose of Bon Jovi concerts are to have fun. I did have fun, but let me tell you, as I get older and face the callous realities of this world, I want my rock n roll to be more than just entertaining; I want it to be life changing. I want it to educate me, rock me and calm me. It is rare you find a band who can manage that balance well. Bon Jovi is one of the few acts that could really dig their heels in deep, write and perform meaningful material and yet somehow, make their encores seem like a gospel church, where when you leave, you feel redeemed and ready to face the world. Artists like this change lives and garner a fan base that will follow them anywhere. Numerous people I spoke to tonight are only seeing one or two shows on this tour instead of seeing multiples. One of the reasons is because they don't feel challenged anymore. I feel the same way. "Jonny's Church of Rock N' Roll" has lost a few parishioners to neighboring churches who are enlightening the soul more. When I pay hard earned money to see a show, I want to feel like that performer is giving the best performance of the tour. I didn't feel that way tonight.
After the show, a friend came up to me and asked me, "What's missing from this show that was prevalent at past ones?" We discussed our opinions but as I sit here at 4:39 am typing this and my ipod is playing "Keep The Faith", I think I finally have the right answer, a "little bit of soul". After that 1993 gig, Jon Bon Jovi and his band mates continued to rise to the occasion whenever and wherever I saw them live for the next decade. I miss "that" guy. Do you remember "that" guy who gave his all each and every night? I saw him in '95 supporting his bravest album, I saw him again in November of 2000 when the Windy City dared him to play longer and he did and I saw "that" guy and his band work their magic in 2003 at Jon's birthday show and again that summer in Minneapolis at a half acoustic-half electric show. Each of these shows took me to a higher plane emotionally, tonight sadly did not. "That" guy who was at the shows above, well, sadly he didn't show up in the Windy City for the second show of the tour. But if and when he does appear again, on this tour and I'm fortunate enough to see it, I'll be the first to let you know.
"What we need to get is a little bit of soul"
-"Little Bit of Soul" 1992
Here is my proposed set list, which showcases a solid 2.5 hour show with recurring themes meddled together for a more powerful impact. *
Last Man Standing
Complicated*
I Believe*
Last Cigarette / I Want To Be Loved / Novocaine*
Good Lovin'-Bad Medicine
These Days / Something To Believe In/ Welcome To Wherever You Are*
Runaway/ Tokyo Road*
Just Older
Bad Name
Born To Be My Baby
Story of My Life
Radio Saved My Life Tonight*
Acoustic Set:
Saturday Night
I Am*
Living In Sin*/ "I'll Be There For You
Lay Your Hands On Me
Blaze of Glory
* Electric Again:
Everyday*
Raise Your Hands
Have A Nice Day
It's My Life
Keep The Faith
* Encore #1:
Who Says You Can't Go Home
Wanted
Prayer
Encore #2
Radio Radio
Rocking In The Free World
* denotes a spot where there can be nightly changes

---
RELATED LINKS:
BonJovi.com