Omaha's favorite rock sons stopped by De Kalb for a Sunday show during their November weekend in Illinois. With no signs of a Saturday night University of Illinois "Champagne" hangover, the crowd at Northern Illinois University (NIU) was treated to a deep 23 song set that touched on almost every 311 album as they tossed out some "positive vibes" along the way. Grasshopper Takeover (another Omaha group) warmed everyone up before 311 smoked them right out. As the first joint landed at the feet of Tim Mahoney, it was evident that a spattering of new jams and older classics would keep the sold-out floor section jumping for the entire set. In stark contrast to their summer show at Northerly Island (Chicago, IL), the band delivered a collection that sounded more like a 311 iPod on shuffle as opposed to their
Greatest Hits '93 -'03
album released in June of 2004.
After giving the crowd a little jam session, the Nebraska guys stepped on stage at around 8:40 P.M. CST and kicked off the show with 'Offbeat Bare-Ass' from Grassroots and then continued to rile the young audience up with crowd-favorite 'Freak Out' from 1994's Music. Staple hits such as 'Beautiful Disaster,' Soundsystem's 'Flowing' and the cover version of The Cure's 'Love Song' did make Sunday's list. At the same time, 'Homebrew,' 'Amber' and even tour title track 'Don't Tread On Me' was left on the cutting room floor. With 2005 being the 15th anniversary of touring, singer/guitarist Nick Hexum, singer S.A. Martinez, drummer Chad Sexton, guitarist Tim Mahoney and bassist P-Nut can mix and match set lists with the best of all touring bands. Going to a 311 show guarantees you a night of amazing guitar playing by Tim, tight vocals delivered by Nick and an amazing display of drumming from Mr. Chad Sexton. This was all the more demonstrated as the guys squeezed their drum solo in after playing From Chaos' 'Uncalm.' Adding to the 311 musical smorgasbord was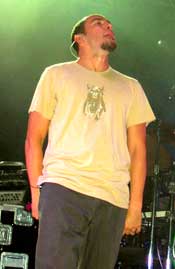 'Use of Time,' '1,2,3,' 'Who's Got the Herb?' and the 'T + P Combo.' Just as in their previous Chicago-area stop this summer, the concert did highlight a good portion of August 16th's Volcano release of Don't Tread On Me. From that, fans were given 'Frolic Room,' the S.A. Martinez special 'It's Getting OK Now' and 'Speak Easy.' This, as Nick Hexum noted, "...is not a song about an illegal drinking establishment. Rather, a song that encourages people to speak their mind."
After Nick's usual dedication of 'Down' to the "old school fans," the Nebraska natives walked off the stage leaving the NIU crowd wanting even more. And, as usual, 311 delivered. Their two song encore consisted of Evolver's 'Creatures (For A While)' and then segued to 'Feels So Good' via a brief P-Nut bass jam. When you end a concert like that, everyone goes home in an electric frenzy. Whether you made the one hour drive from Chicago or took a cold stroll over from your De Kalb dorm room, all paying customers walked out of the Convocation Center knowing they witnessed something that is 15 years in the making and just getting better with age.
---
RELATED LINKS:
311.com
Grasshopper Takeover