As Slipknot rolled through the Congress Theatre on Tuesday and Wednesday night on their
Subliminal Verses Tour: The Final Volume
, fans were treated to two shows that had just about as many similarities as it had differences. Guitarist Jim Root was not with his eight other comrades as Corey Taylor described him on Wednesday night as having a "fucked up wrist." So, with eight band mates and a beat up Congress Theatre full of maggots, the show (and the tour) blasted forward through the Windy City.
Lead vocalist Corey Taylor made a point of mentioning that, "...on the short list of places I like to play, Chicago is right there at the top." Joined for the first night by opening act As I Lay Dying (who is one day removed from their own European tour in support of a new album), Slipknot opened the two shows in drastically different fashions. Tuesday night, fans were treated to 'Prelude 3.0' from Volume 3: Subliminal Verses. On Wednesday, Slipknot tossed out a Frank Sinatra-esque version of 'People=Shit' before treating the crowd to a hateful live version of the same.
Looking around the Congress Theatre it was evident to the naked eye that the maggot turnout was significantly higher on Wednesday night. Even still, Corey Taylor challenged the Wednesday night crowd to sing louder on 'Before I Forget.' As he put it, "...they were so loud last night that chips were falling off the ceiling." Personally, I thought there was electricity that existed on Wednesday that wasn't as high as the night before. I'm sure some credit can be given to this year's fellow OzzFest alum As I Lay Dying (Slipknot played OzzFest in 2004 and 1999), but the mood in general felt like this may be the last dose of Slipknot fans get for a while in Chicago.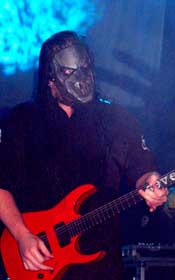 Touching on all three studio albums, Slipknot cut through a haze of white smoke at Tuesday night's concert with 'The Blister Exists,' '(sic)' and 'Disasterpiece' before delivering 'Before I Forget' and then 'Left Behind' from their home-state titled sophomore effort of Iowa. After ferociously kicking out 'Pulse of the Maggots,' the DesMoines metal act came through with die hard favorite 'Heretic Anthem,' the sixth track from the Iowa disc. "This is for the true fans" Corey mentioned as "555" echoed off the stripped down seatbacks and cavernous walls of the Congress. Once again, affirming the critical praise they receive for such a powerful live performance they give on a nightly basis.
With radio favorite 'Duality' next on the menu, Slipknot then turned to crowd favorite 'Spit it Out' from the breakthrough Slipknot release on Roadrunner Records. For anyone who has never seen Slipknot live and in person, this would be the point where a "pit" is re-defined. Want to measure your tolerance for pure insanity? Make your way toward the front during 'Spit it Out' and find yourself...on the ground.
Closing up the set with 'People=Shit' from Iowa and the duo of 'Wait and Bleed' and 'Surfacing' from Slipknot, the guys gave Chicago fans everything they were looking for Tuesday night.
In regards to the set, Wednesday was much of the same but in a different order. Going with older classics first, they then moved on to Volume 3: Subliminal Verses in the form of playing 'The Blister Exists' third. 'Duality' and 'Pulse of the Maggots' were in the mix along with repeat performances of 'Spit it Out,' 'Heretic Anthem,' 'Disasterpiece' and 'Wait and Bleed.'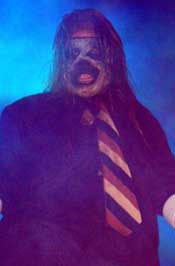 My only bone to pick is with the notion that every concert serves as a soapbox for Slipknot to rip the record industry as a whole. Growing support driven from radio play (especially on Volume 3: Subliminal Verses) has only moved the band to a higher echelon. They have the fans, they have the support of people from all ages and they have the awards to prove it. Corey, just roll with it!
As Slipknot moves on to the Mark of the Quad Cities for a Friday night show, Milwaukee Avenue falls silent from the ass-kicking riot that it entertained just the night before. For hard core fans, a temporary solution comes in the form of Slipknot 9.0 Live being released on Tuesday, November 1st. Until next time, Chicago will continue to wait and bleed.