Dark. Dim. Distant. Toss all the dreary words out that come to mind. Staind could very easily play from behind a black curtain and it would almost compliment their style and lyrical tone. The only problem with that thought is that it might distort the insane studio quality sound a Staind live performance delivers. Personally, I deem the admirable quality of sounding as good live as on their studio albums on very few bands. After seeing their
Q101
show last night at the House of Blues, I now have a new inductee in the form of Massachusetts-based Staind. Yes, you have to appreciate that the sound is not that of
Dysfunction
and the
Family Values Tour
(Staind is a 1999 alum) anymore. At the same time, Staind has found a niche in the radio music industry that has let it ride its course. At Wednesday night's Budweiser One Night Stand, Staind came out from behind the curtain and was on full display with jaded enthusiasm.
Opening with "Falling," the current single from Chapter V (little-known Tormented was released in 1996 as an independent release), Staind woke the House of Blues crowd back up after a dreadful opening act that was so terrible I'm comfortable saying that they weren't even worth ANY portion of the free ticket price. Tapping back into the Dysfunction days, "Crawl" was next on the bill with radio-friendly "So Far Away" not far behind. In the evident effort of pushing Elektra/WEA's August 9th's release of Chapter V, Staind kicked out "Right Here Waiting," "King of all Excuses," "Everything Changes," "Paper Jesus" and "Reply." So, as fans could have figured, the show was heavy on the new album. Even still, the classic Staind hits were scattered in like guitar picks being tossed into the audience. "Fade," "For You" and "It's Been A While" from 2001's smash success Break the Cycle made the 16 song set list. Those, coupled with a studio-type version of "Outside" that was an upgrade from the acoustic hit, rounded out Break the Cycle's representation in the hour and a half show. Joining "So Far Away" from 2003's 14 Shades of Grey was "Blow Away" and "Yesterday." All of these dark messages were simply a precursor for the show closer of "Mudshovel." Staind delivered the song that put them on the map with such sick precision that it felt as perfectly placed as Aaron Lewis' retro Boston hat. As the crowd was welcomed into "Mudshovel" with its unmistakable bass chords, the pit circulated for the first time Wednesday night. With that, the romp was over right at 12:20 a.m. CST.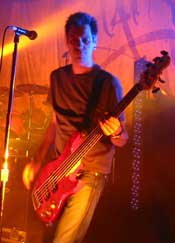 I'm not going to lie and say that I'm a die-hard Staind fan. In fact, the last time that I saw them live was on the 1999 Family Values Tour when they hit the road with KoRn and Limp Bizkit in support of Dysfunction. Even still, the Budweiser One Night Stand with Staind showed itself to be a musical delivery of perfection stemming from a band that is described by everyone to be one of the nicest groups of guys that you'll ever meet. Loyal fans of all ages could be heard trying to keep pace with Aaron Lewis' vocals or seen jamming along with band co-founder Mike Mushok. Staind still touches on the whole music catalog as shown by playing "Break." And, they seem poised to make Chapter V another huge success. A one night stand that that you actually want to tell people about the next day…how rewarding!