Kelly Clarkson had it all. She was the winner of the first American Idol. Had a string of hit singles
which was written by some of the best songwriters in the business. Her first album "Thankful" release in 2003 debated at number 1 on the Billboard Hot 100 and included the number 1 single "A moment Like." And she also had done acting in a major movie. Then she toured with Clay Aiken and from all accounts it was a real disaster of a tour.
Reinvented herself, she is back on top with, what looks like another hit CD with 2 singles already on the charts. Kelly has come around full circle with her writing/co-writing 6 of the songs on her album, which was a surprised good CD. With a tour backing it up.
Kelly Clarkson came to Chicago (Rosemont, IL) on April 14, 2005, to play a almost sold out crowd at the Rosemont Theater.
The stage looked like someone living room with bean bags pillows thrown around to give a more surreal look. The show started with the lights dim and she came out on stage by herself at first, standing in the background of the dim lights. The crowd started to go crazy as the band enter the stage one by one. Once they had all been on the stage she open the show with "Since U Been Gone". Dressed in a white tent top with the words Peace saw into it. She started to take control of the night. She was sporting a new blonde hairdo and her over powering vocal it just rock the audience. All without any voice over or special effects added to her voice. During the set, Kelly looked like she was having lots of fun on stage. Dancing around the stage and enjoying seeing the audience singing with her.
She played the next two songs with her full band. Then they broke down into a musical solos so she could chance into another outfit. She came back to the stage dress in halter white top (it didn't cover her belly button) and very colorfully raffled skirts. Lots of colors (yellow, brown, red and green) and to top it off which made the whole outfit was she had no shoes. The dress was hanging from her hips. It looks like she was getting a little bit of her hometown look.
The band broke down to basics and came out front, to give that closer feeling of a band playing in your living room. The drummer left his full set of drums and set behind a basic 3 piece set. The rest of the band took sits on stools. Everyone was looking very comfortable. She introduce the set as going to play the songs a lot different then you are used to heard them. And they did. They started with "What's Up Lonely" and "Thankful" in a blues style.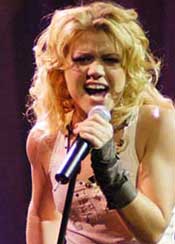 Then the band left the stage leaving Kelly with only a guitar player. They did a song that she learned during her last year tour call "Doubtful" a new little catching tune. The band enter the stage again and it was time to cover some covers. She took on Janis Joplin "Piece of my Heart" / "I the only one" and really made it her own. I have heard other bands do this song (PMH), but I have never heard it as soulful as Kelly did it. It was like bring Janis back from the dead. Then she broke into some real blues with "The Thrill is Gone" while she did a little belly dancing.
The rest of the night included the following songs.
"Sweet Dreams"
"Addicted"
"Because of You"
"Where is Your Heart"
"The Trouble with Love Is"
"Behind these Hazed Eyes"- during which she made sure she did a little meet and greet with the people

in the front roll of the stage.
"Miss Independent"
"A Moment Like This"
And she closed with "Breakaway"

Over the night Kelly Clarkson had taken the audience with musical style starting with her Idol beginnings to her favorite classic hit songs with a new twist. I thank that Kelly has proven herself to show that she is a true star.

During the night she show that she has what it takes to be a true star, not just an American Idol star. She is trying not to pigeonhole herself into the mold of American and showing there is more to this little girl from Texas. This little girl can "Rock."
RELATED LINKS
Kelly Clarkson
American Idol