No one plays three shows at the Ryman. No one sells out three shows at the Ryman in minutes. It isn't done... until Keith Urban came along. History was made in Nasvhille in March 2005. Not only can it be done, it can be done amid March Madness when "the big ticket" is the basketball playoffs. Keith was given the option of the Ryman or the Gaylord Entertainment Center, and he picked multiple nights at the Ryman, citing the amazing sound quality. Excellent choice! The sound is the best of any venue where I've seen a show. Instead of metal folding chairs set up in a sports complex, we saw shows in an auditorium designed for superior sound. There are curved wooden benches in a theater style setting and a hardwood floor. Every note reverberates through the structure of the building. I noticed more than ever before how sweet and pure Keith's voice is.
A few people have questioned me about going to "the same show" three nights in a row. No, I didn't go see the same show three times. I saw the same performer three times (or eleven, depending on how you count). Maybe the concept of real musicians making real music has been lost somewhere, stamped out by choreographed-to-the-hems-of-the-pants acts like Britney and boy bands. Keith hasn't done the same show twice. As lead guitarist he sets a mood and varies his solos accordingly. Thursday was "excited to be here." Saturday was a high energy celebration. But Friday 's show where he was almost reverent at times stood out most. It was the most passionately I have ever seen Keith play—and that is saying something. He was in a very spiritual place, evidenced by his references to God and how often he looked to heaven during You Won. He seemed in his own world while playing Come to Jesus with Mindy Smith, keeping his eyes closed much of the time with an _expression of sheer peace on his face. He bowed his head and let the audience sing much of But for the Grace of God, punctuating the lyrics with phrases like "Sounds so sweet." Saturday was a high energy celebration.
This is not to say he was not having a great time and entertaining the way few frontmen can do. I believe that his spirituality, sexuality, and musicianship all combined that night for one hell of a show. Witnessing an artist in that kind of creative place is a rarity. Even the best acts have special nights and this was one of those nights. Keith's guitar always seems like part of his body and a physical extension of his soul. The connection and what he was bringing out was primal—summed up when he leaned into the mike and said, "I think I need a cigarette." I could have fired one up about then as well, and neither of us smoke. The girls and I came to the conclusion that he's single because no woman can compete with Clarence.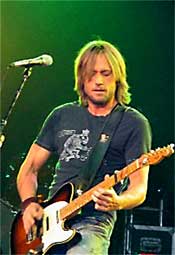 Walkin the Country, Desiree, and You Won have been added to the regular set list. Jerry Flowers has a great voice too and he and Keith blend perfectly for Desiree. The Hard Way was dumped at the Ryman shows. I don't know if this was a brilliant decision on Keith's part or just to accommodate the other duets of the nights. On Thursday, Kenny Chesney joined Keith for a rendition of Merle Haggard's Mama Tried. They were both laughing through the performance. On Friday, Mindy Smith was there to sing backup on Dolly Parton's Coat of Many Colors and lead on her own powerful Come to Jesus, a song that Keith told us he "absolutely adores." I think that Coat of Many Colors was the highlight of all three nights. Keith's picking and singing were perfect for the sweet message of the song. Dolly would have been proud. Marty Stuart showed up Saturday for Jumping Jack Flash and Tulsa Time, which I used to think was a country song. Later that night, Leanne Rimes came out for Me and Bobby McGee. Keith introduced her has his new neighbor and said he could go over and "borrow some suga" whenever he wanted. When she left the stage he said he was never going to have any sugar in his house.
As always, Keith kept the crowd mesmerized with his skill and laughing with his wit. Some of my favorite funny moments came when he was reading signs. One woman boasted that she'd missed her daughter's birthday and Keith asked if that was supposed to impress him. He said to wish her daughter a happy birthday for him when she got her back from the homeless guy. Someone said they came from Boston and he apologized saying they would be there next week. Someone said they were going to Dublin and he referred to them as major stalkers and said he supposed the restraining order didn't go into effect in Ireland. He mentioned that he had seen a lot of hung over people at the Waffle House on Friday morning and some of them were customers, but that they couldn't mess up raisin toast, so he was happy. I enjoy the way Keith makes the audience part of the show when he takes time to read signs and when he gets us to sing along. Without us, they're playing to empty seats and Keith never seems to forget that. I have a new respect for the musicians and road crew, traveling the way they do. The pace of the road has got to be exhausting. God bless 'em for doing what they do. It can't be easy, but it certainly is appreciated.
I still proclaim that genre labels are meaningless when Keith Urban is involved. Don't be fooled that they call him country. He's one of the finest musicians and entertainers you will find anywhere. He'll be playing in a town near you soon, so do yourself a favor and see the show. It's one night out you will not regret.
---
RELATED LINKS:
Keith Urban