Wouldn't having your first album certified platinum eighteen times be enough? How about coming out with a follow-up that was certified another ten? The need to recapture and show your roots, obsessive determination, call it what you will by a driven artist. For those that don't know, Fort Minor is Linkin Park emcee Mike Shinoda's hip-hop side project. It's so much his baby that he wrote and played every lyric and note of the album (other than the touring string section) while in the recording studio. Fort Minor's first album,
The Rising Tied
, was released November 22, 2006 on Machine Shop Records (Sound familiar? It's Linkin Park's). Taking a page out of the 2004 Projekt Revolution tour, Fort Minor truly has a closer relation to Snoop Dogg's set rather than Chester Bennington's screaming vocals on "One Step Closer." Using the band's logo as a demonstration point, Fort Minor gives listeners as much new without completely reinventing the wheel. We have been given samples of this in the past, now its playing live in ten lucky cities throughout the country.
Shinoda wasted no time in stirring up the nearly sold-out House of Blues crowd when he kicked off the show with "Remember The Name" from The Rising Tied before moving into "Goin' Down" (Linkin Park track featuring the X-Ecutioners). Both him and Styles of Beyond then rolled through "Dolla" before digging farther into the Linkin Park archive of Hybrid Theory's "In The End." Chester Bennington's screaming was replaced with a crisp street version that had everyone in the place bouncing along to. As adoring fans hung over the opera boxes trying to engulf themselves in this rare experience, Mike and his eleven-piece band gave the demographically-mixed crowd track number seven from the new disc titled "In Stereo." "Mr. Brown" and a quick medley were played before he stopped to compliment the Chicago crowd on their excellent singing ability. At that point, Holly Brook was brought out to slow things down and sing "Where'd You Go." Her soft and smooth voice changed the tone of the show for only a few minutes before more of the new album was brought to life. "Feel Like Home and "Red To Black" sunk fans deeper into the new record. A John Bonham-like drum solo by BeatDown completed "Red To Black" and merited the roaring ovation that was soon to follow. No sooner did the crowd get a second to breathe before Mike brought out Cypress Hill's own Bobo to play the bongo drums on set closer "Believe Me."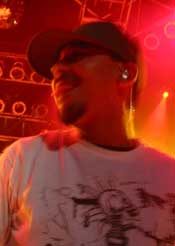 In an expected play on song titles, front man Mike Shinoda came back on stage (with a towel around his neck) joined by Bobo and the rest of Fort Minor to deliver a trimmed down version of "Encore" from Collision Course (the recent Linkin Park/Jay Z collaboration). The four song encore then finished up with a heavy dose of The Rising Tied catalog. "There They Go," "High Road" and "Petrified" rounded out the intimate seventy-five minute set.
I found one of the most interesting aspects of the event to be the people that comprised it. As different as the artists that join forces on The Rising Tied (Common, DJ Joe Hahn and Holly Brook among them), the actual crowd varied in everything from age to fashion style. For as many black Hybrid Theory sweatshirts that were seen, there were an equal number of tilted, straight-brimmed baseball caps and basketball shoes in the audience. Even better than their relative diversity was the overly positive reception that this unique crowd fed the guys. Mixing genres of music can be a very dangerous thing but Fort Minor really hit it on the head with this release. It's one of those shows that you go to see and then rush out of in the effort of being first in line to buy the disc and meet the guys. On only the second night of this brief road stint which started in Minneapolis, it is evident that Fort Minor is seriously prepared to tour for the month of February in support of their first disc. At a modest twenty-one dollars, this was a "can't miss" show at a spectacular Chicago venue. The next time Fort Minor is in Chicago, be prepared to dig much deeper in the wallet and stand much farther away.

RELATED LINKS