DevilDriver hit Denver's Gothic Theater on 2/4/06 as one of the 4 bands currently on the In Flames tour. Devil Driver is made up of Dez Fafara (vocals), Jeff Kendrick (guitar), Mike Spreitzer (guitar), Jon Miller (bass), and John Boecklin (drums). It was a sold out show, and even though DevilDriver is still an up and coming new metal band, the theater was already a full house by the time they took stage as the second band playing in the 4 band lineup. DevilDriver has a very heavy, but clean melodic sound, and are accompanied with a storytelling lyrical approach in the vocals. DevilDriver started out in 2003, at the end of Dez Fafara's career with Coal Chamber, and have already produced 2 albums with plans to record another new album at the end of this year. As a huge fan of metal, I have to recommend that any of you reading this get out there and check them out for their unique approach to heavy thrash metal music. Unrated got to do an interview with Jon Miller, bass player, from DevilDriver to learn a little more about the band.
---
Shayna Moskowitz: So how many albums have you guys released? You're website is currently advertising a new album coming this June, but I thought you guys had just released a new album last June.
Jon Jon: We have released two, one was a self-titled and this past June we just released "Fury of Makers Hand."
Shayna: Where are you guys originally from?
Jon: 3 of us are originally from Boston, Dez and Mike are from Los Angeles, and we all collaborated in Santa Barbara CA. That's where we all reside now.
Shayna: How did you meet up with everyone, I know that Dez used to be in Coal Chamber.
Jon: We have known each other since 2003. When Dez was doing the "Dark Days" record for Coal Chamber we met him then, and he was talking about leaving. We were all playing in a local band and he said, "Hey you guys write some heavy shit, and I want to get out of Coal Chamber." So he did, it was pretty much a "right place, right time" kind of thing. Circumstances happened, we were pretty lucky and he was pretty lucky too!
Shayna: So Dez has been taking a more storytelling lyrical approach to his song writing, any particular reason why?
Jon: Yeah, he gets that from Johnny Cash, he's a big Johnny Cash fan and he uses the story telling method.
Shayna: When did you first decide you wanted to become a bass player?
Jon: When I was about 13, I saw the Metallica "Cliff them All" video, Cliff Burton was playing bass and I thought, "that's fucking bad ass, I want to do that" and that was pretty much how I decided.
Shayna: What would you say is your favorite song off "Fury of Makers hand"?
Jon: Probably "Grin Fucked"
Shayna: Any particular reason why?
Jon: It's the deadliest one on the record.
Shayna: Who musically besides Cliff Burton has inspired you?
Jon: I grew up on Metallica, Pantera, Sepultura and Slayer. I played in high school bands with 2 of the guys in our band and we used to play cover songs from those bands. Basically, we got our jobs from learning how to play those songs.
Shayna: Since you've lived in Boston, would you say the metal scene is heavier there than on the west coast?
Jon: Well, Massachusetts in the last couple of years has become a hot bed for metal. Bands like Shadows Fall and Killswitch Engage came out of Massachusetts, more like central or western Mass, Boston doesn't really do a whole lot of metal anymore. It got kind of violent so a lot of the clubs stopped having metal bands play.
Shayna: Is there any particular venue or city you like to play in the most?
Jon: Chicago House of Blues, that is the best venue ever.
Shayna: Really, several musicians I have interviewed have that same opinion!
Jon: Yeah, I like the Foundation Room bar, talking to about 60 girls at one time that are all-republican who have nothing to do with the shows, but have memberships and are hanging out there. I like asking them questions about secret societies and cults since if they have enough to drink, they will tell me anything!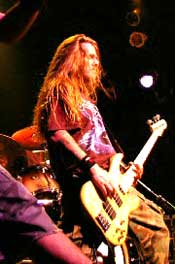 Shayna: Do any of you guys have any Wiccan beliefs, just out of curiosity since the band name "DevilDriver" means "the name witches give to bells they use to drive evil away when they are casting their spells."
Jon: Yeah, Dez has some Wiccan beliefs. I'm pretty spiritual, but I don't adhere to any particular belief yet. Nothing has really come knocking at my door. I'm not a Christian, or any particular religion. I do have faith though.
Shayna: Since you guys just released this latest album, do you have any plans for making another album in the near future?
Jon: Yes, we're already writing the next record. We are also going on a headlining run in May, and we are planning to do the festival circuit this summer. We will probably go in to record the newest album at the end of 2006.
Shayna: So how do you feel Road Runner treats you guys?
Jon: They have been great, they do a lot for us.
Shayna: Can you tell me of the craziest moment you guys have had on tour?
Jon: Last night. I hate mayonnaise more than anything. Well, Dez decided to squeeze like a mound of it in his hand from one of those squeezy bottles, and slap me in the face with it. I got really pissed.
Shayna: That's the craziest moment so far? Perhaps you have to get him back with some ketchup or something!
Jon: That's the moment that comes to mind first, since we're still at odds over it. I think I need to pour pickle juice down his butt crack to get him back!
Shayna: That sounds fair! So where were you guys last night?
Jon: In Salt lake City. Every time we go there something bad happens, last night our PA went out. I'm still waiting to have a good show there.
Shayna: Anything else you would just like to add or say to you're fans out there?
Jon: Don't get attacked by a shark!
---
RELATED LINKS