Goepele (pronounced Gwa-pa-lay) is an artist that could be classified in many ways: as a neo soul songstress, a social and political activist, beat brilliant, a music producer and writer (as she co-wrote and co-produced her debut CD), but she's best recognized as an incomparable voice possessing all of the above titles and more. We got "Closer" to the star with the title track off her first CD "Even Closer" but now she's proving a change is gonna come with her new Skyblaze/Columbia CD Change It All and we're more than ready to see what this artist has got.
Her performances prove positive with two stops in Chicago's House Of Blues as Goapele moves eastward on her National Tour to the northern and southern coasts of the U.S. Chicago was lucky to get a taste of this musician who tempts us with her refreshing style. She's a true soul girl--but she doesn't limit herself by approaching only one genre. With a little jazz and rock and some electro-pop funk thrown into the mix, Goapele's got something for everyone.
The rising star stepped out onto the House of Blues stage on Thursday, April 13, to a familiar beat recognized as belonging to Prince and then immediately transitioned into her own hits. The singer, who had the crowd snapping and swaying in no time, has an obviously sweet persona that shines through even onstage. She lead her short set by thanking all the other performers that night, including the upcoming Keyshia Cole and even apologized to attendees for the late weeknight show. No complaints could be detected in the comfortably full house.
The crowd was all smiles when the beautiful musician launched into her first smooth song, "First Love" and she seemed to have an infectious enchantment. The dimples never left her face, showing the crowd that Goapele was made for the stage and her mood was as contagious as her melodies. It was tough not to hum the beats from her hits even the next day--especially when she hit the listeners with the hyped up electric song, "Love Me Right." Hips were gyrating on stage as they were in a sea of impressed listeners and heads were bobbing almost in a reflexive unconscious manner. Goapele kept time with snapping fingers and a levelly placed hand at her side moving melodically with each note.
She then took it up a notch again, each song sounding more effortless, displaying the singer's ability to match her sweet-and-smooth with sexy-and-seductive. The only thing lacking in this infectious performance was stage time. Most listeners would have liked to get a double dose of this sound.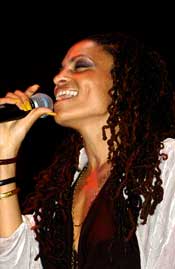 Luckily, Goapele, is spreading herself somewhat thin. If you didn't catch her in Chicago or on the East Coast, you can still get to know her online. Her untouchable, smoky voice reaches farther than just the musical ear--but also aims to touch hearts everywhere with inspiration of a better world. Goapele has taken her gift and expanded it to an online community to promote the changes she feels this world needs and it shares the name of her sophomore album, Change It All . Visit her there or on her personal website to sample the flavor of her funky sound or join her in a mission to alter the world we live in little by little.
RELATED LINKS