R&B artist Keyshia Cole has gotten hurt a time or two--and made lots and lots of lemonade out of the lemons her life (or one man, specifically) has handed her. This 21-year-old A&M artist--who persuaded MC Hammer to listen up to her before she was 12 and landed a spot way back when on an indie film soundtrack she hooked up through Tony Toni Tone's Dwayne Wiggins--kicked off her career when she caught her boyfriend cheating. Within minutes, the situation found her driving to Los Angeles from Oakland to further pursue a career set in motion by the feelings she had inside.
What Keyshia went through on her journey to fame explains many of the melancholy and anger-induced songs like her first single with Kanye West, "I Changed My Mind," "I Should Have Cheated" and "I Just Want It To Be Over" from her CD The Way It Is . But then this California girl took it a step further and kept keepin' on by writing the beautiful ballad "Love"--her latest single. Though she doesn't admit to be a lover of ballads particularly, this song had penned itself in about 5 minutes flat according to the singer. When you got it, you got it…and Keyshia proves that she does.
At the House of Blues in Chicago on the April, 13 Thursday night show that started at almost midnight with the opening acts, she had a line wrapping around the corner of the building. Keyshia Cole fans knew this artist had something to say and they wanted to be there to hear it. Watching her onstage, it's impossible not to fall for her realness--a mixture of street "hustler" like portrayed in her song "Streets is a Muthafucka" and the heart she wears on her sleeve for many of her other hits. We're in awe of the way she so generously displays it for us.
Looking very 'round-the-way-girl in a casually sexy jeans and girly pink and white shirt, Keyshia's auburn hair, which often changes color, glistened under the lights that set the colorful mood. At one point in the show Keyshia's silhouette was bathed in gold lights, just before the stage turned blue, inducing a more somber mood. The crowd swayed and followed her all the way through the late-night hours--well past 2:30a.m.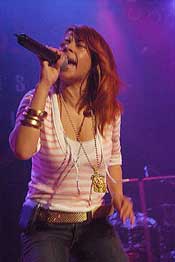 The singer has an anger that makes you feel it when you watch her--except we enjoy it. She has a sadness in some songs that make you want to cry--but instead you smile from the growth she's gained. The way she felt every single note was inspiring and her sincerity was evident. After she swept the sweat from her face and clutched her chest where the pain was generated that spilled out into her lyrics, she introduced the band members--one whom she said she loved the way he played "because it was like he was making love" to his instrument. If any thought could leave you with the right impression of that night, when Keyshia Cole took over the intimate stage of the House Of Blues, it's like she was making love to her songs and was not afraid to do it out in the open. Anyone who may have wandered in by accident was sure to be a newfound fan.
RELATED LINKS