Fall Out Boy
was back in town for a show at the UIC Pavilion and their hometown fans embraced every minute of their presence. The multitude of fans had an easy time getting pumped up for FOB considering the opening acts included bands such as
From First to Last, The Hush Sound, Hawthorne Heights
, and
All American Rejects
! I'm going to start off by saying if you have any way of getting tickets for the show coming up on 5/15/06 in Chicago, again at the UIC Pavilion, I would suggest doing so. Being home and all, it seemed like FOB had that much more to give all of their Chicago neighbors for the show. It was an amazing demonstration on how a rock show should be put together. Right from the opening guitar riff, you could tell it would be a show that people would talk about years down the road. It is not often when you can see this many 'huge bands' at one show. Other than a Warped Tour or something of that nature, where the sets are shorter and time is limited, you will be hard-pressed to find a better lineup for a tour anytime soon.
With that being said, I think it's time to explain to you the depth that FOB goes to in order to put on the best show possible. The concert opened with a video montage of the guys walking through a hotel's hallway, making a couple of turns, getting in the elevator, and disappearing. The video fades away, and the guys come on stage to start rockin' Chicago's socks off! They start off with "Our Lawyers Made Us Change the Name of This Song So We Wouldn't Get Sued"... a perfect fit considering right after the song, bassist Pete Wentz told the crowd that there was going to be pyrotechnics during the show... but since way back in the day when The Chicago Fire burned the whole city down, they would refrain from shooting anything off during the show.
There was a large screen on either side of the stage, so that the sold out crowd--and the largest crowd I have ever seen in the UIC Pavilion--could be entertained whether they watched the boys on stage, or the video screens. They had a few of their music videos playing during the appropriate songs in the set, and also had artistic images and slide shows running throughout the show. The background of the stage changed numerous times, but started with a boy yawning while getting out of bed. They proceeded to switch it to an image of a boy in a bubbled-up bathtub with a toaster tumbling towards the water right after the 4th song of the set. A few songs later, it changed again and showed the boy bending down to pick something off of the ground, about to get rear-ended by a wrecking ball. Another banner fell 13 songs in, it showed the same boy with headphones on, completely lost in his music, and not even realizing that there was a tornado right behind him. Finally, with 4 songs left, the last banner dropped. It had the kid pumping gas into his car at night, with a match in the foreground. I tried to come up with an artistic interpretation, but I'll let your imagination run wild on this one.
After song 2, Pete acknowledged all of his 'home boys' by stating, "It is amazing to be home right now... this is F-ing insane!" Then proceeds to tell the crowd after 'Sugar We're Goin Down,' that "What happens in Chicago, stays in Chicago!" By plugging the crowd on more than one occasion, he without a doubt has a way of getting them more pumped for an evening of chaos. During 'Dead On Arrival,' FOB's friend, Dirty, challenged a person from the front row of the pit to a sit-up contest for $20. A girl named Adrienne came up on stage, and proceeded to get 230 sit-ups done during the song... while Dirty got a whopping 30-something done.
On 'Sophomore Slump,' FOB got some help with the second verse from lead singer of The Academy Is, William Beckett... Beckett made sure to give Pete a large kiss on the cheek before heading off the stage. After that, Pete told the crowd they were going to play a song called "Time Machine"... it was a good quick breather for the patrons of UIC.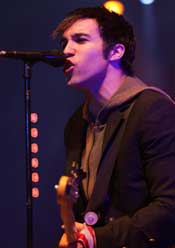 Pete acknowledged the crowd another time after 'Sophomore Slump' and told Chicago they were the best crowd of the entire tour! Even though they were at home, and you would almost expect that comment, I would be hard-pressed to find another city that did The Wave as well as Chicago did. That's right... the whole crowd, from left to right, front to back, participated in doing The Wave. It was the best one I had ever seen, and everyone was tremendously loud during it. This got the crowd so hyped up for the remaining 4 songs.
During 'XO' Fall Out Boy was bombarded with bubbles from all angles of the stage, and Pete decided at this point it would be a good idea to leap into the crowd. The front couple rows caught him and let him crowd surf for about 20 seconds, and then helped him back up on stage so he could help his band mates finish the song. A few songs later the crowd was treated to a crazy stunt by Fall Out Boy's pal Dirty. He came out holding up a wrestling belt, and told the crowd that he would be getting thrown through a table. Dirty had someone pick him up over their shoulder... from the upper part of the stage by drummer Andy Hurley... and throw him down about 15 feet onto a wood table. The table busted, Dirty got up and held his wrestling belt high, and the crowd erupted with laughter and cheering. He then got the patrons to chant as loud as they could for FOB to come back out.
Once out for the final 4 songs, FOB showed video footage of some more goofy-ass stunts that Dirty had done recently. The crowd was so wound up now and ready to expend every last ounce of energy for a band that had given them so much in return the whole night.
FOB finished with 'Dance, Dance' and 'Saturday.' During 'Dance, Dance' the entire arena clapped the band through the intro of the song, and then watched Dirty show everyone his sweet dancing skills. Pete thanked Chicago one final time after 'Dance, Dance,' and told them to experience and embrace the Chicago music scene for all it has to offer because of how amazing it is. FOB rocked through 'Saturday' and towards the end of the song, Dirty began throwing t-shirts into the crowd, while everyone in attendance was being showered with tons of confetti!
This concert was uncontrollably wild and the most fun I've had at a show in a long time. If you can make it to see Fall Out Boy anytime soon, I encourage you to get out and do it! Like I said before this was a show that the kids of Chicago will be talking about for years... because of the non-stop madness!
Set List:
Our Lawyers Made Us Change the Name of This Song So We Wouldn't Get Sued
The Patron Saint of Liars and Fakes
Of All the Gin Joints In the World
Sugar We're Goin Down
Dead On Arrival
Sophomore Slump Or Comeback of the Year
Time Machine – new song?
Homesick At Spacecamp
I Slept With Someone From Fall Out Boy and All I Got Was This Stupid Song Written About Me
Grand Theft Autumn (Where Is Your Boy)
XO
Chicago Is So Two Years Ago
Tell That Mick He Just Made My List Of Things To Do Today
Nobody Puts Baby In the Corner
A Little Less Sixteen Candles, A Little More "Touch Me"
Go Down In History - new song
Dance, Dance
Saturday
---
RELATED LINKS