It hadn't been too far into the tour supporting 'Ogre Tones,' the 2005 release by King's X, when vocalist and bassist, Dug Pinnick estimated, "We've been on tour about four weeks – I've been told. I always lose track," the veteran rocker joked. That was back in November of 2005, and now the following spring, the King's X guys are still racking up rock and roll frequent flyer miles.
Over the past 25 years, King's X has amassed over a dozen albums, countless tours, and a slew of solo projects by each member of this trio. These guys are making an effort to avoid falling into complacency like many bands do who have been together for an extended period of time, and part of that involves trying new things.
"The tour is its own thing but actually this tour is basically trying to promote the new record," said Pinnick in a lighthearted conversation with Sass. "And we're doing the whole record on this tour. It's a bit different from most bands – and ourselves, but it seems that all our fans are really liking it."
The crowd's response has been more than favorable, "Better than normal, it's been really, really good. Lots of young kids are showing up, and lots of people who have never seen King's X before are really turned on to the new record. It's quite a surprise for us."
Since it's release, 'Ogre Tones' was immediately adorned with rave reviews. Was there anything special about the making of this record that seemed to result in such a magical culmination?
"I think in our attitude – we really buckled down and tried to make the best record we could, and tried to get some more King's X fans on board. We tried to not get caught into that slump like a lot of bands do after several albums, and they just start putting out crap – as most people tell me. So we're trying to not be put in that category, we worked really hard on this one for people not to say that."
One ingredient of the 'Ogre Tones' brew was bringing in producer Michael Wagener of Metallica and Alice Cooper fame. The coupling of Wagener and King's X was a mutually gratifying experience.
"It was easy. He was very encouraging and he said we were the easiest band he's ever worked with. And we work really fast, he said it takes a lot more time with bands to get certain parts down or tracks down, and we do things in pretty much one or two takes. We've been together 25 years so there's no real work when it comes to us putting the music down. It's just getting the attitude right and picking the right songs."
And the songs on 'Ogre Tones' made the picking easy.
"I usually hate everything that I do because I'm so close to it, but this album – I just like the songs. I like to listen to it even myself, which is very different from what I've ever done. I do music and I put it out there, but I don't go back and listen to it again. But on this album, I like 'Stay' a lot, I just like the way it builds up and ends. I like 'Bebop' because the a-whop-bobalubop-a-wham-bam-boo is a Little Richard tribute."
Pinnick continues: "I like 'Alone' a lot because I think it just speaks to people who feel alone that can relate to it. I think we all feel alone in some sense. I like 'Mudd' too; it's about my uncle who died not too long ago. And there's 'Alison...'" Pinnick laughs then realizing how many of the new songs he's listed as his favorites.
Another first for King's X with the new album was working with video-superstar, producer John Tucker who's known as "Dr. Teeth."
"He does a lot of rap videos, he's got a couple Number 1 videos on MTV right now. A friend of ours works with Dr. Teeth and a lot of the rap groups that he also works with down in Texas. He recommended that [Dr. Teeth] do a video for us and he was interested in it. He said he does a lot of videos but he'd never done a rock video and he'd like to really do one. It was a thing where we both got what we wanted, I think. And, he did it at a discount price," chuckled Pinnick.
While talking about the beauty of unlikely partnerships, Sass took the opportunity to ask Pinnick about when King's X toured with AC/DC.
"It was great touring with them. An odd combination is true, but King's X doesn't fit in with anything. We don't fit in with their music but at least we got some new fans. We're just kind of a different band altogether. There are some bands where at least we know the crowd will be receptive to us. AC/DC in America – the crowds were great to us. In Europe they were great except for Germany where it's tradition to boo the opening band. And Angus [Young] from AC/CD told us 'don't worry about it, that's just what they do.'"
"We sold a lot of records on that tour, and the guys in AC/DC actually asked us to come on tour with them. They're King's X fans and they asked us to do it so we were very happy."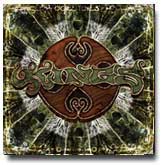 Though one might assume that another source of happiness of a professional musician is writing music. There are the bands who write all the time, then bring all their new songs into the studio when it's time for a new record. Then there are the bands that only write when it's time for the new album, like a high school student cramming for an algebra exam. Pinnick, however, is in a constant state of creativity.
"When I'm home and I don't have anything to do, I'll write tunes. Or, if I'm under pressure I'll write tunes. It doesn't matter. I love writing music and there's always a song in my head somewhere."
And one of the great things about Pinnick, Ty Tabor – King's X guitarist, and Jerry Gaskill – the band's drummer, is that they have each worked on solo projects without causing any band conflicts.
"Most musicians are control freaks and we want things done exactly the way we want them. And in a band you have to compromise and you have to work things out and learn to get along with each other, and try to make the best music collectively. Even though we do that, it was still nice for me to go off on my own and be a control freak and do it exactly the way I wanted to. And the guys in the band allowed me to do it. We allow each other, all of us, to do side projects."
"It's a real good thing, it helps just to get away from each other for awhile. Most bands don't want to do that, the jealousy thing happens and people feel like if someone does a solo album then that means that the band is breaking up or there are problems with the band. But with us it's the opposite, for us, we feel it would be a good thing. We all support each other."
Of course, the downside to being the supreme ruler of ones own project means that sometimes what you're doing might simply be off the mark a bit.
"It's always good to have someone on the outside, kind of directing you and helping you see what you're doing that might not be cool or might not be right. But then on the other hand, I just take that with a grain of salt, I know that what I put out on my own isn't going to be perfect and there will be flaws in it, but at most I got to do it all myself."
However, at this point in time, it's the band King's X that's still on the road even after their tour kicked off half a year ago.
"Story of my life," Pinnick laughs. "We were off tour for nine months. I had enough time to catch up on my life – get a life, get my roses done, and just be a person at home. It was really great, it went a little too fast but we needed that vacation for a while. It really got us back on track."
When asked if the 25 years in King's X has flown by, Pinnick laughed and said, "My whole life has flown by."
---
RELATED LINKS