Kill Hannah came home to play House of Blues Tuesday night to a nearly sold out crowd. After the show I saw, I think they have the talent to be bigger than that other Chicago band Fall Out Boy. Though I wouldn't exactly put them in the same category, they both get lumped under the generic alternative label and have some of the same fan demographics. In this writer/music fan's humble opinion, I think Kill Hannah will still be around long after Fall Out Boy has faded away. Or at least they should be!
Prove it, you say? The band recently posted a single from their forthcoming album on Myspace.com (www.myspace.com/killhannah). "Lips Like Morphine" is currently boasting over 80,000 plays and when Kill Hannah played it at House of Blues, the audience surprised them by singing along. Not bad considering the album hasn't even been released yet!
Kill Hannah ripped thru a tight set that included many songs from 2004's For Never and Ever album including "Unwanted", "Raining All the Time", "Kennedy" and " Ten More Minutes". Between songs lead singer Mat Devine lamented about the entire band being sick and a broken-down fan, which drew sympathetic "aaawww" from the crowd. While the show only lasted about an hour, probably due to the aforementioned, it was an energetic hour.
Other gems that evening included "Hummingbirds the Size of Bullets" and the new track "Crazy Angel". During "Boys and Girls", the audience was jumping so hard that it was causing the band's mic stands to shake and threaten to topple over.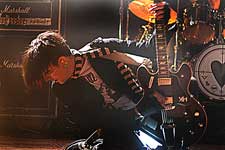 Kill Hannah has a reputation as one of Chicago's hardest working bands and are very appreciative of their fan base. They have been known to post their own gig flyers and spending countless hours after shows meeting with their fans. The entire audience Tuesday left with a limited edition pressing of the "Lips Like Morphine"single.
The national tour continues throughout the spring, with additional Chicago stops to be added in late May. Check the band's website for more details, so you can see them before they are playing arenas.
Kill Hannah is:
Mat Devine (vocals, guitar), Dan Wiese(guitars)
Jonathan Radtke: (guitars), and Greg Corner (bass).
[Garret Hammond(drums) was MIA for this tour.]
"I want a girl with lips like morphine/
Knock me out every time they touch me/
I want to feel that kiss just crush me/
And break me down."
-From "Lips Like Morphine"
---
RELATED LINKS