Her name is Algebra, but this is not the uninspiring subject we learned in school... this is the music enigma you'll want to dissect and gather a better understanding of, once her sound hits your eardrums. Algebra Blessett is her given name and a fitting one, as she is "blessed" with an awing vocal complexity that appeals to many. The singer explains on her MySpace page, "I didn't have to change my name for the sake of art...I am art...it came with me."
That statement can't be denied, and is further proven by Kedar Massenburg, the eye for talent that discovered other massively famous music makers like D'Angelo, India.Arie and Erykah Badu. The music mogul now promotes Algebra Blessett as the newest artist on Kedar Entertainment Group, an indie label that aided in the birth of the neo-soul movement.
Showcasing this solo act was an obvious choice. The bold beauty from Atlanta , who had worked with stars like Bilal and Monica, was no stranger to the stage before going solo. Working her mathematical music magic alone was what the singer knew she had to do to continue the success of the voice God gave her. Though grateful for her opportunities, Algebra knew she had to spread her wings professionally. "Even when someone else wrote a song specifically for me, I felt like I was still being a backup singer for myself," notes the humble songbird.
The notes that escape her 5'9" frame have taken on a classification of their own. Though Algebra can be called an R&B sensation, that's definitely not where her talent stops—in fact she proves with two Chicago performances that her style stretches across the board. "I have never given much thought to who my core audience was..." she confesses in her MySpace blog. "To me, being a fan of good music will draw any and everybody to the same place."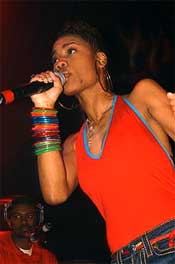 Playing before Motown-signed artist Kem and then opening at the Keyshia Cole concert at the House of Blues just weeks later, demonstrated the fact that this artist's demographics are off the charts. At the first show, Algebra displayed her guitar skills much of the time while taking a slower, more formal, bluesy tone. For the more R&B vibe of the April 13 performance, she came out hard-hitting, lessening her guitar-playing, but with a presence like she had "Nothing to Prove"—the fitting name of one of her latest tracks. Hyping up the crowd with some Chicago hometown favorite melodies like a DJ that knows her audience, quickly allowed Algebra to segue into a twist on her own ATL style as the crowd kept all eyes on her. Spreading her own sound maintained the attention of the music lovers in attendance. "It's the audience," the warm and laid back star shared with UnRated about her varying performances. "I'm very diverse."
Assorted sound is exactly what she's bringing. Taking on pop, rock, funk and even a little crunk, Algebra can get her ballad on, too. This art form is shown in her song "What Happened," on which she worked with award-winning songwriter and producer Brian Michael Cox. And though, as the lyrics of her song, "Nothing To Prove" go, Algebra Blessett "may not be the girl you are used to," you might just want to getused to her. Her talent promises the success of a quickly rising star.
---
RELATED LINKS: