2006 begins a new era in metal music history as Alice in Chains made their return to the masses of Chicago. Still having all of the power and charm with one change, a new singer.
After the death of Alice in Chains original lead singer (Layne Staley). The band was on hold. Without a lead singer they were dead in the water. Then in 2005 because of a tsunami benefit, they played together in Seattle making their first public showing. It was not plan, but during the show, the band (Cantrell, Inez and Kinney) played to a sold out show with former Damageplan's front man Pat Lachman, Wes Scantlin of Puddle of Mud, Tool's Maynard, and James Keenan and Ann Wilson from Heart.
This was the spark that started it all. On March 10, 2006, Alice in Chains performed at VH1's Decades Rock Live concert, honoring Seattle rockers Heart. During this show, former Pantera and current Down and Superjoint Ritual signer Phil Anselmo, took the lead during the show and belted out two of Alice In Chains classics, "Them Bones" and "Would."
Now let's shift forward to the present. Alice in Chains just started their first tour in 4 years. The new new front man, William Duvall (from 'Comes with the Fall'). A spokesperson for Alice In Chains said while DuVall who is a member of Cantrell's touring band will act as Alice's chief front man, with a number of surprise guest vocalists and musicians will take the stage with the band during the five state side shows. So far this has happen in Seattle and Los Angles, but not Chicago.
During their show at the Metro, there was no surprise guest. But it was a hell of a show. I was one of the lucky 1300 people who got to see Alice In Chains. The show was very powerful, bringing back memories for me to the time I saw Alice In Chains back in Settle back in the 1990's. During the Seattle show, I was in the US Army during the Golf War and Alice In Chains were doing a benefit against the war. Even being in the Army, I went! It was a great show. I still have happy memories of the show. Layne was at his best. During the show at the Metro I closed my eyes a couple of times and it was like being back in the 1990s. There is no mistake Williams sounds like Layne.
The set list included some of the following songs:
Sludge Factory
Dam the River
Rain When I Die
We Die Young
Love hate Love
Again
Junkhead
Down in the Hole
Rooster
It Ain't Like that
Them Bones
Would
Man in the Box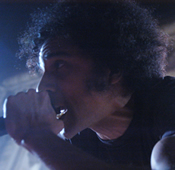 It seems from this reporter's view that Alice In Chains fans were able to welcome the new singer without any problems.
Alice In Chains will continue their US tour until May 23, 2006. Afterwards, they head over to Europe to tour with the likes of Tool, Deftones, Metallica, Guns and Roses, Stone Sour, Bloodsimple, Motorhead, and Korn. The tour continues through Japan, to play with Kiss and Audioslave. Finishing the leg of the tour at the Stugis Motorcycle Rally in Sturgus, South Dakota with Alice Cooper and Kid Rock.
---
RELATED LINKS: