p>Chicago City Limits welcomed back Chicago bad boys Enuff Z'nuff who have been on tour for over a month. The three-piece band consisted of John Monaco belting out lead vocals and guitar, Chad Stewart (FASTER PUSSYCAT, MOTOCHRIST) on drums and backup vocals, and Chip Z'nuff jazzing it up on bass and backup vocals. EZN, a Chicago rock band institution, has songs full of incredible catchy, pop driven lyrics with drips of Cheap Trick flavors and drops of the Beatles blends intercepting many of their songs. Monaco, dressed in black leather pants and a short no-sleeved vest energized the crowd with many EZN's favorites like "Kiss The Clown," "Fly High Michelle", "Baby Loves You", and the song that launched them into MTV gold "New Thing." Of course, most eyes were on the band's founder, Chip Z'nuff, dressed in jeans, black jacket, black hat, and wearing sunglasses. Chip, a master of superb songwriting, kept the groove going all night with his fancy bass playing and Beatlesque harmonies. The large crowd of EZN-er's sang along to many of their hits. Chip stated that a new studio album is being recorded. Look for original lead singer Donnie Vie to handle the lead vocals and original drummer Vik Foxx (currently on tour with The Veronicas) to add his over-the-top beats.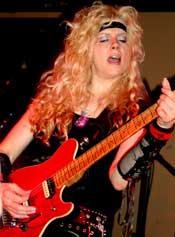 Vixen, the four-piece female band that had several international smash rock hits in the 80's, took stage to continue rocking Chicago City Limits. Vixen, who has gone through several different line-ups over the years, now consists of original founding member curly blonde hair guitarist's Jan Kuehnemund, bassist Lynn Lousie Lowrey, drummer Kat Kraft, and lead singer Jenna Sanz-Agero. Although Jenna does not have as powerful of vocals like former lead singer Janet Gardner or that in your face interaction with the fans during the show, she still managed to take control of the hits. The band opened with the powerful "Love Made Me" and once they started into the second verse I knew this line-up could handle the old hits as well as introduce to the crowd, who were oohing and awwing at the girls, some new songs. "Live & Learn" their fourth song of the night, and the title of their new album coming out in August, was a catchy, hard rocking song that the crowd responded well to. The melodic chords and vocals sparkled in hits like "Cryin", and "Love is a Killer", and the girls went to the top and glimmered while performing hard rocking songs "Rev It Up" and "Edge Of A Broken Heart" with the audience singing along throughout each song. After they left the stage, the crowd chanted "Vixen" for them to return, so the girls returned for the encore and performed the fist driving song "Rock Me" and during the middle of it broke into Queen's "We Will Rock You."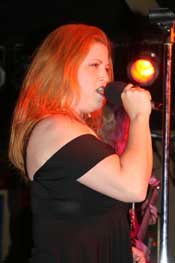 Vixen currently is touring the states and then heading to Europe.
If you want to relive the earlier Vixen hits and hear some new power rock songs, this new line-up can do the trick. They will push it to the top, and Rev It Up!
---
RELATED LINKS: