Want a taste of some hard-core punk rock? The `06 Warped Tour has just rolled out and its third city stop was in Milwaukee, WI. With temperatures soaring to 99 degrees in the sun, thousands of fans came out to experience over eighty punk-rock bands performing on nine stages. Each band would get thirty minutes to pound out their high energy set. Some well known bands like Helmet, Rise Against, and The Casualties showed off their provocative songs and insanely captivating stage presence. Plus it was great to see and hear the British 70's punk rock band Buzzcocks, with their catchy lyrics and vivacious, stage energy.
At 7pm, Joan Jett and The Blackhearts took stage and jettified the crowd with their classic hits including; Bad Reputation, Crimson and Clover, Cherry Bomb, and I Hate Myself For Loving You. With the release of her new album SINNER a week earlier, she introduced and performed the catchy Sweet song A.C.D.C. and her new penned song Change The World. The intoxicating Jett, looking athletically toned and dressed in black leather vest and pants, got the crowd anxious to help out during her smash hit Do You Wanna Touch Me by having them yell back to her "Yeah…Oh Yeah."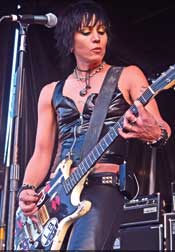 She also told the sweaty and on-fire crowd that she was going to perform another new song called Fetish and she called this one "the dirtiest song" she ever wrote because of the edgy and erotic lyrics. Then the crowd went wild and fist pumped into the air when the guitar chords jetted into her chart breaking, worldwide hit I Love Rock N' Roll.
Check out Joan Jett this summer as the Warped Tour makes its way across the U.S. I can guarantee you the hottest and arousing thirty minutes of punk music you will ever experience. Yeah…Oh Yeah!
---
RELATED LINKS