This isn't a "dark and stormy night,' nor "the best of times/the worse of times,' but it's a great saga just the same. A story that spans 20-years and includes twists and turns, riches and fame, and spacemen and demons-The best part of this story is that it's all true, and our hero's name is Tommy Thayer.
Thayer's first steps upon the rock and roll highway began in 1981 in Portland, OR with the formation of heavy metal band Black "N Blue. Packing up their demo recordings and relocating to Los Angeles, within six months Black "N Blue was signed to Geffen Records.
Now, over two decades later, Thayer is the lead guitarist of the ultra famous - and outrageous - band Kiss.
Having toured last year with fellow-legends Aerosmith, the "Rocksimus Maximus" showcase was originally labeled by VH1 and VH1 Classic as the biggest summer tour in 2003 - and was then extended thru the end of the year. A huge smash, box-office earnings reported by Billboard.com for just 24 of their shows surpassed the $30-million mark, making the Kiss/Aerosmith joint effort a momentous sevent for the entire 2003-year.
This year, however, both Aerosmith and Kiss are each heading down separate roads for their own concert tours. This split Thayer says is, "-good but not the same. The "Aeros' are great guys and a pleasure to work [and] tour with."
He adds: "These guys are on top of their game and still humble and grounded."
As 2004 marks the beginning of Kiss' "Rock The Nation World Tour," and while taking out the band Poison as openers, Thayer describes his feelings about what's on the horizon for Kiss: "It's an exciting time working out a whole new list of songs and a fresh new Kiss show 2004-style."
The addition of Thayer in Kiss has been credited by Gene Simmons as the same type of motivation for a refocusing within the band, like when Eric Carr entered the picture. Simmons told Bass Guitar magazine, " You looked over at this new guy who came from nothing, and he's playing his heart out like every beat matters. It made us say, "You know what? This is important.'" (Fall 2003)
However, Thayer's success has hardly bloomed over-night as one might think. It was back in the mid-eighties when while still in Black "N Blue, Thayer unknowingly locked into his future with Kiss.
After the release of their sophomore album "Without Love,' Black "N Blue nailed the opening slot for Kiss' "Asylum' tour. When Black "N Blue then headed back into the studio to record their third release, Kiss bassist and vocalist Gene Simmons was hired as producer, and with the intent of giving Black "N Blue's sound a harder edge with more attitude. The result of which was Black "N Blue's 1986 release "Nasty Nasty.' Satisfied with the working relationship with Simmons, Black "N Blue brought Simmons aboard once more to produce their 1988 release, "In Heat.' "Gene's easy to be around and work with in any situation as long as you can put in a long, dedicated day of work and be fully committed 100% to what you are doing," says Thayer.
In 1989 Black "N Blue disbanded, which lead Thayer on his way to a string of new enterprises. Playing in a Kiss tribute band called Cold Gin as the "Spaceman" character that Ace Frehley had made famous, establishing the Eon Records music label in Oregon, and forming the American Man project that, unfortunately, never made it beyond the demo phase. But Thayer was also offered a job by Gene Simmons to come to work for the Kiss camp doing basically anything that needed to be done.
Initially researching and helping organize the official Kiss conventions, Thayer's duties branched out to being a jack-of-all-trades for the Kiss organization. Some of the many hats he's worn for Kiss include photo editor of the book "Kisstory," co-writer for some of the material on albums "Psycho Circus' and "Carnival of Souls,' director of "The Second Coming' DVD, tour manager for the band's 1996 concert tour, and tutor for Ace Frehley who needed a Kiss-finger-work refresher course.
So later, when Frehley announced his departure from the band, the decision to have Thayer fill his shoes was a no-brainer.
Thayer's array of duties over the years has given him a rare insight into the complex workings of a rock and roll band. "It is unique that I've been able to experience both sides of the fence, because they are certainly two different worlds. It gives me a unique perspective that not many others have."
"I think that living on the other side, you learn to appreciate what EVERYONE on the tour is doing from top to bottom, and also that all [who are] involved work VERY hard."
With a background of doing so much more than just the lead-guitarist role, Thayer's expertise sometimes still comes into play off-stage as well. "Occasionally, the road manager might ask me for advice on a particular situation, and I can usually help."
While promoting Thayer to the position of "official band member" seems to have been the logical culmination to his acquired experience, his initiation into the band was not quiet as subtle. Other than a small, invitation-only gig in Jamaica, Thayer's first official performance with Kiss was in February 2003-A to-do with the Melbourne Symphony Orchestra. The band performed with the 60-piece orchestra (all 60 in full Kiss make-up) in front of not only over 40,000 fans live in concert, but also for a worldwide pay-per-view television event. Gee-no pressure there!
A live recording of the Melbourne show, "KISS Symphony: Alive IV' was released on CD last July, and then just two months later, "Kiss Symphony The DVD,' which includes not only the concert, but rehearsals, behind-the-scenes footage, and the band's appearance on an Australian television talk-show. Over three and a half hours of Kiss as you know and love them, and Kiss - the band that went "down under' to play a bunch of their songs with an actual symphony orchestra. Thayer, masked by the traditional "spaceman" make-up, gives a flawless performance as if he'd been a regular member of Kiss for years.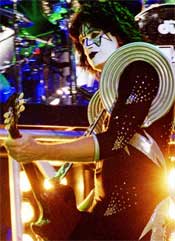 And yes-Thayer has adopted the spaceman character, a decision that has created a substantial amount of debate among Kiss fans. Within the message boards on Kiss' official web site, you can still find the occasional discussion of what character Thayer should take on. But unlike former Kiss members Eric Carr and Vinnie Vincent, Thayer is comfortable with his decision to carry-on as one of the original characters. "I believe the reality is that 99% of the people out there want to see the "classic" Kiss look and [the] four original characters - Demon, Starchild, Spaceman, and Catman," he explains, "I wouldn't buy Tommy "the giraffe-man' just like the next guy wouldn't."
Before each concert, the band still arrives well before show time in order to apply their own make-up. Thayer says the process helps get him psyched up for the show, and describes that the band puts on some music for their pre-concert ritual, "Everything from Stevie Wonder to Stars on 45," says Thayer. "Paul and I prefer stuff that rocks more, and Gene and Peter like older 50's - 60's music."
When asked to describe his band mates, Thayer says that Paul Stanley is "talented and creative," Gene Simmons: "ambitions and intense," and Eric Singer: "energetic and-energetic."
Other personalities Thayer was asked his impressions of include Kiss manager Doc McGee: "smart and funny," Aerosmith's Steven Tyler: "gifted and passionate," former Kiss bandmate Peter Criss: "caring and humorous," Aerosmith's Joe Perry: "visionary and style," and interviewer Sass: "very smart and pretty."
Thayer wasn't sure how to describe himself, "How can I answer that?" He exclaimed. So I'll offer that description in the same three-word manner that he used for the others-he's "a talented gentleman."
For the past 30 years, Kiss has continually been the poster child for how there IS an "American Dream." As Kiss advances on with their World Domination Tour, anyone still uttering "Tommy-who?" will soon be converted over to "Tommy rocks!" And I for one, hope that Kiss will live on for many, many more years with their new spaceman.
---
RELATED LINKS