Each year South-siders, North-siders, World Series Championship White Sox Fans, and those Cub Fans (hundreds of thousands of Chicagoans) cross the stretch of Grant Park from Michigan Avenue to Columbus in an annual pilgrimage to sample a variety of food, excitement and Entertainment. The Taste of Chicago is not only a cosmopolitan city attraction, but also an event that draws from everywhere around the world. Chicago was once famous as the city of Al Capone and bootleg drinking, but it's now also the city that knows how to eat well. Food booths fill Columbus Avenue with a taste of something good for everyone. Of course sponsors line the sides trying to sell and hustle everything from cell phones to joining a gym. The main attraction for me, as it has been for many years, is the music. "It's the music man!" Granted, there are so many other reasons for so many others, but the music is truly what keeps me coming back to "the Taste" year after year.
Once again this year, the City of Chicago had a gala representation of country, rock, neo-soul and R&B. This year's excitement for me was catching the legendary Glen Campbell. The highlight of his performance, "Rhinestone Cowboy", was complimented by 5 or 6 tunes from the Beach Boys. Although a self-proclaimed music aficionado, even I forgot that Glen Campbell was a Beach Boy for a short period in time in 1965.
There were many new talents, not necessarily new to the music industry, but very fresh to me. One such great, which I had regretfully never seen perform before, was Macy Gray. Macy Gray is pure energy on stage and it made for a great Friday night Downtown. As a photographer, I don't always get to pay as much attention as I would like to the various performers. I usually finish shooting and boogie on out after a few songs, music icon or not. One of those rare exceptions occurred when I stuck around and enjoyed the flamboyant boogie and grooves of Ms. Gray on stage. Before Macy Gray came on, Chicago 's very own Liquid Soul jazzed it up on stage, kicking up the music for all the fans that came out to celebrate that Friday night.
As I went venturing around the Taste, I was able to catch a quick photo opportunity of "10", Bo Derek, while introducing and promoting her new TV show, Secret Obsessions. On the other side of Columbus , Mr. A.L.I. was doing their neo-soul to the fans at close quarters. As I walked by the stage, I caught one of my long time friends, who told me, "Man I love live music, and I love coming out to Chicago downtown events. There is NO place in the States like Chicago for the people!" This was well said as he managed to sip his cold beer and balance with his hands full of sweet corn on the cob and tangy BBQ ribs. A Friday night with awesome music, good friends and best-in-class food; what else could be better?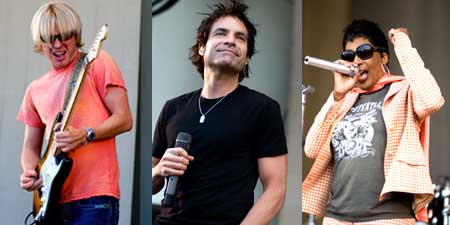 Taste of Chicago mixes a fine blend; the first weekend encapsulated the Country Music Festival, where I caught Mr.Glen Campbell, as well as Jo De Messina and SheDaisy. In addition to the usual daytime feast on July 3 rd , the city throws an Independence Eve Concert and caps the evening with a Fireworks Spectacular.
Each year July 3rd is probably one of the busiest nights or events for the City of Chicago . Many thanks need to go out to all of the CTA, Chicago Police and others involved in making sure people get home safely. All roads back up and public transportation slows with Chicagoans heading home, emptying the park previously filled with hundreds of thousands. As I had to truck it on foot for many miles, I did find it unfortunate that taking public transportation was so encouraged, because for me it may not have been justified. It could have been better for me to take a car. As one of my friends made it back to Naperville by car (I still cannot figure it out how they beat me), I was still trying to catch either a train or a bus to Midway. Personal car = 1, public transportation = 0 from my vantage. Anyways, too much car traffic downtown. Perhaps I'm too impatient, but it makes better sense to close off all car traffic and keep everything open only for busses during the exodus. I still have to give full kudos to the people working this day and making sure everyone was safe and not stressed. Hurrah to you all that gave us a great evening.
I skipped Tuesday the 4th and stayed at home with family and friends to catch our local fireworks, but was back again on Wednesday catching the favorite for the week, India Arie. Earlier during the day, India Arie new CD/Album, Testimony: Vol. 1, Life & Relationship hit number one album on the charts. She expressed her joy to the many fans that came out to see her perform.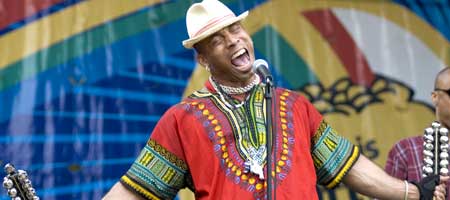 Many shows are sponsored by the city as well as local radio stations, WGCI threw a little party and brought some great music to this City including India Arie and Anthony Hamilton. Local radio stations, WGCI and V103, sponsored two concert nights at the Taste, tonight with India Arie, as well as last Friday with legendary, O'Jays, and newcomers Risque and 3PC.
Thursday night the 6th included a performance by the band Train. A little rock and roll goes a long way and most sang along to the quintet. They were supported earlier on stage by Mat Kearney.
Saturday night sponsored by XRT radio, brought a little softer edge of rock and roll with Liz Phair and the Fountains of Wayne. Liz Phair is a favorite here in Chicago and usually draws many to her performances. Some have compared her to Sheryl Crow, but Liz Phair is making her own way as fans come from all over to catch her live.
The grand finale for me, as a Styx fan and Chicagoan for most of my life, was Dennis DeYoung. Perhaps arguably, Dennis DeYoung was one of the life-bloods of Styx. His songs and lyrics were sung by all and are heard on radio and in commercials and movies, "It's all but a Grand Illusion." Mr. Robato was here, yes here in Chicago at the Taste for 2006. Although Kenny Wayne Shepherd, opened up the set for Dennis at the Taste of Chicago, it was Dennis that brought me back to the final night. I never caught the Paradise Tour, but would have loved to back when I was in school and getting into Styx. Dennis was here to Rock Chicago!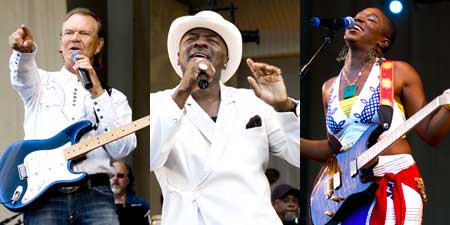 To paraphrase and steal a mantra from my North-side friends……wait 'til next year, or in this case, can't wait until next year!
---
RELATED LINKS