Prepare yourself for war, pigs! With over 11 hours of music it is important to hydrate and lubricate (SPF 2006) while in the blazing inferno that is known as Ozzfest. It is longest continually running concert festival in this land; now on its 11 th tour of duty. The militia starts promptly at 9:20 am and rolls on to 11:00 pm with a blitzkrieg of bands whisked on and off stage in 5 minute set changes to fanatical fires burning in the pit. The lunacy of this event can appear to be a Divine Comedy, but there is a way to survive the carnage. A decent into this darkness brings to light many sins, and punishments, as you are sent to hell.
Circle 1: The Limbo – Newbie Invasion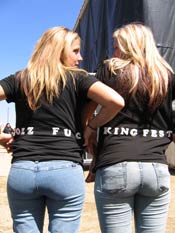 The un-baptized and virtuous pagans are not sinful enough to know the original Ozzy. The Paranoid Iron Man they know is from the series on MTV, and not from the Sabbath. They are unable to control their carnal urges by succumbing to the vices of incontinence, violence, and malice. They are not punished in an active sense, but are merely unable to sit close to the main stage.
Q: "So, how did you get backstage"?
A: "We got backstage on 2nd stage by just flat out asking if the band could sign our chest and they asked if we wanted to go backstage with them, so we did. We are both 18 and we didn't think we could get backstage on main stage so we didn't ask."
Circle 2: The Lustful – Sponsor Affliction
Don't be overcomed by lust, for you will be trapped in a violent storm never to touch your Ozzfest buddy ever again. Be weary of the sponsorship all around you; remember you are there for the music. Things like free samples from scantily clad temptresses can ease you into sinfully missing your favorite band. The sponsorship affliction catches up with you outside of the show. You will buy only their beer, play their games and shop at their store. There is no escape. Your soul will be trapped by their siren song. It's solely about your sales or is it the other way around?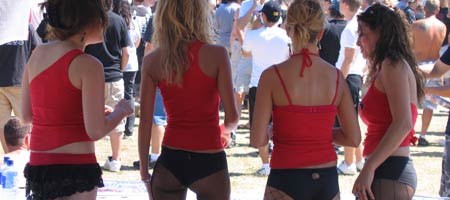 Circle 3: The Gluttons – Veterans
These are the folks who start early and as a result, finish early. It's the 'five o'clock somewhere in the world,' mentality that eases them into their first breakfast beer. By noon they are standing somewhere in the pit, partially because they can't find their way out. It's also a good thing to for them to be pressed so closely to others so they don't fall down. On the other hand they might be hoisted up and passed around to the front of the stage where EMT's can tend to their pit wounds. The unlucky ones who are still face-down in the mud after the second stage is struck will gnawed apart by a Cerberus, or at least taken to triage.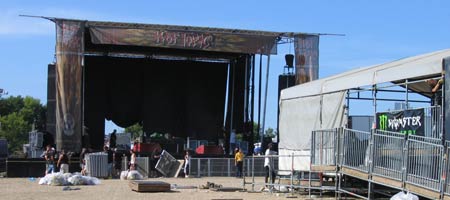 Circle 4: The Greedy – Damned Village
The Village of the Dammed has been the place where wolves sell their wears. This village entices you to suck on hemp lollypop while getting your naked chest airbrushed. Master sale zombies bate you to throw darts, balls or other objects in order to earn coveted prizes. Generally you lose, but you receive a limited edition commemorative Ozzfest CD as a consolation prize. If you have succumbed to all of the distractions, T-shirts, ball caps, funnel cakes, etc…; you may feel loaded down by the end of the day. It's like pushing giant rocks in opposite directions.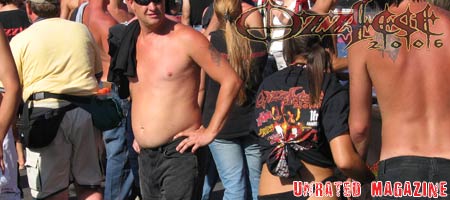 Circle 5: The Wrathful – Mosh Pit
There they go, fighting each other in swamp-like water from the river Styx, I mean in the lawn seats. These violent and sometimes slothful (when being trampled on) bodies, are trapped behind the barricade of the pavilion seats. Occasionally security waters them like produce which only invigorates the crowd. In their frustration of not being able to see their loved ones (the bands) they rip the ground up from underneath themselves. Let the dirt clod war begin!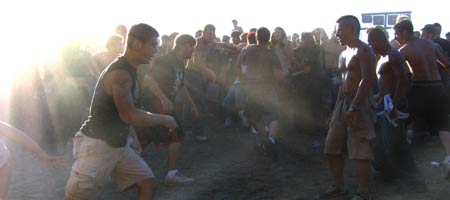 Circle 6: The Heretics – Tailgaters
These are the active sinner (rather than passive as before) and where the true violence of Ozzfest begins. Tailgating is for football or other sports not for Ozzfest! Driving up to the parking lot in your RV or Truck and listing to the bands, without bellying up for a ticket is an insult to the bands. The idea around festival concerts is to participate in the plethora of experiences. It's like showing up to an orgy and just sitting outside the front door. Sure you might hear something, but you will miss the real show. If you're too cheap to buy a ticket, then you should be banished to hell, or at least trapped in a flaming tomb.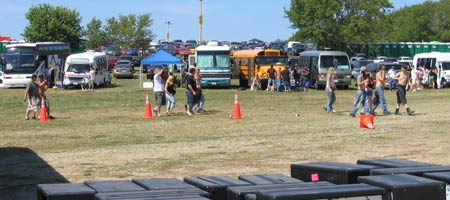 Circle 7: The Violent – Security (The bad ones because there is good security too)
This is the violence against people and property, causing a river of boiling blood. The violent against their own human kind—makes them uniquely among the dead. They will not be bodily reincarnated after the final judgment—because they've ceased to be human. They will be chased perpetually through the trees by ferocious dogs. For they commit violent against the Rock Gods—blasphemers, sodomites, and usurers—in a desert of flaming sand where fire rains from the sky. Let's face it; pissing off the barricade security just after they saved you from being crushed in the pit is not the way to get on their good side.
Circle 8: The Fraudulent—The Port-A-Potties (or flatulent)
The last two circles of Hell punish sins of malice or sins of the intellect; that is, sins involving conscious fraud or treachery, and can only be reached by descending a vast cliff into the "pit" of Hell. A lot of people do some quality thinkin' on the thrown, but add all of the subjects of the kingdom and it can get pretty hellish smell. To make your trip a little more bearable, make sure you stop by the local dollar store and pick up a small bottle of laundry detergent. One capful placed in the potty palace will help with the odor, at least until you make your own contribution.
Circle 9: Traitors – Yourself
This circle of hell is not meant for the "merely" fraudulent. Their acts involve knowingly and deliberate betrayal. In Dante's Devine Comedy, they are frozen in a lake of ice; each section of traitors is encased in ice to a different height, ranging from only the waist down to complete immersion. This manifests the next day when you try to recap just what really happened? Depending upon how many circles of hell you transverse is in direct correlation of how much ice you need the next day. Ailments start from mere dehydration to headache, nausea, sun burn, dislocated body parts or just not being able to move. The greater the symptom the greater time you had at Ozzfest. Who said taking of tour of hell wouldn't have some side effects. Just as long as you got to see your favorite bands rocking out all day in the blazing hot sun. That's gotta be better then your regular life on earth.
Posthumous:
One way to avoid the entire hullabaloo is to purchase the PLARS (Party Like A Rock Star) package. For a measly 300 you get preferred seating, access to the second stage viewing platform, Access to a VIP Area, Backstage tour and a PLARS Escort (privileges with the escort may vary; get your mind out of the gutter!) There are also Platinum Packages going for a grand but that involve some sort of soul exchange and those are limited.
---
RELATED LINKS