Well, I am not sure which was hotter; the 100-degrees+ temperature in the red-hot sun or the sizzling performance of Joan Jett and her band. The 2006 Vans Warped Tour is like a punk-rock circus on wheels. With stages set-up all over the venue, you simply walk in the gate, grab a schedule that lists each stage, and mark off where you have to be since every thirty minutes a new band is going on somewhere on one of the stages. As you are getting acquainted to the location of all the stages, you suddenly run into vendors selling all the different bands merchandise like t-shirts, buttons, and CD's. There are rows of these types of vendors, so give yourself plenty of time to make your purchases. As you walk on you see many more booths set up; these are booths from the sponsors of the Vans Warped Tour. For example, The Harley –Davidson booth had a big wheel to spin and they were giving away tons of fun items if you hit the right spot on the wheel, and HP was another vendor who gave away a color printer to a lucky punker. Of course, don't miss the Vans booth with all their funky-fun style shoes to buy. Also, as you are walking around the venue, you just might run into your favorite band member lurking around so make sure you have a pen nearby to grab an autograph. After having fun with these booths, there are plenty more vendors selling drinks, so grab one or two and head to the stage of your choice to punk-out to tons of fantastic bands showcasing their musical talents.
This year, Joan Jett joined the Warped Tour for two good reason; to promote her latest CD entitled "Sinner" which is on her own label, and because Joan Jett is one of the founding females of punk rock music still going strong after years in the business. Joan looking like the punk-sweetheart of the warped circus, took stage in mid-afternoon with the hot sun punching its rays down into the large crowd waiting for the show. Her attire was black leather pants and a black leather studded bra-top. After a few warm-up notes she was pumped and so was the crowd. She led off with one of her signature songs and smash-hit Bad Reputation, and followed that with Cherry Bomb. She also mixed in a few of her new songs off Sinner like the tasty A.C.D.C.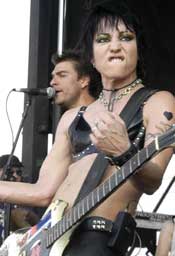 (former hit by The Sweet), and songs she wrote including the political slam Riddles and a song promoting peace and unity called Changethe World. At this point the show was burning hot, so she slowed things down slightly performing the oldie but goodie Crimson & Clover that was another hit for her back in the '80's. She ended her set in high gear performing her worldwide hit I Love Rock 'N Roll, and it just took a few opening notes for the sun-burned warped crowd to figure out the tune as they joined in yelling and singing along with the Blackhearts. The thirty-minute set was explosive surges of power by Joan with her Air-Jordan jumps and her classic "oooowws!"
Time has been good for Joan; she still can rock it up like the new comers and her new songs are strong in their Jett-like fashion.
The Vans Warped tour has a bunch of great bands to checkout, but don't miss Joan Jett; she will take you along to a punk-rock paradise that could turn you into a little Sinner but that will lead you to a whole lot of fun!
---
RELATED LINKS