Canadian rockers Evans Blue are currently touring the United States, bringing fans a taste of their take on 21 st century rock and roll.
Their name comes from a medical term that is the dye injected into the bloodstream to measure blood flow.
"We needed a name and I saw it in a medical dictionary," said lead singer Matisyn. "I thought it was good enough to play a show, and it just kind of stuck."
Evans Blue started touring in the middle of March with Taproot on the Equinox tour. They then jumped on board with Trapt and Seether, each for a couple weeks as well as Shinedown.
They are currently playing with bands Breaking Benjamin and Dropping Daylight.
The band met each other on-line. They all had music running through their veins pretty much all of their lives. They rehearsed a couple times and wrote some songs and the rest is history.
They got signed to a good management company from there, which is what they say is key to the success of any up and coming band. Their management is based out of Ontario, Canada and can be reached at www.thepocketstudios.com.
Evans Blue said that being on the road has been an awesome experience and that they love touring and meeting new and different people from all over.
If not living their lives as musicians, Evans Blue could certainly hold their own in other professions. Matisyn said that he would be working in some sort of health field in which he went to college for.
Their debut CD was released February 21 entitled: The melody and Energetic Nature Of" and has been steadily selling each week since.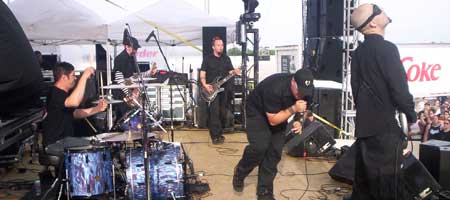 Their first single "Cold" was released on radio in December and the next single "Over" was released in July.
Like any other band, Evans Blue has experienced some crazy things on their journeys.
Guitarist Parker explained one in vivid detail.
He said that they were in Vermont when they loaded about 8 people into a Jeep Cherokee to take a ride. They were downtown when they got pulled over by the cops. He said that the dude that was driving was screaming profanities at the cops while the cops were giving it right back. He thought they were going to jail for sure. Well, turns out that the dude driving was actually a cop himself and that the whole thing was a practical joke at their expense. They will always have memories of the "great Vermont practical joke" as they have pictures of them all standing by the cop cars with the sirens and lights going off.
Evans Blue wants fans to request that their video be played on MTV as well as visit their websites at www.myspace.com/evansblue and www.evansblue.com. They also said jokingly that if every one of their fans sent them $5, they would be extraordinarily rich!!
---
RELATED LINKS